🔎
Alibaba Cloud and NodeReal Collaborate to Accelerate Enterprise-Grade Web3 Innovation in Asia. The collaboration will empower and future-proof enterprises across the Asia Pacific market with the technology tools and platforms, and go-to-market support as they kickstart their Web3 journeys
HONG KONG — 17 March 2023
NodeReal, the leading blockchain infrastructure, and solution provider announced that it has signed a Memorandum of Understanding (MOU) with Alibaba Cloud, the digital technology and intelligence backbone of Alibaba Group. The strategic partnership aims to foster collaboration and drive greater Web3 innovation across Asia's enterprise landscape.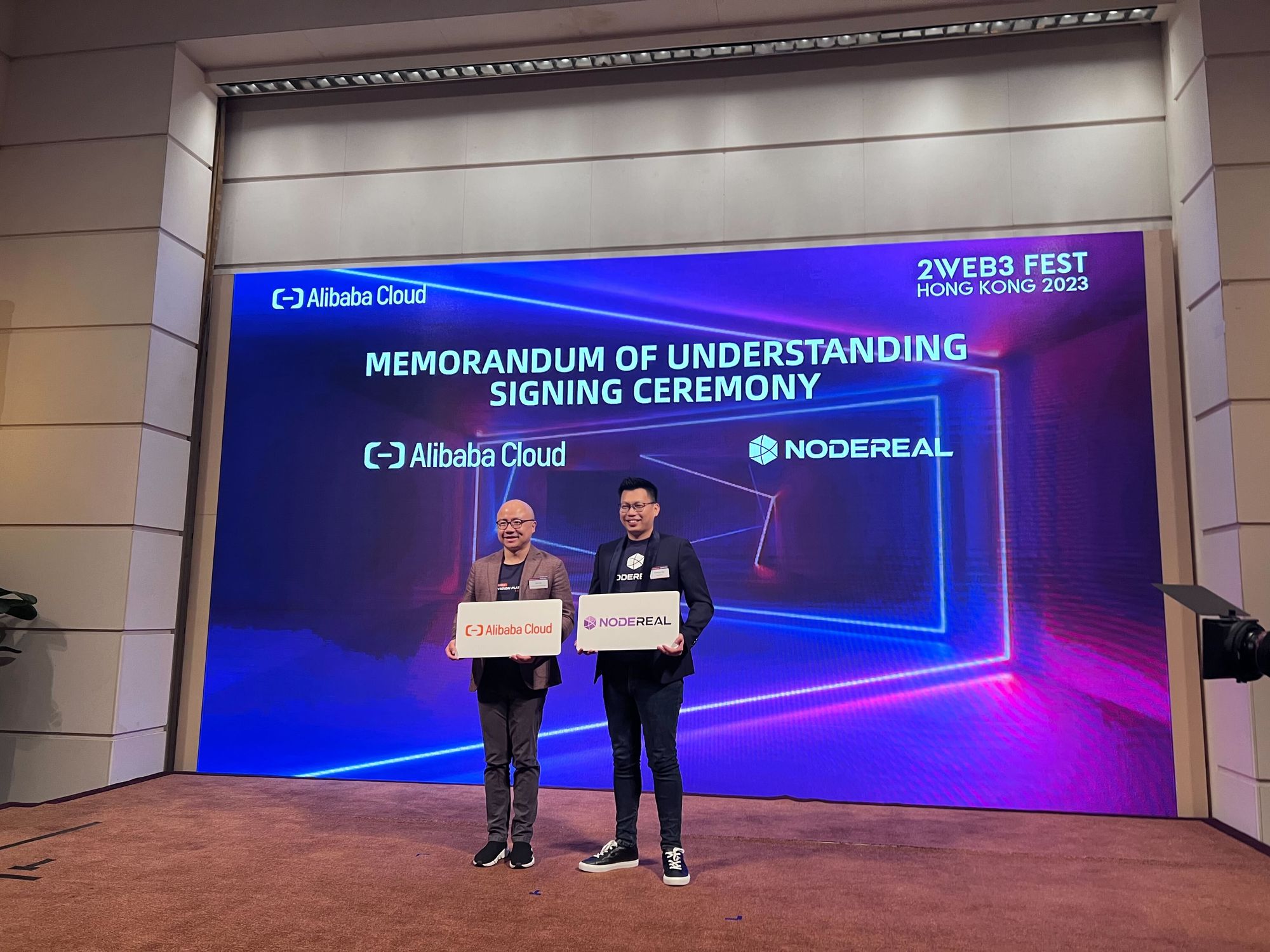 The agreement marks a major milestone for both companies and is expected to generate new growth opportunities for Web3 developers, all while empowering enterprise businesses with the much-needed tools to adapt to an increasingly Web3-dominated future.
Under the partnership, NodeReal and Alibaba Cloud will promote Web3 enterprise solutions, starting with Hong Kong and expanding to the wider Asia Pacific region to boost mass adoption of Web3 across the continent.
NodeReal will build its node on Alibaba Cloud's platform and offer blockchain services to its users, including Blockchain As A Service (BaaS), Explorer As A Service (EaaS), Validator As A Service (VaaS), and storage, just to name a few. The companies will work together to support the growth of the Web3 community in Asia.

"The collaboration between Alibaba Cloud and NodeReal is a powerful partnership and is set to usher in exciting new opportunities for Web3 growth. At NodeReal, we believe in empowering the next generation of enterprises in Asia Pacific by providing them with one-stop solutions that can simplify the adoption and implementation of blockchain technology, accelerate business growth, and support the massive adoption of the Web3 ecosystem." said Dr. Xiao-guang (Ben) Zhang, Co-Founder and COO NodeReal
NodeReal's expansive roster of partners includes the likes of Cocos-BCX, the leading scaling solutions provider for the Web3 gaming ecosystem. With NodeReal's leading position within the blockchain infrastructure space, the partnership will drive greater growth across the broader L1 and L2 ecosystems.
"Even at its early stage of development, Web3 in Hong Kong has shown huge potential, especially with strong support from the government. Alibaba Cloud will provide robust, secure, and high-performance technology platforms and intelligence tools for Web3 developers in Hong Kong to build their own applications in areas such as metaverse, gaming, and social media. We are committed to building a thriving ecosystem to drive the growth of Web3 in Hong Kong, as this will also enable our customers to capture new business opportunities and provide consumers with more user-friendly and immersive experiences," said Leo Liu, General Manager of Hong Kong SAR, Macau SAR and Philippines, Alibaba Cloud Intelligence
Alibaba Cloud and NodeReal look forward to working together to realize the full potential of this collaboration and to create a brighter, blockchain-powered future for Asia's enterprises.
Enterprises can start with a free trial version 👇
About NodeReal
NodeReal is a leading one-stop blockchain infrastructure and service provider that embraces the high-speed blockchain era and empowers developers by "Make your Web3 Real". We provide scalable, reliable, and efficient blockchain solutions for everyone, aiming to support the adoption, growth, and long-term success of the Web3 ecosystem.
NodeReal's Semita helps developers to build their custom Application Chains or scale their blockchains with layer 2 solutions, like ZK Rollup and Optimistic Rollup.
Join Our Community
Join our community to learn more about NodeReal and stay up to date!
Discord | Twitter| Youtube | LinkedIn

About Alibaba Cloud:
Established in 2009, Alibaba Cloud (www.alibabacloud.com) is the digital technology and intelligence backbone of Alibaba Group. It offers a complete suite of cloud services to customers worldwide, including elastic computing, database, storage, network virtualization services, large-scale computing, security, management and application services, big data analytics, a machine learning platform, and IoT services. Alibaba maintained its position as the third leading public cloud IaaS service provider globally since 2018, according to IDC. Alibaba is the world's third leading and Asia Pacific's leading IaaS provider by revenue in U.S. dollars since 2018, according to Gartner.