16th February, Singapore - BNB Chain introduced Greenfield, a new decentralized storage network (DSN) that aims to empower the new data economy. Greenfield is the third blockchain network in the BNB ecosystem after BNB Beacon Chain, which focuses on BNB governance and security, and BNB Smart Chain, which is for smart contract development.  
NodeReal flagship event series "Real BUIDL" *co-hosted a meetup with the BNBChain team to cover the below topics:
Why does BNBChain introduce a new decentralized storage chain?
What are the key differentiators between GreenField and other DSNs?
What are the key opportunities and challenges in GreenField?
The REAL BUIDL series is focused on connecting with the BUIDL Community (through invite-only focussed events) to discuss in-depth topics related to Blockchain development.
BNB GreenField Introduction:
BNB Greenfield is a decentralized storage infrastructure within the broader BNB Chain ecosystem where users and dApps can create, store, and exchange data with full ownership to form a new data economy.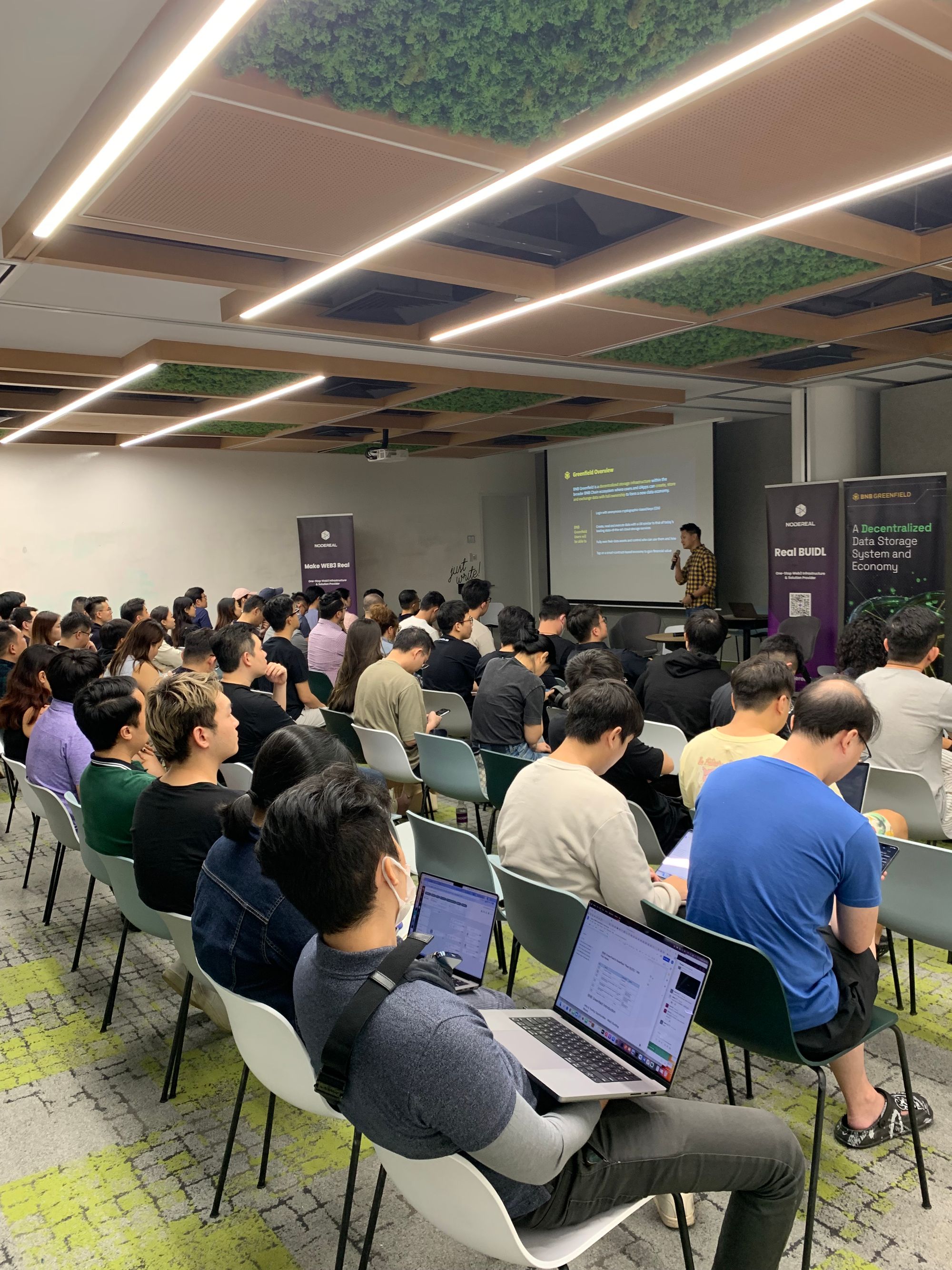 ---
💪
"BNB Greenfield will empower users to have full ownership and control of their data and create enormous value with the formation of a new data economy" Alvin Kan, Growth Operations Director of BNB Chain
---
1. Web3 Building Blocks - Infra & Tooling Opportunities
Host by: Dr. Xiao-guang (Ben) Zhang (NodeReal)
Panelists: AliCloud (Leo), Hashkey (Sunny), Particle (Hayden)
Developers are looking for easy development API/Tooling and programming languages. Actually, in the past several years, Filecoin/Arweave/Storj already put a lot of effort into improving these areas, such as Programmable FVM and FEVM, NFT/Web3. Storage to simplify the development experiences.  In this session, we discussed the key challenges and opportunities on how to empower the developers and help them to develop powerful dApps.
Key takeaways:
The current decentralized storage industry is still far from mature so people are still using Cloud Services.
One of the main differences is that the latency difference is still not comparable.
Decentralized storage brings some advantages, such as, if everything is on-chain, as long as it's transferred it's trackable.
It also empowers the ownership economy by allowing the users to own their data.
The industry will take time to grow and I appreciate the effort from the industry. It would also require capital, effort, and talent to grow and build infrastructure across the world. Including cooperation from companies like AWS/Alicloud. Back in the day, there were no incentives to validate stored data.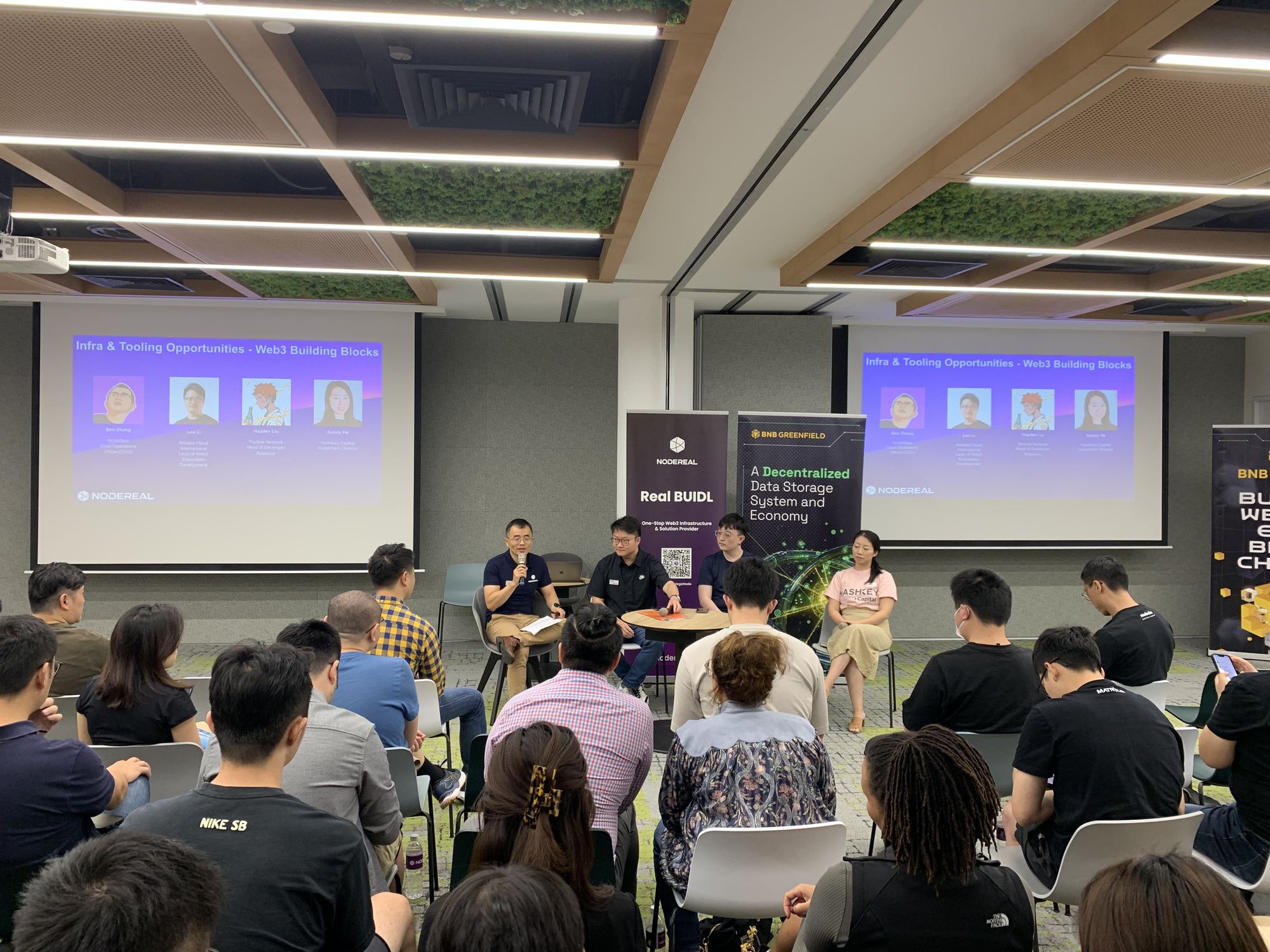 2. Key Challenges from Large-Scale Web3 Application
Host by: Laura (BNB Chain)
Panelists: CyberConnect (Wilson), P12 (Boyang), Galxe (Harry), SecondLive (Reed)
BNBChain wants to build an ecosystem that supports large-scale web3 applications.
What do you think are the key challenges of web3 applications to unlock large-scale adoption?
Key takeaways:
Data and privacy: aggregation of user identity data across products and companies increases efficiency. Web2 companies are earning huge revenue by aggregating user data. Storing data in plaintext is bad. Greenfield is implementing access control. How can we prevent data piracy? The solution is implemented at a production level that is scalable.
Onboarding issue: users need to know about web3. web2 can do many things at the touch of a button and gain millions of users.
Gas fees: imagine going on youtube and having to pay to watch a video, it's not going to work. In web2, companies can pay the costs on behalf of the users. In web3, there is no infra for projects to pay the gas fees for users.
The problem with on-chain is that storing large amounts of data is not cost-efficient/technically efficient.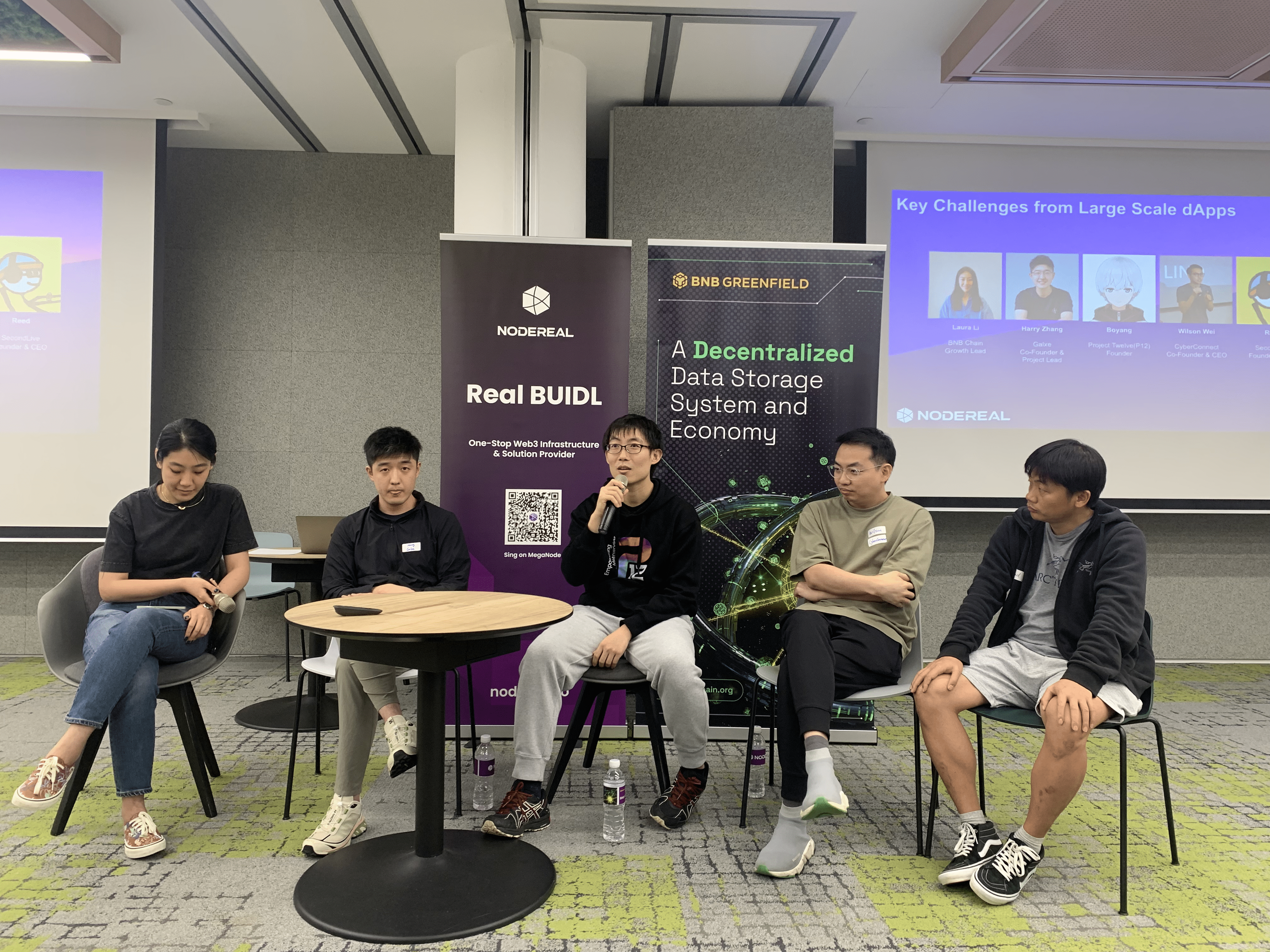 3. Business Opportunities in Decentralized Storage: Web2 + Web3
Host: Alvin (BNB Chain)
Panelists: GSR (Xin Song), Tranchess (Danny) & Dorahacks (Steve)
A decentralized storage network combined with smart contract interactions has great potential to open up a new world of innovation. This could solve a lot of issues that we face today, for example, 80% of data will be archival and needs lower-cost storage like Greenfield. And there are unexplored areas like token curated registries which may not have been possible to flourish without the appropriate incentive and decentralized storage mechanisms. In this session, we discussed the business opportunities that could arise with Greenfield.
Key takeaways:
Censorship resistance, privacy. Need freedom of speech and keep posts up whether you agree or not, like the case is with Twitter.
In web2, there are chunks of data and companies run their own servers since it's safer and the storage is within their control. Using cloud storage might be risky since data can be stolen. Greenfield provides encryption and access control which can be programmed to allow access to different departments.
Current solutions have transactions that are not readable. Allow users to query those data in a readable format. For certain apps, we have no idea how privacy is protected. What if there is a chat messenger system where data is stored in decentralized storage, that would be interesting to explore.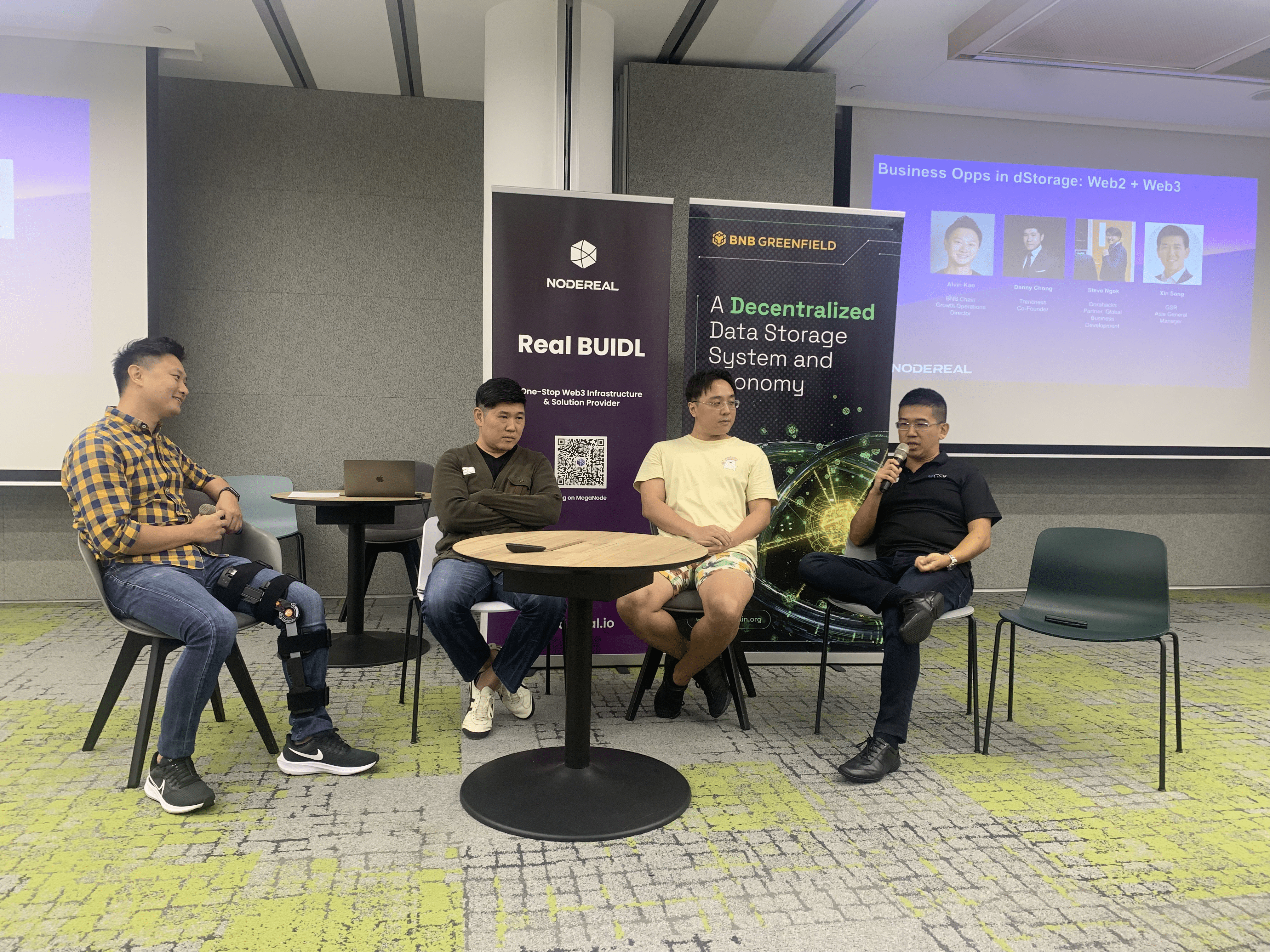 About NodeReal
NodeReal is a one-stop blockchain infrastructure and service provider that embraces the high-speed blockchain era and empowers developers by "Make your Web3 Real". We provide scalable, reliable, and efficient blockchain solutions for everyone, aiming to support the adoption, growth, and long-term success of the Web3 ecosystem.

Join Our Community
Join our community to learn more about NodeReal and stay up to date!