NodeReal Co-founder & COO Ben Zhang reflects on our progress over the past year and shares our vision and approach for the road ahead.
Debut 2022

NodeReal was founded in Sep 2021 to provide high-performance blockchain infra for Web3 mass adoption. Our vision is to become a one-stop solution and service provider for Web3 as Cloud Providers (for instance AWS, Google Cloud Platform, Microsoft Azure, or AliCloud) do today.
In late 2021 and early 2022 (before May), the daily active users and transaction volumes in the top chains like Ethereum, BNBChain, Polygon, or Solana (refer to Nansen multichain dashboard), were very high and in a speedy growth trend. NodeReal's flagship product "MegaNode", which provides RPC/Archive node service, went live in March 2022.  Although MegaNode only could support 2 chains at that time: Ethereum and BNB Smart Chain. It proved its scalability and tech strength quickly and could even support 700KQPS (Query per Second) for BNBChain during the peak time, which is similar to the performance of typical online shopping Promotions (e.g.,~600K TPS in Alibaba holiday promotion). We recevied great recognition in the Web3 community, and  Sky9 Capital invested $16M as a seed round and supported us immensely and recognized our vision and direction.

Later 2022, the bear market came. In such a challenging period, we were carefully building our products for the Real requirements. We were  really proud of our achievements in 2022:
MegaNode supports 8 chains including Aptos, BNBChain, Ethereum, Polygon, Arbitrum, Optimism, Avalanche, and Solana.
A new API Marketplace is introduced to support more comprehensive API on Token, NFT, DeFi, Naming Service, and more.
Piloted blockchain infra as a service - Semita, and built one of the largest Game Chain with FNCY.
Deeply contributed to high-performance blockchains with the broader communities.
BNBChain
Top contributors to the BNB SideChain and ZkBNB development
40% of the BNB Chains BEPs are from NodeReal such as high-performance Parallel EVM, Fast Finality
Providing the best node service for BNBChain, and 70% of the top 50 projects of BNBChain are using NodeReal
Aptos
Aptos TraceMove explorer and contribute to Aptos Data Indexing service.
Working closely with the Aptos team from day 0 and providing holistic service from REST API service to Explorer service.  As a result, 50% of the top 50 Aptos are using NodeReal now.
NodeReal Communities dramatically increased compared with June 2022.
User Growth: 224% (from 4.9K+ to ~11K+)
Daily Usage:1,169% (from 2.6B to ~31B)
Twitter Followers: 1,800% (from 2K to ~39K)
Customers: ~100 projects from DeFi, Game, NFT, Wallet to Web2 companies.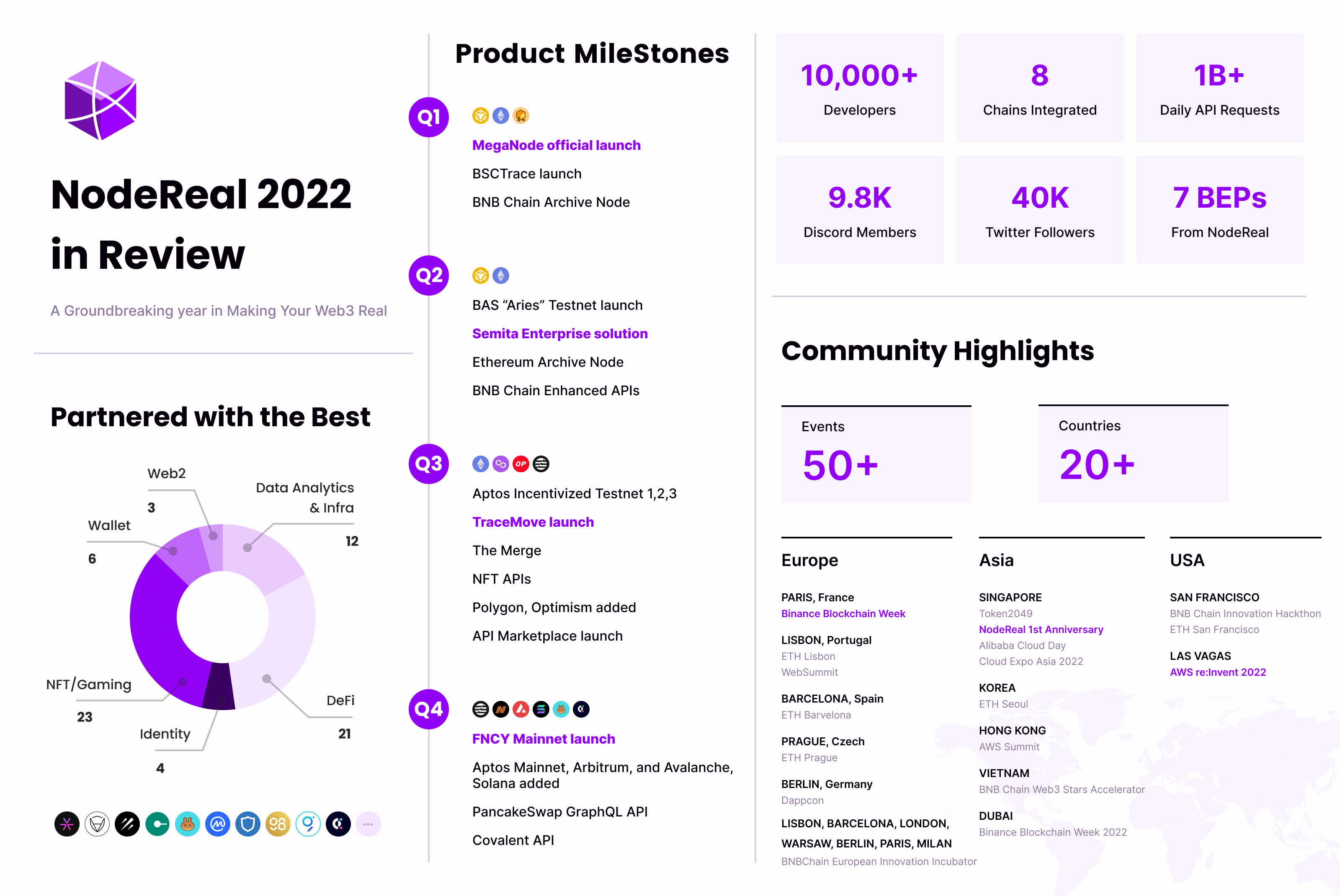 2023 Build for Real Web3
Compared with Web2 or internet evolution, Web3 is still in a very early stage and it will be a long journey to reach 1 Billion users.  Although there are a lot of challenges and difficulties in the down market in 2022, Web3 already demonstrates its real resistance. Web3 already attracts the top developers now, and according to Electric Capital's 2022 report, over 23,000 blockchain developers, a ~297% increase since 2018. Industry leaders and KOLs shared their "Excited 2023 forecast" (Vitalik, a16z,)  and web3 has huge potential and opportunities from different market segments as listed in Qiao.

We have more than 200 partners from Top L1 foundations and Web3 projects to Web2 partners. At the year's end, we have closely discussed our partners on their strategies. The common feedback and comments lead to building "Real" Web3 business cases. The Real Web3 means going back to the original spirit of Web3, and keeping building disruptive blockchain infra and applications to give people property rights: the ability to own a piece of the internet (assets and data). The real Web3 demands are from both Web3 native innovation and Web2 transformation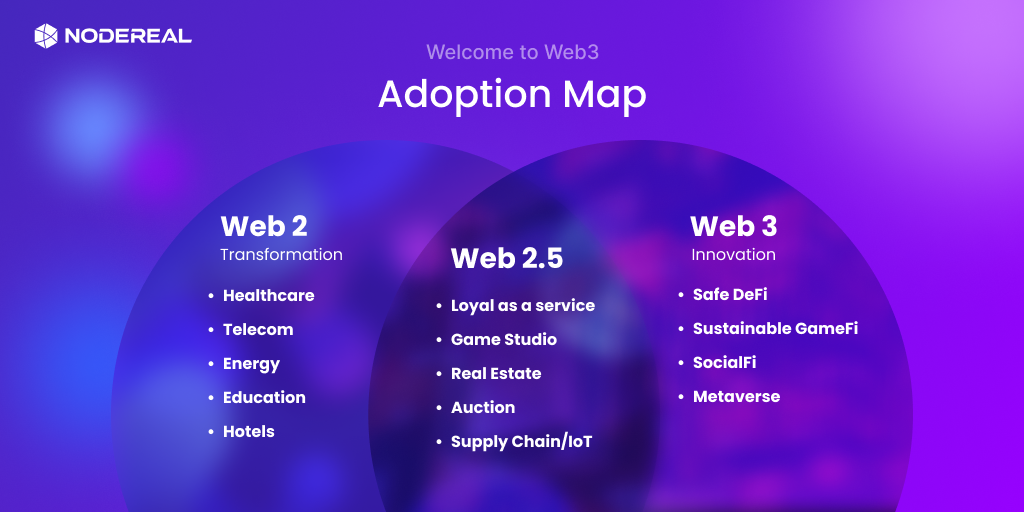 After the Defi summer of 2020 and NFT wave of 2021, Web3 already introduced great applications to reform how assets and valuable things are owned, exchanged, and transferred among people. Based on 2022 lessons learned, the existing DeFi and NFT applications need more sustainable innovations, such as DeFi should be safer with more risk controls and compliance-friendly tech and GameFi needs to introduce more fun games to keep their game players.   Furthermore, there are plenty of items that are not innovated well enough, especially on the data ownership and economics side. Damus (decentralized Twitter) already started to attract great attention from the whole industry. 2023 should be the year of Web3 data innovation.
At the same time,  the Web2 organization is also looking for a Web3 strategy.  2022 is the first year that we see so many traditional Web2 giants from both retail companies (Starbucks, Nike, eBay…), social media (Reddit, Meta…), entertainment(Disney, SM…), and financial service companies (like JPMorgan, Robinhood, Nubank…) are starting to adopt Web3 technologies. Web2 giants with existing blockchain initiatives like permissioned blockchains such as  R3 or Hyperledger, etc. are also looking for a hybrid blockchain solution, e.g., bridging existing permissioned blockchains to public blockchains.

At this moment, blockchain technology is a solid basis for Web3 as well as Web2. However, The level of "Web3-nativeness" varies tremendously.  Just like Web2 cloud service providers (AWS, Google Cloud Platform (GCP), AZure, or AliCloud) for the internet age,  Blockchain Infrastructure is the backbone of these "Real" demands that will lead to Web3 Flourishing. Cloud computing went through the "private cloud", "hybrid cloud" and "public cloud" phases.  Blockchain infrastructures are on a similar development path now with"permissioned blockchain", "permissionless blockchain" and "hybrid blockchain".  All of these require a one-stop solution and service providers to provide not only blockchain infra as a service (BaaS) but also blockchain consultancy services to standardize and speed up this adoption.
One-Stop Web3 Infrastructure from NodeReal
In 2023, we will keep improving our focus and strengthen our strategy as a  "One Stop Web3 Infrastructure" for these "Real" Web3 requirements.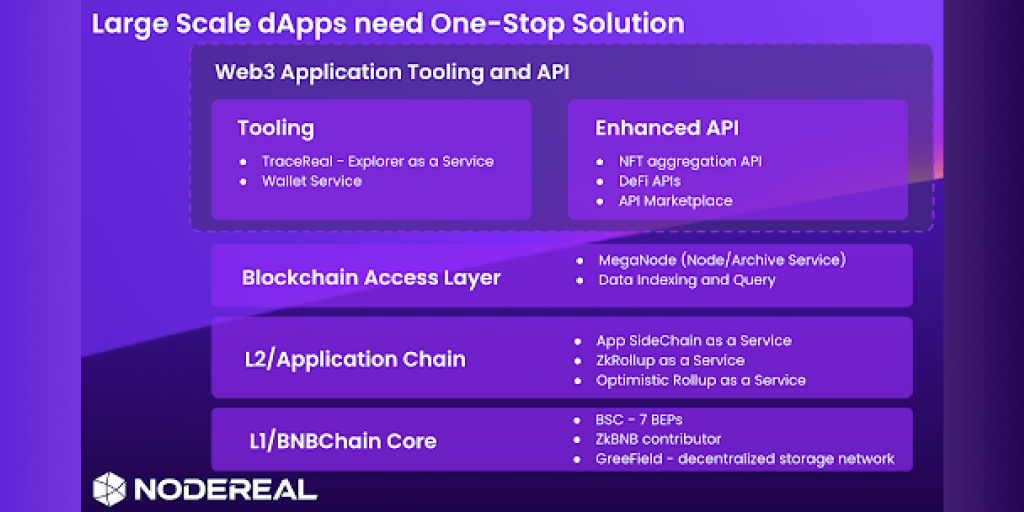 Blockchain Core - Fastest meets Fastest
Our strength is to solve high-performance challenges in L1 blockchains. NodeReal is actively contributing to kernel development works on L1 blockchains including BNBChain and Aptos.  

In 2022, NodeReal proposed Parallel EVM and implemented the initial version in BNBChain, and is one of the most active contributors to the BNB SideChain and zkBNB development. Based on these optimizations, BNB Smart Chain can reach >5000 TPS now.

In 2023, we will continue contributing to high-performance optimization from both computing and storage:
High-Performance blockchain (Computing)
High-Performance Storage
The new initiative GreenField will provide new high-performance decentralized storage to empower the web3 data economy. NodeReal is very honored to be the first contributor here.
All of these technologies will be used not only in the L1 blockchains but also in NodeReal Enterprise Product Semita - Application Chain as a Service.

Application-Specific Chain/L2 as a Service
In 2022, we worked with different partners in GameFI (FNCY Chain) and Web3 Identity Platform (Galxe) and piloted the Application Chain ideas using BNB SideChain Frameworks. The first FNCY chain is very successful and meets their key business objectives including high performance (>5K TPS), and customizability from tokenomics, special gas model,  governance model, etc. More than 30 games are planning to deploy on the FNCY chain in 2023.

"Build your own eco-system" is the key driver for the Application chain.  In 2022, Projects like Bored Apes, and dYdX have launched or are considering launching their own app chain. We are actively engaging with platforms with large developer communities (such as Game Engine) or large user bases (such as traditional Web2 with blockchain initiatives in the past 5-10 years), and we really see the high upcoming demand.

In 2023, besides the application-specific side chain, we will leverage our blockchain core strengths and work closely with our partners to build:
Application-specific rollups: Rollups represent a paradigm shift for blockchain scalability and dApp development. "Rollup-as-a-Service" (RaaS) will build tools and services to quickly and easily deploy rollups including customizable execution environments, and plug-and-play modular components including sequencers/verifiers, app-specific data indexers, node/archive service, explorers, and wallet integration.
Hybrid application: As Vitalik highlighted in this blog, traditional Web2 giants have had blockchain initiatives/experiments in the past 5+ years, like supply chain applications, loyalty programs, etc. They are looking for a solution to bridge the gap between permissioned blockchain and public blockchain.

Blockchain Explorer As a Service(EaaS)
A blockchain explorer allows crypto users to retrieve all the information about the state of a block. It enables users to quickly and conveniently search the blocks, transactions, addresses, profiles, and enhanced functions. Anyone, whether a blockchain developer, an end user, a data analyst, a dApp or an institution, can easily use an explorer to view all transactions on a blockchain.

In 2022, more than 5 explorers are using NodeReal (EaaS) service now including BSC Explorer, Aptos Explorer, ZKBNB Explorer, FNCY Explorer, and CMC explorer to cover typical features including Blocks, Transaction, Assets, NFTs, etc.

In 2023, NodeReal will leverage high-performance node and API services to provide fully managed, modular and customizable block explorers.  EaaS will not only support just L1/L2 blockchains, but also support the emergence of Application chains.  Furthermore, a multi-chain explorer will be also introduced as well to cover portfolio monitoring and cross-chain transaction monitoring.
From High-Performance API Service to Open API Platform
MegaNode provides high-performance Node service and archive Node service and already supports 8 chains. At the same time, high demands on domain-specific APIs like NFT API, DeFi Data API, etc are from Web3 communities and partners.  In 2022, we introduced the API Marketplace, where you can find the most relevant API bundles that can boost your development of Web3 applications, such as Pancake/Uniswap API, NFT API, and Naming Service API (SpaceID).

In 2023, MegaNode will be optimized to ensure the fastest Node/Standard API service. We will work with our partners to identify critical API cases including
DeFi Data Indexing API
Compliance API
The most important part is that API Marketplace will become an Open API Platform as Web2 Marketplace in AWS/Google Developer Tooling or https://rapidapi.com/.  

Node(Know) You Real - End-To-End Web3 Service
"Know the Users Real" is our first principle at NodeReal. In 2022, numerous efforts were made to figure out the real users' needs and grow with our partners as below:
In-depth research: our team has been carrying out in-depth research with our customers, with the goal of providing the best product and services, and building strong relationships. Check out our case studies, e.g. "FNCY, P12, and Hippo Labs, and you will be knowing how we are learning about customers in a good manner.
Meeting the community wherever they are: our team crisscrosses the globe to meet our customers, partners, and the broader community. For example, the most recent Alibaba Cloud Day, BNB Chain Lunar New Year Meetup, and ETH San Francisco. 10k+ developers worldwide chose to trust us within just 1 year of our establishment.
In 2023, we will go further and strive towards the same goal - "Build and Grow Smartly with our Community": From 0 to 1, from the initial consultation period to the design, development, and operation period. NodeReal will provide end-to-end service and will grow with you smartly all the way.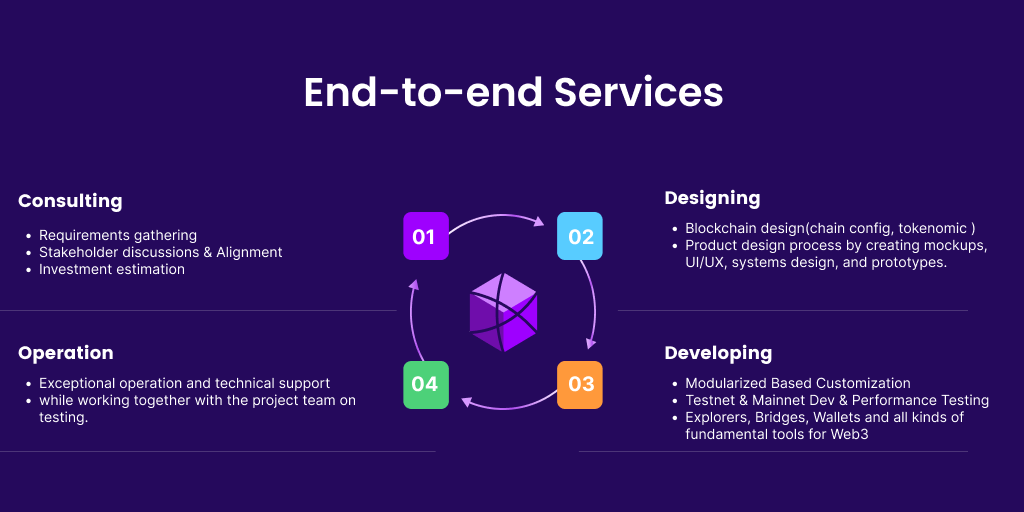 2023 will be a super promising year for the builders, and ​​NodeReal will be continuously building to lay the groundwork for Web3 mass adoption.
Thank you for all of your support and Let us keep building and making Web3 Real.
Ben Zhang,
NodeReal Co-founder and COO
Join Our Community
Join our community to learn more about NodeReal and stay up to date!