Web 3 presents a challenging landscape, often referred to as a "dark forest," where ordinary users are often vulnerable to various severe attacks. These include private key theft, airdrop scams, rug pulls, phishing websites/dApps, and authentication assaults. As the Web3 ecosystem strives for widespread adoption, ensuring user security becomes a crucial priority. Thus, decentralized applications (dApps) must focus on safety when onboarding new users to build trust and foster mass adoption.
A major study, the "Global Web3 Security Report 2022 & Crypto Regulatory Compliance Research," revealed over 167 major attacks on Web3 in 2022. The losses from these attacks surpassed $3.6 billion, a staggering 47.4% increase compared to the previous year's losses of approximately $2.44 billion. These figures reflect the bleak reality that retail users face, creating hesitancy and impeding the full growth potential of Web3.
GoPlus, known as the user security layer of Web3, is actively addressing this mounting issue through its Web 3.0 safe boundary. In this article, we will delve into how GoPlus Security achieves this, creating a safer and more secure place for all.
What is GoPlus Security?
The GoPlus Security Engine is a novel Web3 security infrastructure system. It functions as an open and permissionless security service platform, catering to all types of blockchain users.
Recognizing the vulnerability of everyday users, especially those transitioning from Web2 or newcomers, GoPlus Security offers a comprehensive suite of Security APIs. These APIs address user security concerns across various aspects of Web3 interactions.
Notably, GoPlus's Security APIs utilize automatic security-detection algorithms, taking a proactive approach to interception rather than passively detecting security issues. This empowers users to have greater control over their Web3 activities.
Moreover, GoPlus Security's API boasts several features covering a wide array of attacks, including Token, Address, NFT, dApps, and Data Decode. This comprehensive approach ensures that users can seamlessly integrate GoPlus's API into their daily Web3 operations.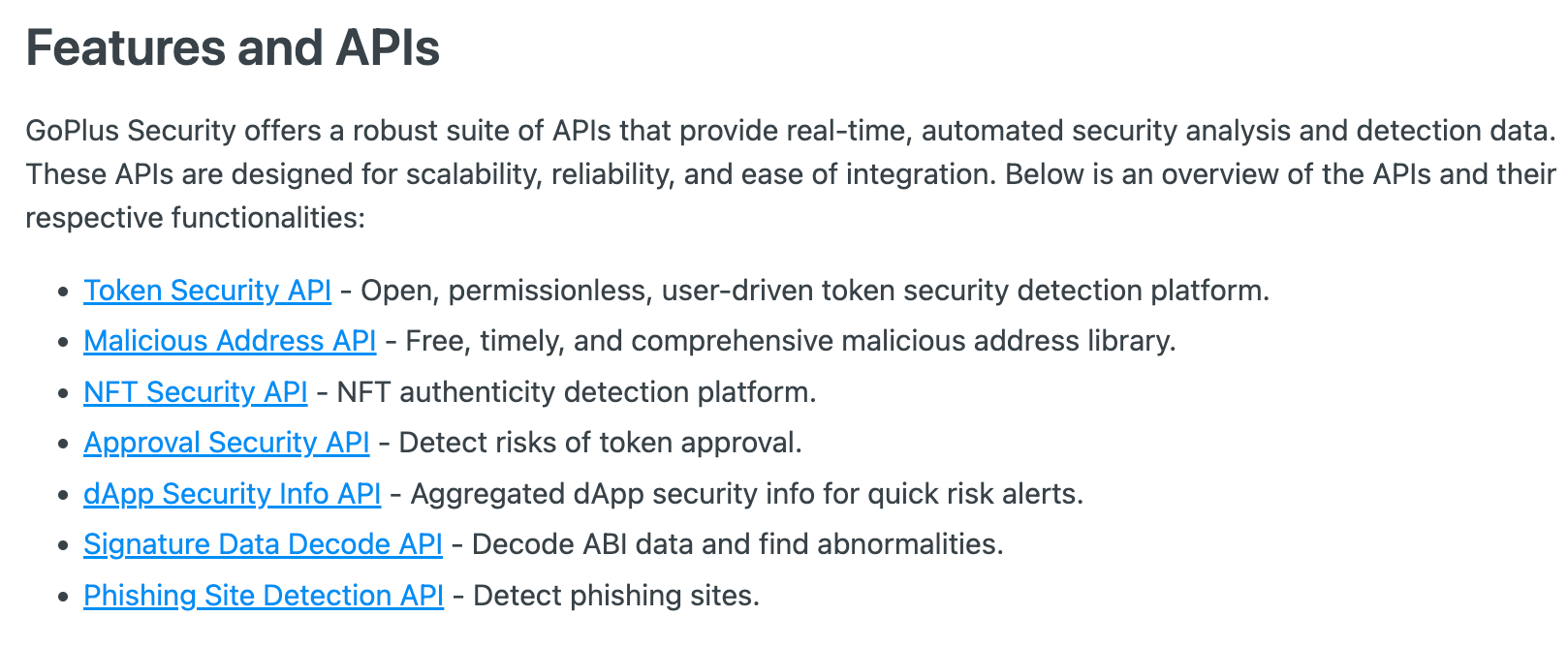 GoPlus Security: A Journey So Far
In months of operation, it has gathered an impressive 10 million API queries per day across its flagship Security APIs:
These API solutions have garnered significant trust, as more than 30+ industry-leading Web3 projects have integrated GoPlus Security's engine to secure their dApps and prioritize their users' safety. From a browser like Opera, and a full-fledged crypto wallet like OneKey, to an innovative Web3 Social Tool like Mask Network, the intricacies of GoPlus's Security APIs are seamlessly integrated with various groups of dApps.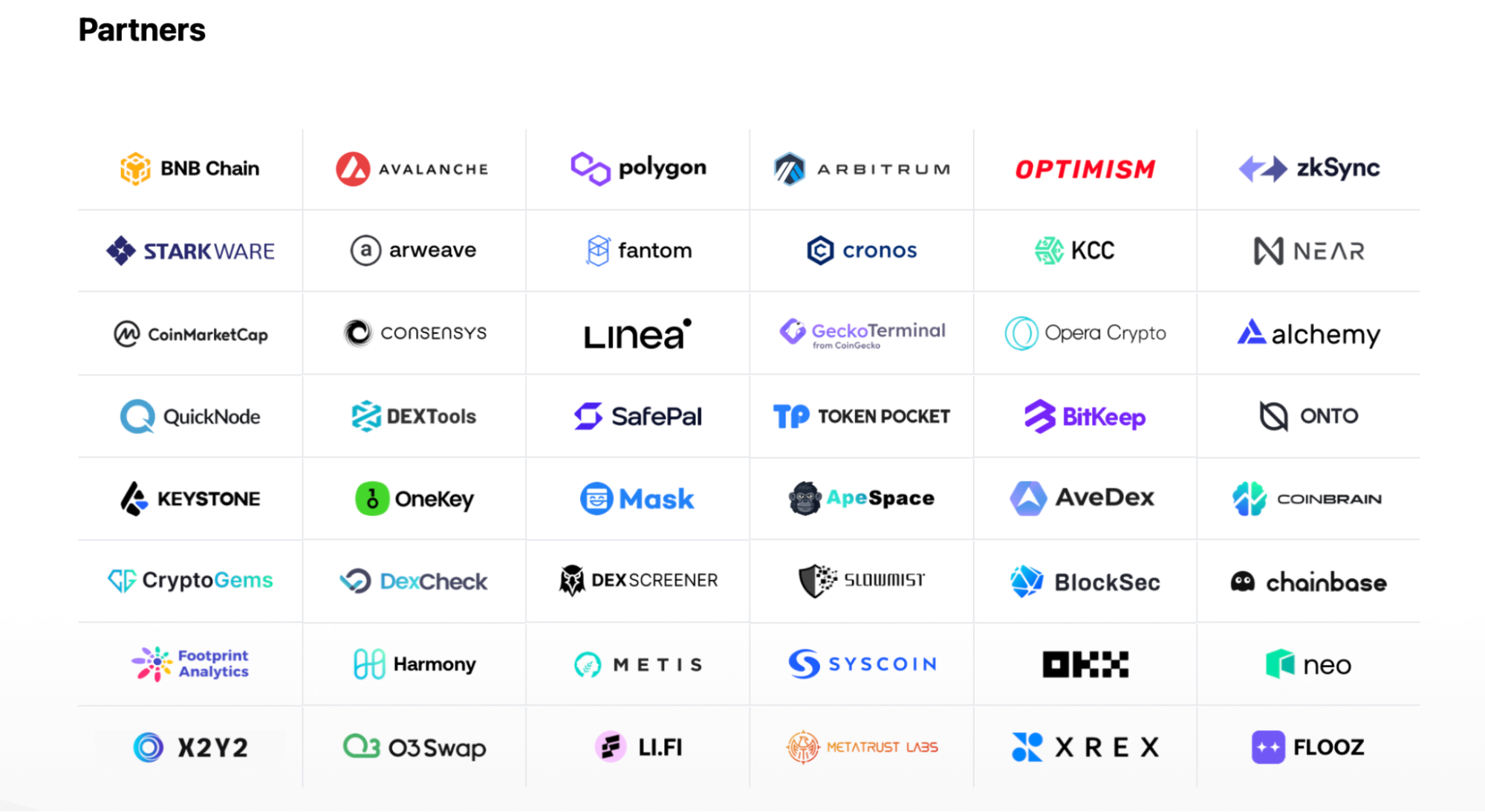 A Security-Centric Approach for both Web3 Retail Users and Developers.
While GoPlus's APIs' credit can be attributed to its developer-friendly features, GoPlus also struck a balance with Web3 retail users for its GoPlusEco. GoPlusEco operated as a one-stop-shop for Web3 security, yet, as the name suggested, the platform vision itself as a security ecosystem.
The marketplace brings an unparalleled level of personalization, catering to retail users' unique needs and preferences with tailored product recommendations. By connecting their wallets, users unlock access to crucial services like risk detection, safety information, market tools, insurance options, asset tracking, and secure custody solutions, creating a seamless and truly customized experience.
From the marketplace, developers, also find themselves with a diverse range of tools at their disposal. From cutting-edge security analysis to efficient deployment and testing frameworks, developers can elevate their work and optimize their processes to deliver top-notch solutions. Project teams benefit from an array of services, including contract monitoring, node provisioning, data storage, and advanced DAO tooling, among other offerings.
On top of that, they recently introduced a GoPlus ChatGPT Plugin. This innovative product marks a further stride in dismantling barriers to secure Web3 access. Designed with precision, the GoPlus ChatGPT Plugin addresses the challenge of user security in the Web3 landscape. Whether you are well-versed in the intricacies of Web3, an ardent participant in its various facets, an expert in auditing, or simply someone exploring its possibilities, the GoPlus ChatGPT Plugin caters to all. It stands as a testament to intuitive design, aimed at eradicating complexities and ensuring that user security becomes an achievable, understandable, and actionable goal for all.
With an abundance of support services and innovative solutions, GoPlus fosters growth, drives innovation, and plays a crucial role in accelerating Web3 onboardings. By facilitating seamless integration and personalized experiences, GoPlus continues to be at the forefront of ushering in a new era of Safer Web3 for everyone.
How does NodeReal support it?
Web3's beauty lies in its emphasis on collaboration and the pursuit of untapped synergy. NodeReal specializes in providing a robust and secure infrastructure tailored for many Web3 projects. With its reliable data services, including RPC APIs, NodeReal not only enhances GoPlus's security standards but also elevates node infrastructure standards across the entire Web3 landscape.
As DeFi gains more traction and popularity, the associated risks loom larger. As a security data layer for Web3, the GoPlus Security team can leverage NodeReal's DeFi API, such as PancakeSwap GraphQL API, to enhance its existing product suite significantly. For instance, GoPlus's NFT Security APIs can be supercharged with a liquidity monitoring feature, offering enhanced protection and risk assessment capabilities.
As a prominent infrastructure provider on the BNB Chain, NodeReal's products provide a seamless integration opportunity with the rising opBNB solution. By joining forces with NodeReal, GoPlus gains access to the impressive high-performance capabilities and cost-efficient nature of opBNB, paving the way for enhanced functionalities and improved user experiences.
This collaborative approach between NodeReal and GoPlus Security showcases the power of Web3's synergy, where each platform's strengths complement one another, leading to a more robust and secure ecosystem for users and developers alike.
Concluding Remarks
GoPlus Security stays true and focused on its mission to ensure a safe and secure Web3 for all. Its dedication is evident through the development of a comprehensive suite of Security APIs, which has become an essential component of numerous prominent Web3 projects and decentralized applications (dApps).
Furthermore, the GoPlus ChatGPT Plugin stands as a remarkable innovation, offering practical utility not only to developers but also to those who are just beginning to explore the vast realm of Web3. These forward-thinking solutions play a crucial role in safeguarding user assets and data, bolstering confidence in the Web3 ecosystem.
Lastly, GoPlus Security goes beyond its API offerings and fosters collaboration and innovation through its security marketplace. This platform encourages cross-disciplinary cooperation, enabling various stakeholders to contribute their expertise and insights to the ongoing enhancement of Web3 security. By facilitating this collaborative synergy, GoPlus Security effectively contributes to an informed, educated, and safety-conscious user base on Web3, making it a more trustworthy and dependable environment for all.
---
About GoPlus Security
GoPlus Security is the security data infrastructure layer of Web3. The services include token and NFT detection, malicious address tracking, and approval security, among others. The platform handles about 15 million daily data calls and supports 18 blockchain networks. GoPlus Security's APIs have been integrated by platforms such as GeckoTerminal, DEXTools, Opera, CoinMarketCap, X2Y2, and SafePal. Since its inception, Web3 natives have utilized GoPlus Security to detect over 3.3 million tokens and have been alerted to more than 2.08 million risk items. The open-access GoPlusEco Security Services Marketplace, launched in late 2022, offers an array of third-party solutions and tools that users and developers can leverage for their dynamic security needs. Detailed technical information can be found in the GoPlus API Documentation.
About NodeReal
NodeReal is a one-stop blockchain infrastructure and service provider that embraces the high-speed blockchain era and empowers developers by "Make your Web3 Real". We provide scalable, reliable, and efficient blockchain solutions for everyone, aiming to support the adoption, growth, and long-term success of the Web3 ecosystem.
Join Our Community
Join our community to learn more about NodeReal and stay up to date!