Dear NodeReal early adopters,
Have you missed the first round of our NFT Giveaway Campaign?  and you were not eligible?
We offer you a second chance!
We are pleased to announce that Round 2 is now open, with more exciting features! Eligible users can now claim your NFT and join our exclusive Discord Channel - #RealHero to receive your rewards (Swags & Extension on MegaNode Growth Plan FREE trial)!
This campaign is powered by Project Galaxy.
Eligible Users in Round 2!
This series of NFT is intended to symbolize our appreciation for your early adoption of MegaNode services. To be qualified, you will first need to be our Growth Plan user or even higher. You can choose to upgrade in the traditional payment way, but more ideal for you is to join through the three-month FREE Trial campaign that is still ongoing!
In Round 2, eligible users (let's call heroes start here) are those who were most actively using our MegaNode services in April (your last 30-day MegaNode usage). We have 3 tiers here, from low to high: Silver, Gold, and Platinum. Below are the eligible heroes in this round. Check for yourself!
Platinum NFT:  Go claim 👈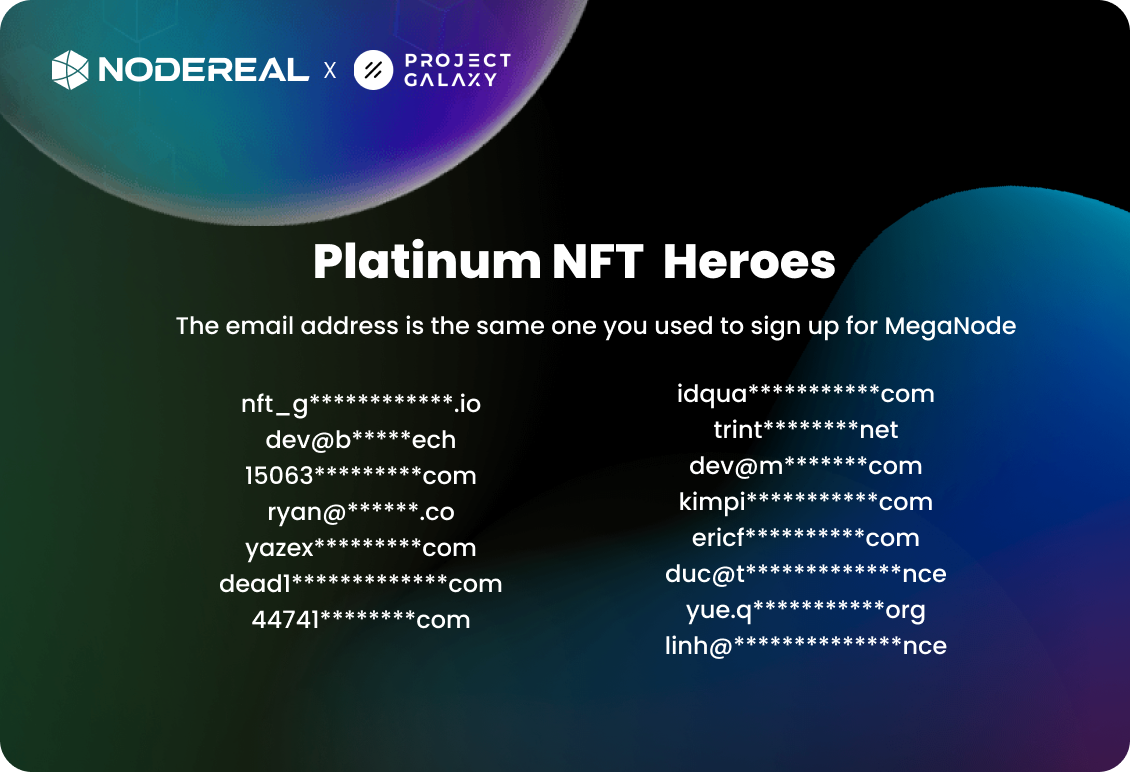 Gold NFT:   Go claim 👈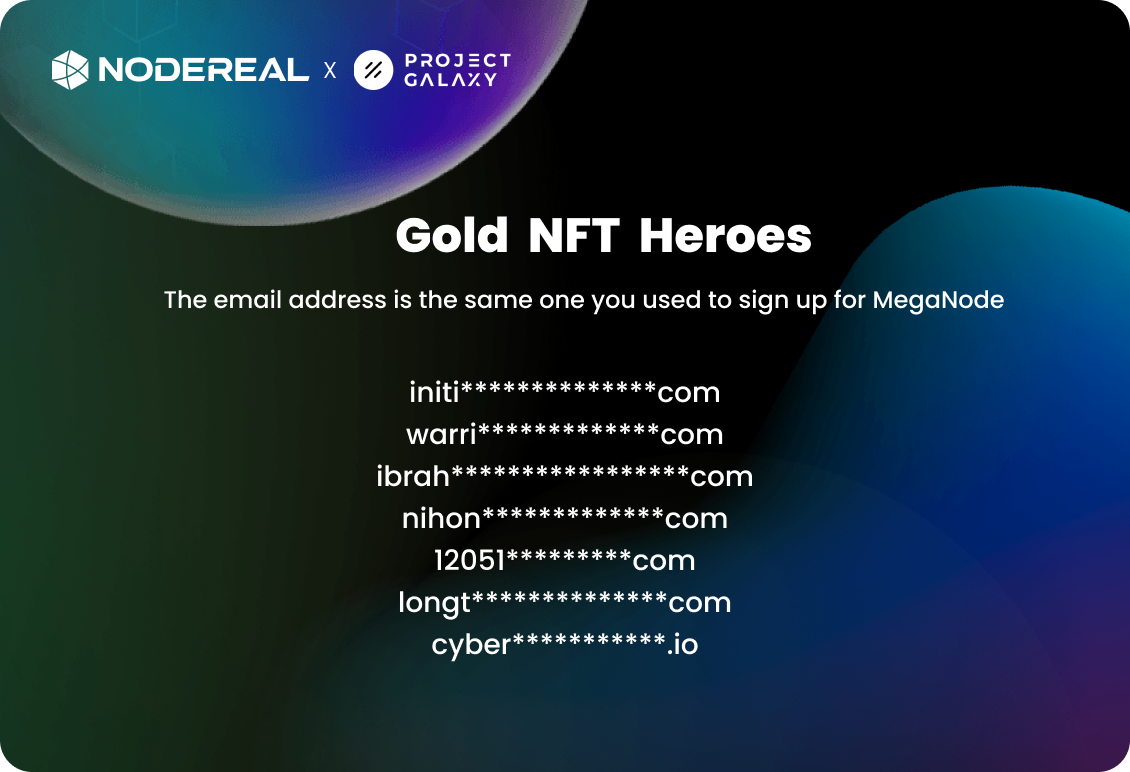 Silver NFT:   Go claim 👈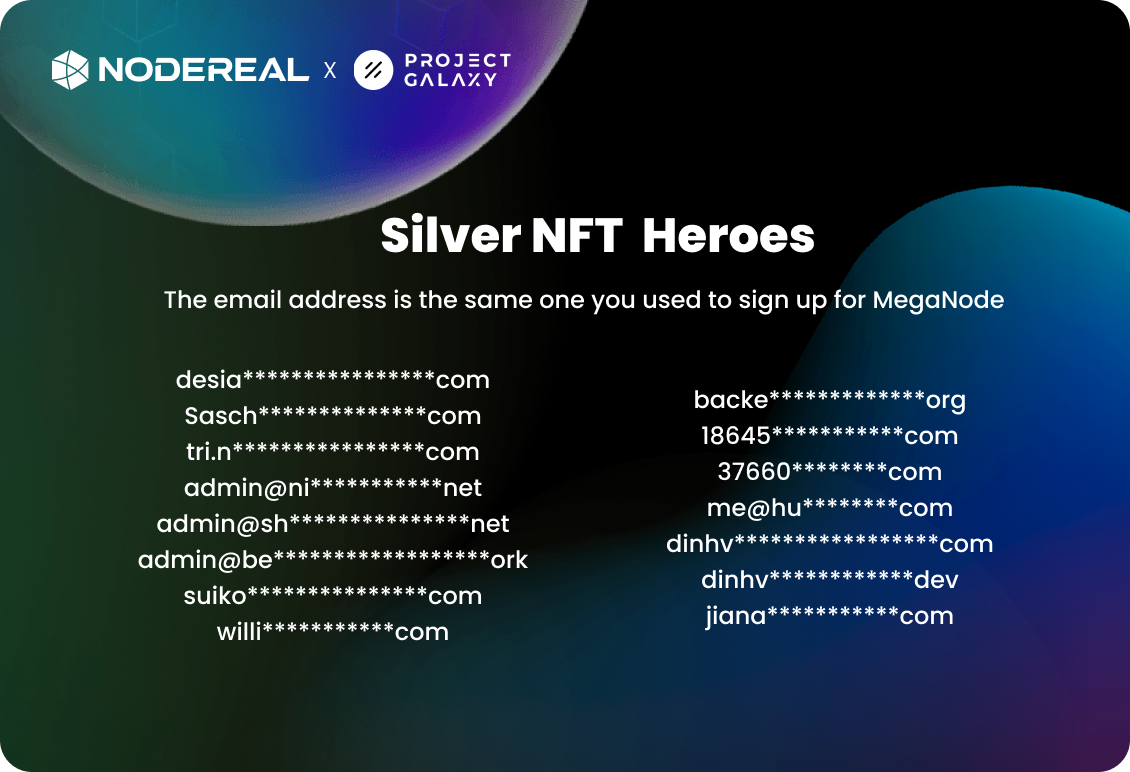 *The email address here is the one you used to sign up for MegaNode.
Upgraded Benefits!
Ownership of these Loyalty NFTs will show that you are an early adopter, an OG of NodeReal. To express our sincere gratitude to our loyal heroes, we've upgraded our gift pack here!
Please note that you will need to join our exclusive Discord Channel - #RealHero, with the NFT on hand, and then can redeem your rewards.
Platinum: Fantastic NodeReal Swag + 2 more months FREE trial of MegaNode Growth Plan
Gold: Fantastic NodeReal Swag +1 more month FREE trial of MegaNode Growth Plan
Silver: 1 more month FREE trial of MegaNode Growth Plan
These NFTs will be also used as the basis for more future incentives and utilities as NodeReal continues to grow and develop.
How to Claim My NFT & Rewards?
Please follow the step-by-step tutorial below or check this video tutorial. Claimable Period: 2022/05/17 19:00 - 2022/05/31 23:59 GMT+08:00.
Visit the campaign page on Project Galaxy.
Click the NFT you are eligible for (check the list mentioned above) and input your email to participate.
Kind Reminder: Please use the same email address used to sign up for the MegaNode Growth Plan.
Connect your wallet and select "BNB Chain" as the blockchain. Please make sure there are sufficient funds in BNB for the gas fee.
Click the "Claim" button under the badge.
Join our exclusive Discord Channel - #RealHero with the NFT you just claimed successfully.
Fill in a form we will share with you exclusively on the Discord channel and receive your rewards soon.
That's all!
Get excited? Collect your NFT right away if you are eligible.
If not, give our MegaNode a trial and stay tuned for Round 3 in June!
About NodeReal
NodeReal is a one-stop blockchain infrastructure and services provider that embraces the high-speed blockchain era. We provide scalable, reliable, and efficient blockchain solutions for everyone, aiming to support the adoption, growth, and long-term success of the Web3 ecosystem.
About Project Galaxy
Project Galaxy is the largest Web3 credential data network in the world. Built on open and collaborative infrastructure, Project Galaxy helps developers and organizations leverage NFTs and digital credential data to build better products and communities in Web3.
Follow Us
Join our community to learn more about NodeReal and stay up to date with us!