Read time: 5 minutes
Dear Builders, Devs, and beloved community,
A lot can happen in one month for an ever-growing blockchain infrastructure provider like NodeReal. Over the past month, the NodeReal team has been busy delivering new products and features, signing new partnerships, running our very first anniversary celebration event, and many more!
Here's a recap of our most notable activities and progress in September 2022. Enjoy!
Time flies. It's unbelievable that NodeReal just turned 1 year old! To celebrate this milestone, we have held our very first birthday celebration event in Singapore with more than 400 leading Web3 projects, investors, partners, entrepreneurs, and developers participating in the event. Big shout out to BNB Chain who co-hosts the amazing event with us and our sweetest sponsors DoraHacks, Sky9 Capital, CUBE, and Galxe. Check out this video to catch some vibe!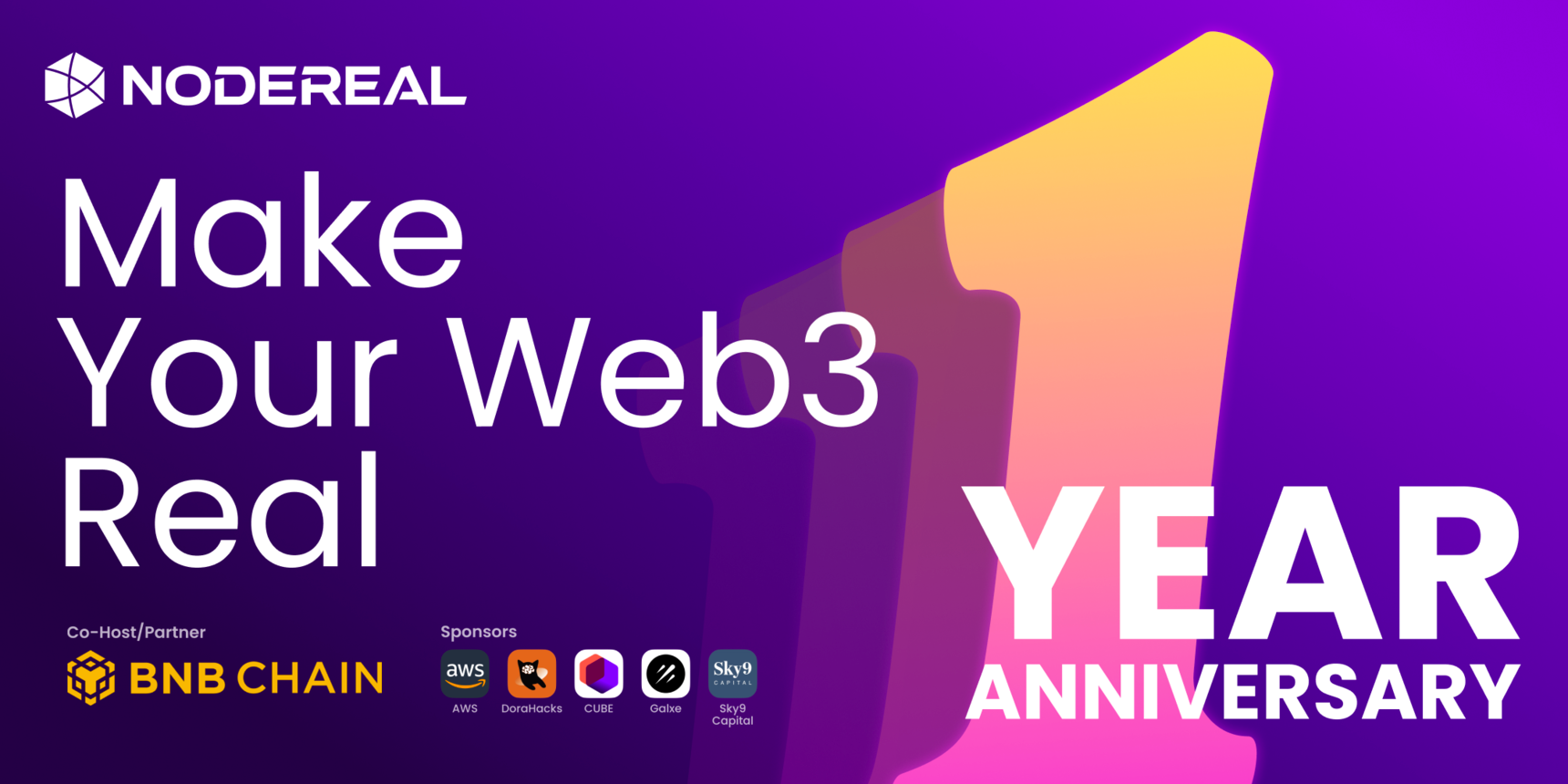 The Open and One-stop Web3 API Marketplace is now LIVE!
One of the most unmissable product releases in September must be the launch of NodeReal's Web3 API Marketplace, an open and one-stop API marketplace that provides you with the fastest enhanced APIs in the world. From NFT, DeFi to Debug APIs, NodeReal makes it simple for you to build blockchain applications, access all kinds of Web3 data, and scale up as you grow. Check out our tutorials to get started shortly!
When Fastest meets Fastest, NodeReal Speeds up Aptos with One-Stop Infrastructure
With the shared mission and vision to make Web3 mass adoption possible, NodeReal and Aptos are a match made in heaven. So far, we have supported Aptos Testnet REST API and launched TraceMove, the blockchain explorer and analytics platform built for Aptos ecosystem. As Aptos approaches its mainnet launch, NodeReal will release even more powerful products and features. Stay tuned with us here.
Build N' Build Has Never Been Easier with NodeReal
Since day one,  NodeReal has been contributing to the BNB Chain ecosystem by providing one-stop infrastructure and solutions. From RPC/Archive Service ( ~70% BNB Chain RPC Service is supported by NodeReal's MegaNode), Application chain (powered by NodeReal's Semita), and powerful dev toolings (now open-source on Github), to the current Web3 API Marketplace, all you need for building on BNB Chain can be found in NodeReal. Check out our dedicated page for BNBChain to get started now!
NodeReal Ensures you a Smooth Transition for the Ethereum Merge
The Merge or EthW?  Choices are yours because NodeReal got everything covered on Ethereum. NodeReal's MegaNode has supported both The Merge and EthW to ensure you a smooth experience for this transition. Plus, MegaNode now also supports Beacon Chain REST APIs.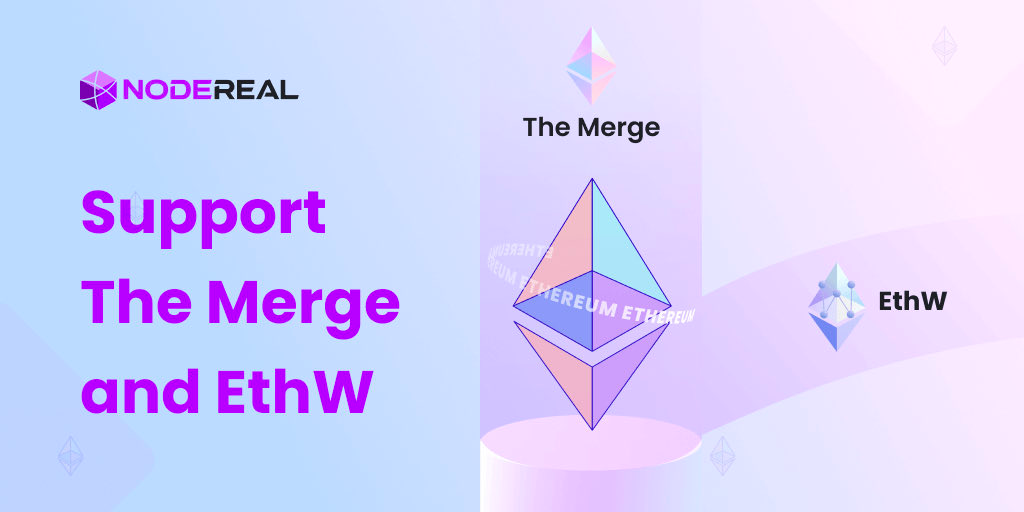 Access Optimism with No Limits on NodeReal
Optimism is a Layer2 Optimistic Rollup network designed to utilize the strong security guarantees of Ethereum while reducing its cost and latency. We are pleased to have supported Optimism in MegaNode, providing the fastest, most scalable, and most stable API service on the market. Read more.
Now More Than Ever, NodeReal Accelerates Partnerships to Make Web3 Real
In September, more projects than ever have chosen NodeReal as their infrastructure partner to support their continued growth, including but not limited to Rareboard, Spika, Meeiro, EVO Wallet, MoveBit, Gameta, and GameFi.org.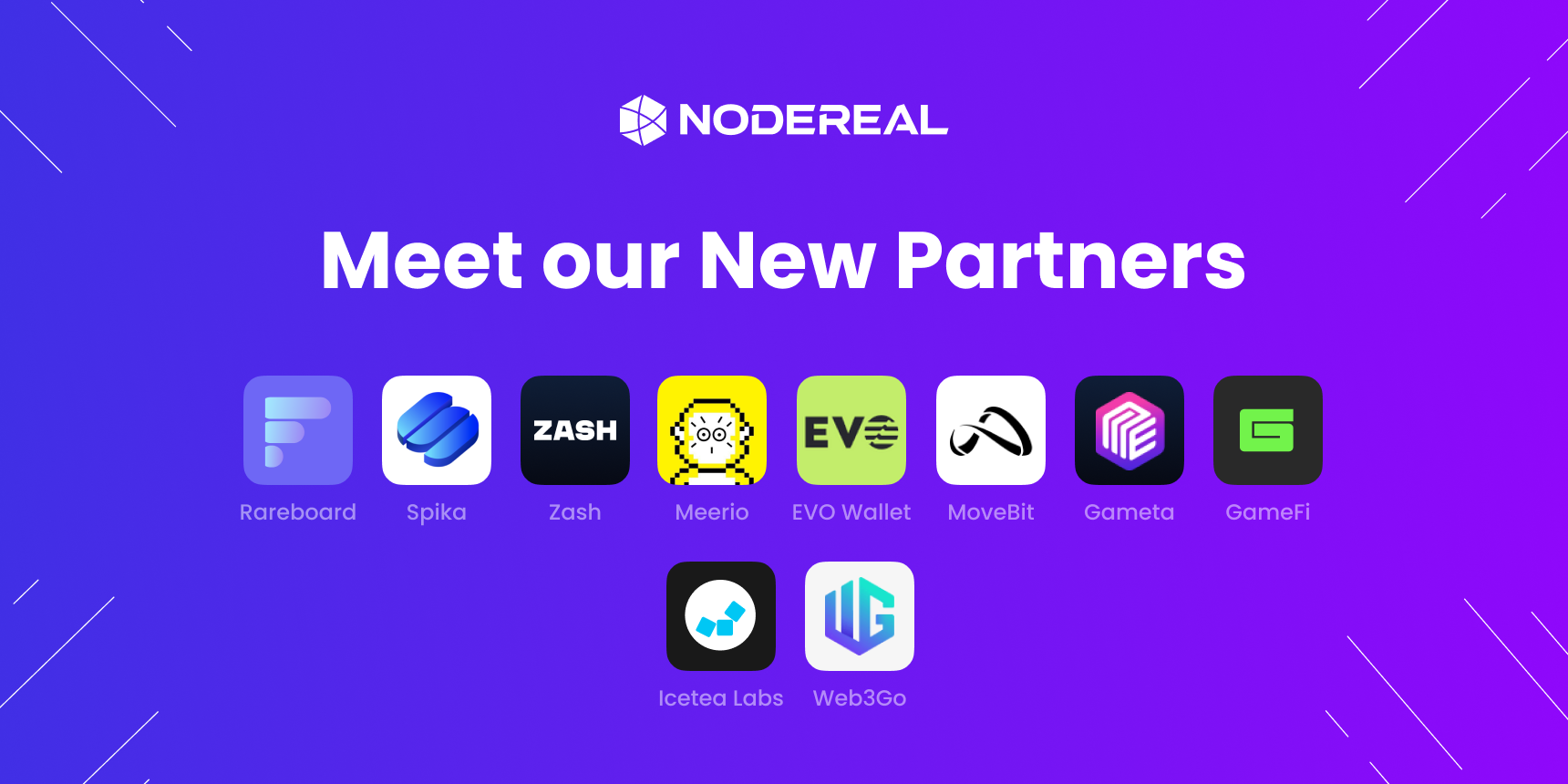 We are also proud to share the news that NodeReal is now part of the FNCY journey with the CUBE team. We admire the Web3 spirit of FNCY and believe that we will reach even higher milestones together! Check out this interview about what Henry, CEO of NodeReal talked about FNCY.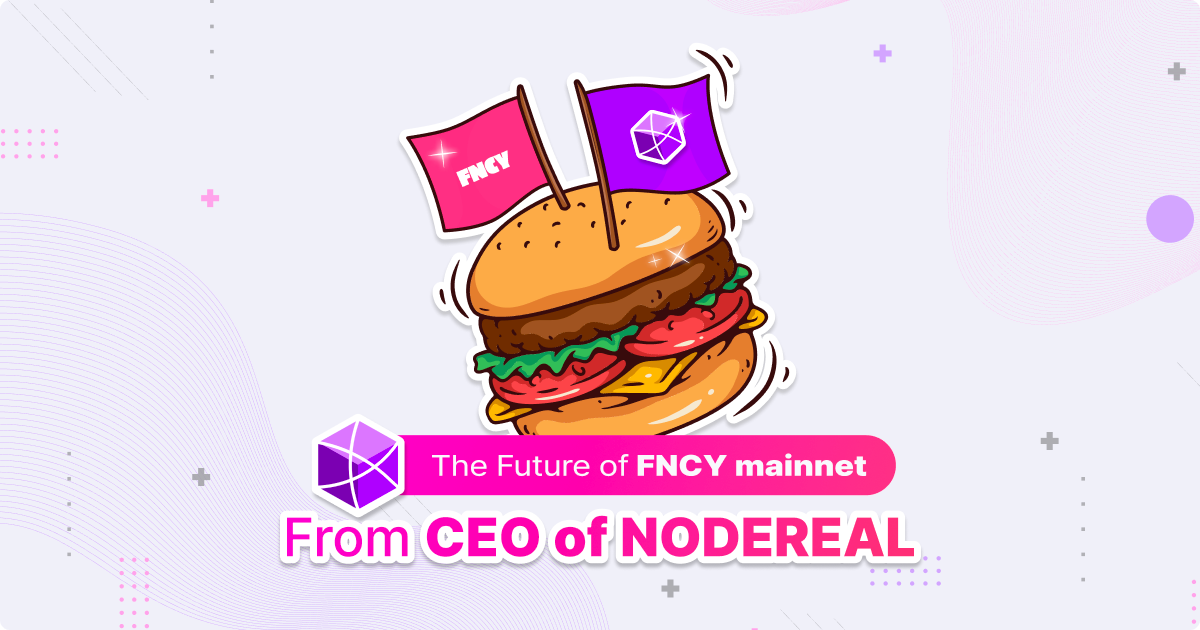 We are truly honored to be trusted by our partners and are committed to accelerating partnerships to make your Web3 real!
The past September was truly special for NodeReal, as we held our very first anniversary celebration event, and also crisscrossed the world from Berlin and Paris to Vietnam and Singapore to meet developers, community, and clients. Below are some highlights.
BNB Chain Web3 Stars Accelerator Vietnam Meetup, Sept.9. Our sincere appreciation to BNB Chain for having us in force to host talks, connect with the ecosystem and share our big Web3 vision with the Vietnam community.
Binance Paris Blockchain Week 2022, Sept 14-16. NodeReal joined as one of the golden sponsors and set up a lovely booth there to connect with the local community.
Token 2049, Singapore, Sept 27-29: The last week of September was busy and eventful for the global Web3 industry as Token 2049 brought everyone together. The NodeReal team participated in multiple events like ABGA.

NodeReal's industry-leading reputation for dependability makes it the ideal service provider for applications and protocol development on Ethereum, BNB Chain, Aptos, Polygon, Optimism, and more!
We are currently running a special MegaNode promotion in celebration of our first-year anniversary, valid till the end of October 2022. You won't want to miss it.
NodeReal has enjoyed an eventful September and aims to start Q4 with even more partnerships, exciting events, and of course, continuous optimization of our products & services. Make sure you will tune into the NodeReal blog for the latest news.
Let's make Web3 Real!

About NodeReal
NodeReal is a one-stop blockchain infrastructure and service provider that embraces the high-speed blockchain era and empowers developers by "Make your Web3 Real". We provide scalable, reliable, and efficient blockchain solutions for everyone, aiming to support the adoption, growth, and long-term success of the Web3 ecosystem.
Join Our Community
Join our community to learn more about NodeReal and stay up to date!