The 2022 Developer Report by Electric Capital analyzed over 250 million code commits across open-source repositories to highlight the highest number of Web3 developers ever in history at 61,127.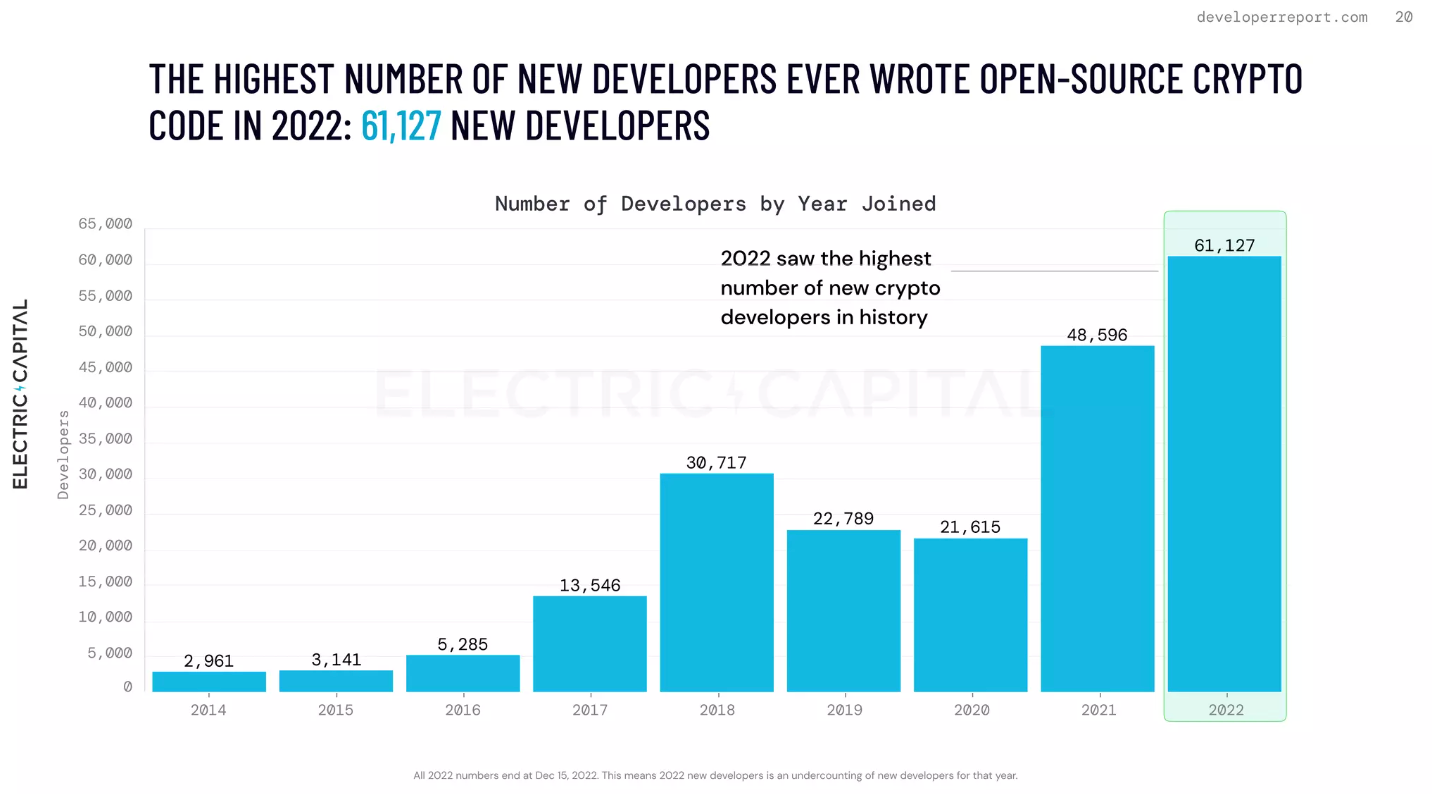 As of Q1-2023, Electrical Capital recorded a stable trend despite the bear market and price drops, with approximately 21,697 monthly active developers, of which 7,039 are full-time developers.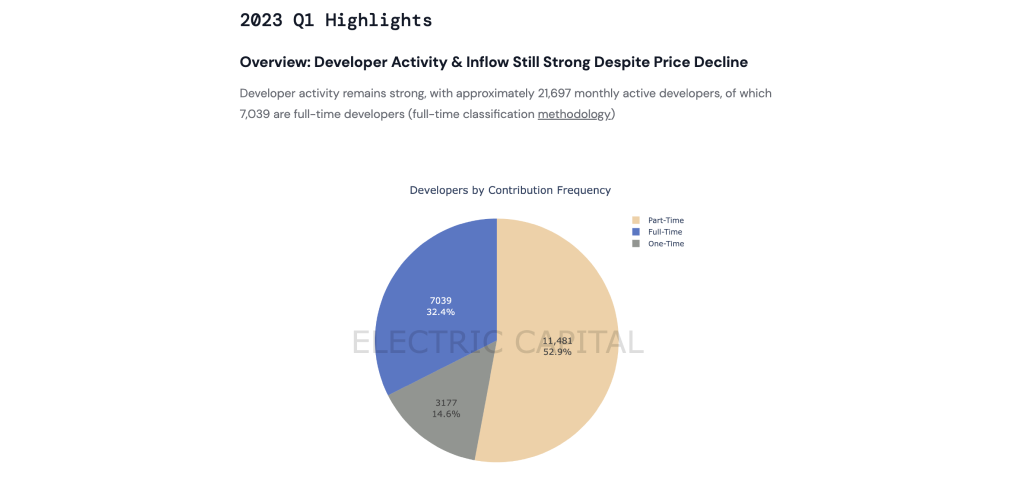 The aforementioned figures indicate the increasing demand for Web3 applications and the growing interest of developers in this dynamic field. Recognizing this need for a seamless transition from Web2 to Web3, Particle Network has emerged as a proactive solution for the growing ecosystem of developers.
In this article we will look into Particle Network, a middleware platform, providing solutions like Web3 Authentication (Web2 Social Logins to create a Web3 wallet), Wallet-as-a-Service, amongst other solutions like NFT, Data API, and Node Solution and how it facilitates a more seamless and efficient adoption of Web3 technologies among the developer community.
The Journey of Particle Network
The inception of Particle Network can be traced back to December 2021, prompted by a significant realization that the onboarding experience for the majority of Web3 applications was burdened by cumbersome registration processes and intricate technical complexities.
In 2021, Particle Network developed a middleware solution, leveraging Multi-Party Computation (MPC) technology, to offer an Authentication and Wallet-as-a-Service solution. This not only makes them one of the earliest in the space to develop the MPC technology from scratch but also able to assist developers to integrate user-friendly web2 authentication solutions into their dApp development.
In late March this year, Particle Network launched its blueprint and scored a $7-million funding round which was led by ABCDE and other participations from Animoca, Longhash Ventures, GSR Ventures, Hashkey, and OP Crypto.
Particle Network's products' ranges continue to deepen from node services to a data API and an NFT service. It demonstrated its depth of functionalities and multichain availability across 30+ Ethereum Virtual Machine (EVM) and non-EVM chains, serving top-tier projects in these ecosystems.
On top of that, Particle Network's commitment to streamlining the developer process is displayed through outstanding partnerships and clients during April and May 2023 such as Conflux eSpace, QuestN, and Biconomy.
Wallet-As-A-Service: How Particle Network is Transforming dApp Development
A wallet application plays a crucial role as the entry point for Web3 users, acting as a bridge between the traditional web2 world and the web3 ecosystem. However, the increasing adoption of Web3 products has exposed challenges in user experience due to traditional browser plugins and third-party wallet redirections. Seamless and intuitive onboarding has become a pressing demand that needs to be addressed. Web3 developers often face the dilemma of designing an optimal customer experience while grappling with technical blockchain development. This is where Particle Network, as a middleware, steps in to empower Web3 developers with its Wallet-as-a-Service(WaaS) solution.
The WaaS product suite offered by Particle Network is a comprehensive toolkit designed to simplify development processes. It encompasses innovative features such as the Auth SDK, Wallet SDK, and On-and-off Ramp, which are compatible with multiple platforms and blockchain networks. This compatibility ensures flexibility and convenience for developers, regardless of their chosen platform or chain.
One significant benefit of Particle's WaaS is its ability to reduce customer churn rate and enhance conversion rates on decentralized applications (dApps) through the implementation of social login. By simplifying the onboarding process, users can easily adopt Web 3.0 applications without the need to create and manage private keys or seed phrases. This user-friendly approach encourages wider adoption and allows users to enjoy the benefits of decentralized technology effortlessly. The top 10 projects on BSC (based on DappRadar ranking) such as Hooked Protocol, Playbux, and SecondLive already reaped the benefits from Particle's WaaS.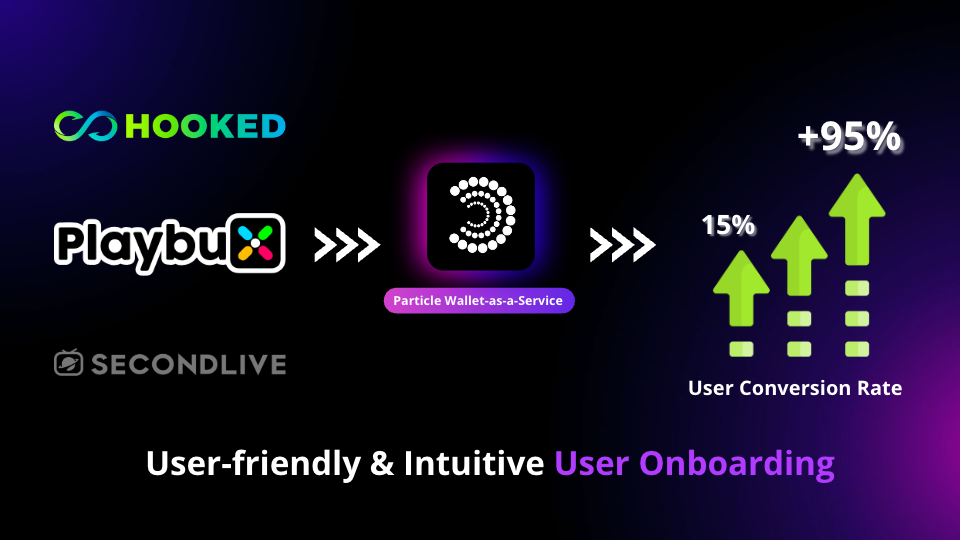 Particle Network places a strong emphasis on security in its WaaS solutions. It employs advanced MPC-TSS (Multi-Party Computation with Threshold Signatures) technology, eliminating the reliance on traditional private keys. Additionally, server-side computation and risk management measures are implemented to enhance security while preserving user privacy.
A notable advantage of Particle's Wallet-as-a-Service solution is its flexibility and customization capabilities. Developers have the freedom to create unique and tailored experiences for their users, enabling their Web 3.0 applications to stand out in a highly competitive market.
In summary, Particle Network's Wallet-as-a-Service solution addresses the challenges of seamless onboarding, security, and customization for Web3 developers. By providing user-friendly tools and ensuring a strong commitment to security, Particle Network empowers developers to create standout Web 3.0 applications that cater to the evolving needs of users in this dynamic landscape.
AA Wallet & MPC Wallet: The Untapped Synergy
Wallet applications play a significant role in the dynamic landscape of Web3. They encompass various categories such as Externally Owned Accounts (EOA), Multi-Party Computation (MPC), and Account Abstraction (AA), each representing technical advancements within the blockchain space.
These advancements offer new possibilities for Web3 development, sparking discussions among developers and enthusiasts about the optimal path for the future. As these wallet categories gain traction, it is natural for technical discussions to arise. Developers and enthusiasts may find themselves immersed in complex debates, seeking clarity on the most suitable direction to take. The evolving nature of Web3 development necessitates a thorough exploration of the strengths, limitations, and potential use cases of each wallet category.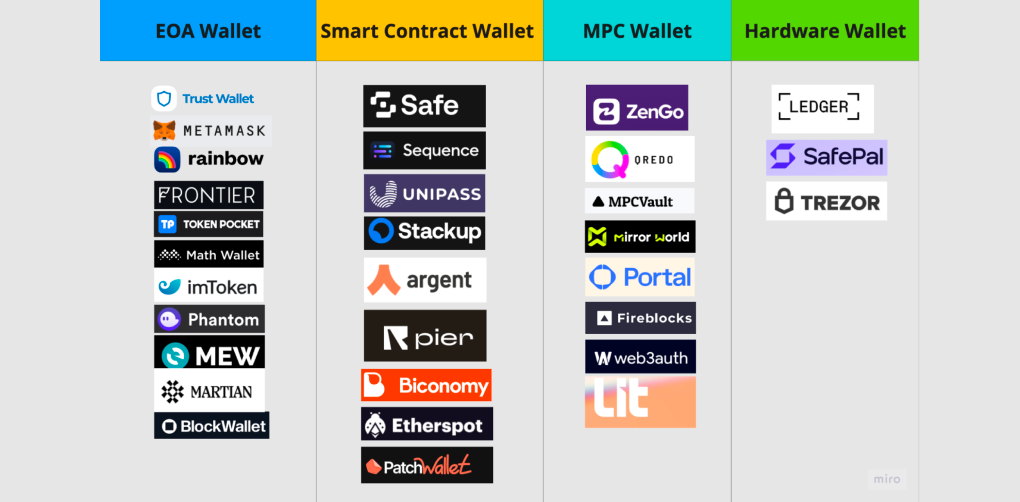 Particle Network's WaaS solution tackles the conflicting dynamic surrounding wallet applications by actively developing a suite of tools that enable the creation of AA wallets, leveraging the advantages of MPC.
A notable partnership that exemplifies this combined solution is with Biconomy, showcasing numerous benefits for developers, including Enhanced Security, Seamless User Experience, and Simplified Development. Furthermore, they also integrated with Pimlico to provide more AA-enable solutions to partners, especially on Linea. An example of this would be Izumi Finance, a leading DeFi application on Linea, already integrated MPC-AA Solution by Particle Network.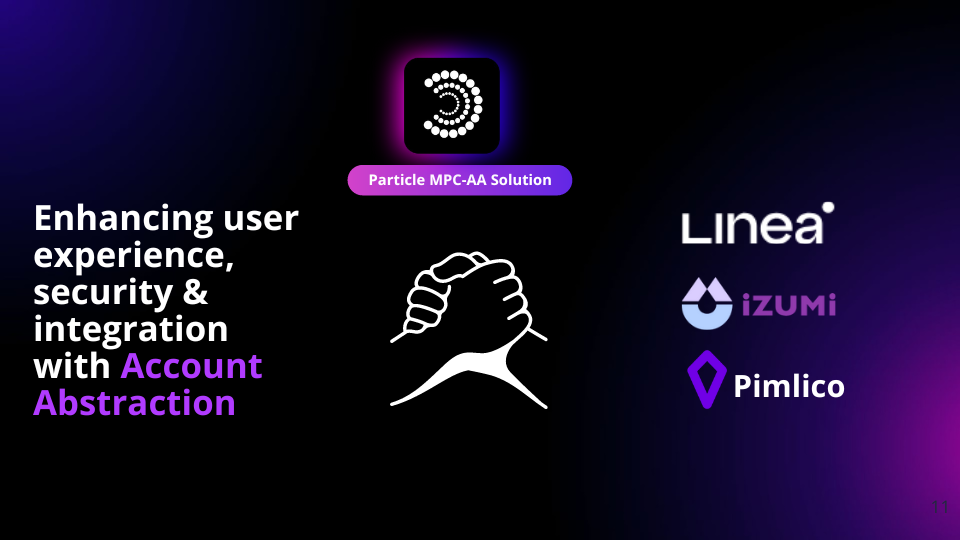 By incorporating MPC techniques into AA wallets, Particle Network addresses the security and privacy concerns associated with traditional Externally Owned Accounts (EOA) wallets. The utilization of MPC technology ensures that private key management is distributed among multiple parties, enhancing resilience against attacks and safeguarding user assets.
​​In addition to security, Particle Network focuses on delivering a seamless user experience. AA wallets provide users with the convenience of interacting with decentralized applications (dApps) across multiple chains without the need for holding native tokens. With a cherry on top, the abstraction feature simplifies the user experience, promoting wider adoption of Web3 applications and fostering a user-friendly environment.
How NodeReal support?
In the Web3 industry, collaboration plays a pivotal role in driving innovation and growth. NodeReal, with its expertise in blockchain infrastructure technology and API services, brings valuable contributions to strengthen Particle Network's offerings and services.
As a prominent infrastructure provider on the BNB Chain, NodeReal's products provide a seamless integration opportunity with the rising opBNB solution. This integration enables Particle Network to leverage the high-performance capabilities and low gas fees offered by opBNB.
By leveraging NodeReal's blockchain infrastructure and API services, Particle Network can enhance its overall performance and provide a more efficient and cost-effective experience to its users. This collaboration strengthens the foundation of Particle Network, enabling it to meet the growing demands of the Web3 ecosystem and deliver robust and reliable services to its customers.
On top of that, NodeReal's flagship products on BNB Greenfield - namely GreenfieldScan and DCellar -  also provide another avenue of integration for Particle Network. By leveraging the advanced features and benefits of Greenfield-enabled dApps, Particle Network can offer enhanced storage capabilities to its users, fostering a more robust and efficient environment for Web3 applications on the BNB Greenfield network.
Concluding Remarks
By pushing the boundaries of wallet technology, Particle Network is undoubtedly contributing to the advancement and adoption of decentralized applications in the Web3 landscape. By providing user-friendly tools and ensuring a strong commitment to security, Particle Network empowers developers to create standout Web 3.0 applications that cater to the evolving needs of users in this dynamic landscape.
The increasing demand for improved decentralized applications confronts the technical intricacies of Web3 technology stacks. NodeReal takes pride in gaining the confidence of Particle Network and playing a pivotal role in their remarkable journey to enhancing the capabilities of Web3 applications and fostering the adoption of blockchain technology.
NodeReal's commitment to excellence and its role in Particle Network's journey highlights its dedication to advancing the Web3 landscape. By leveraging NodeReal's expertise and resources, Particle Network can navigate the challenges of Web3 development and contribute to the growth and maturation of the blockchain industry.
---
About NodeReal
NodeReal is a one-stop blockchain infrastructure and service provider that embraces the high-speed blockchain era and empowers developers by "Make your Web3 Real". We provide scalable, reliable, and efficient blockchain solutions for everyone, aiming to support the adoption, growth, and long-term success of the Web3 ecosystem.
Join Our Community
Join our community to learn more about NodeReal and stay up to date!