Newzoo, a prominent game analytics firm, has recently released its flagship Newzoo's Global Games Market Report 2023. The insights provided in this report are particularly significant considering the current trajectory of global game development. The projections indicate that the global player base is set to expand to 3.38 billion individuals in 2023, representing a year-on-year growth of +6.3%. Concurrently, the worldwide games market is anticipated to generate revenues of $187.7 billion, experiencing a year-on-year growth of +2.6%.
On top of that, DApp Radar's data indicated that blockchain gaming continues to exert significant influence within the dapp industry. In the second quarter of 2023, this sector commands a substantial presence, with 699,956 daily unique active wallets (dUAW), constituting 36% of the total engagement observed across the industry.
These seemingly standalone figures both underscore the enduring appeal and impact of blockchain gaming and how it contributes to the vitality of the global gaming industry. Nevertheless, the significance of game creators' roles often remains underestimated. Within this article, we will reexamine P12, a project that has introduced a transformative shift for the upcoming cohort of game creators. We will explore further how its pioneering game engine is inching closer to revolutionizing the landscape of game development in the Web3 realm.
P12 The Journey So Far:
As we discussed before in our blog, P12 essentially functions as a Web3 Gaming Infrastructure with a strong focus on sustainability, a facet that is deeply ingrained within its tokenomics architecture. In addition to this, P12 has been dedicated to cultivating a robust and thriving community comprising gamers, developers, and prominent projects within the industry. This endeavor has been realized through its array of Web3 Gaming Table events. These sessions have effectively united significant stakeholders from various blockchain domains, providing a platform to exchange insights, highlight opportunities, and showcase advancements within the realm of Web3 Gaming.
Continuing to bolster its ecosystem and community engagement, P12 recently unveiled P12 Power Level to its community, a strategic move aimed at enhancing the functionality of NFTs, with a lineup of additional utilities on the horizon. P12 has also successfully forged over 20 substantial partnerships with prominent entities within the industry, including Galxe, CyberConnect, BNBChain, SpaceID, etc.
Moreover, P12 has consistently demonstrated its commitment to enhancing the game creation process for a wider audience. In line with this objective, P12 is gearing up to introduce P12 Arcana: Linea Editorium in collaboration with Linea, an EVM Layer 2 solution developed by ConsenSys. This strategic move underscores P12's dedication to facilitating a more enjoyable and accessible game creation experience for all.
The Editor - A Robust Game Engine
P12 is driven by an ambitious goal: to streamline the intricate process of crafting Web3 games, thereby empowering users to transform their concepts into tangible creations that bring delight to numerous players. Anchoring this aspiration is the P12 Editor, an instrumental tool in realizing this mission. This Editor boasts an extensive prefab library, strategically designed to diminish the complexities and financial barriers associated with game development.
The P12 Editor has been meticulously developed by a high-caliber Research & Development team for over two years, and recently coming out of internal beta testing. Over the past half-year, the team has diligently rolled out a series of feature enhancements for the community, while simultaneously collaborating with early community members to explore novel functionalities.
P12 has already introduced a series of highly innovative features, including:
Lego-like Reusability: This feature allows code templates, graphic assets, and tokennomic boilerplates to be reused, streamlining the development process.
Style-fusion for Aesthetic Inclusivity: P12 supports a style-fusion approach, finely tuning skeletal muscle structures for different styling characters & virtual assets, and ensuring the "metaverse diversity" across P12's ecosystem.
Non-voxel External 3D Models: P12 provides support for external 3D models, moving beyond voxel-based designs, and enabling a wide range of styles with complete expressiveness.
Full-programmability: P12's full-programmability feature offers comprehensive scripting capabilities for intricate gameplay mechanics. It also extends support to runtime on both PC and Mobile platforms.
These features collectively underline P12's commitment to enhancing game development by offering innovative tools and approaches that empower creators to bring their visions to life in the Web3 gaming space.
How NodeReal support?
P12 has traversed a significant journey, and alongside, NodeReal takes pride in its continued advancement in the realm of Blockchain Infrastructure solutions.
One notable NodeReal offering, Semita, an industry-leading Custom Application Chain, is undergoing upgrades to bolster game projects' scalability. With higher transactions per second (TPS) and reduced Gas Fees, Semita enhances and sustains optimal user experiences within the gaming domain.
NodeReal's API marketplace has seamlessly emerged as a hotspot for Web3 developers, encompassing the vibrant community of Web3 Game Developers. This marketplace now extends its support to over 20 chains, featuring industry-leading performance on the BNB Chain and anticipation for the upcoming opBNB mainnet.
Looking forward
Throughout 2023, the convergence of blockchain technology and the gaming industry has shown remarkable growth, demonstrated through an array of partnerships and collaborative ventures: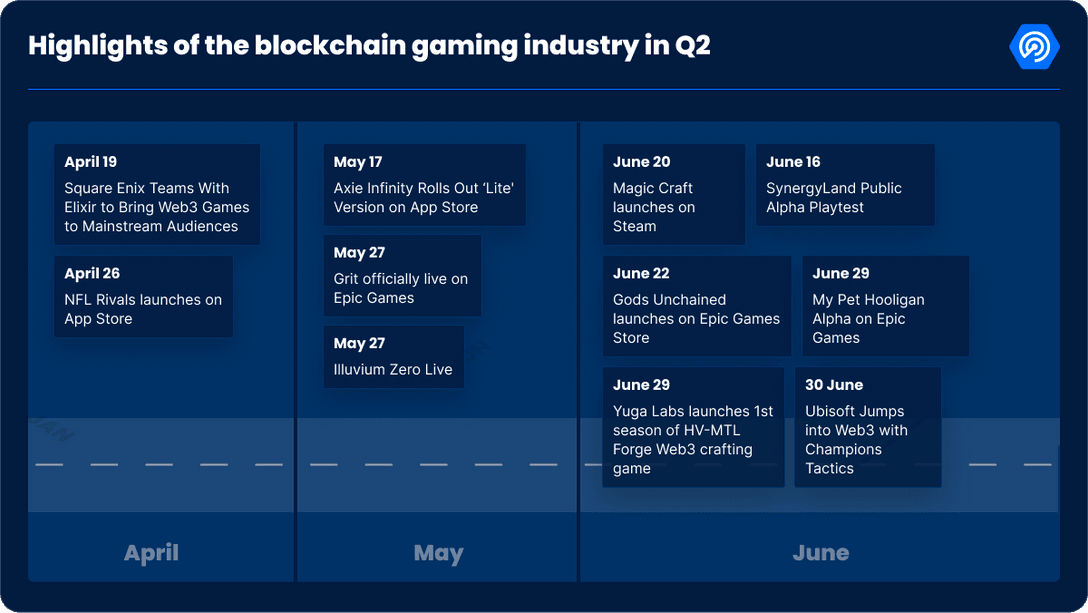 The process of Web3 Mass Adoption has found a significant foothold within the gaming sector. P12's trajectory holds considerable significance for the Web3 landscape, enabling individuals to participate in the Web3 ecosystem as game creators. NodeReal's steadfast support for P12's vision underscores our shared commitment to fostering a thriving Web3 future.
---
About Project Twelve (P12)
P12 is a leading Web3 Gaming Infra project, making game creation accessible and making the game economy sustainable. P12 has accumulated more than 1 million real players who verified their profiles and hold P12 gamer NFT. P12 raised 8 million USD from Primavera, Galxe, CyberConnect, MetaApp, CCV, and other investors.
About NodeReal
NodeReal is a one-stop blockchain infrastructure and service provider that embraces the high-speed blockchain era and empowers developers by "Make your Web3 Real". We provide scalable, reliable, and efficient blockchain solutions for everyone, aiming to support the adoption, growth, and long-term success of the Web3 ecosystem.
Join Our Community
Join our community to learn more about NodeReal and stay up to date!