Executive Summary
Project Twelve, known as Project Twelve, was built on BNB Chain for massive Web3 GameFi adoption.
P12's mission is to transform Game Creation so that Game Creation can be accessible and Gaming Economy becomes more sustainable than ever.
P12 envisions the next-gen game creators on Web3 are simply three billion users around the world who watch and interact with video-formed media daily.
Considering 3 major ecosystem stakeholders such as Traditional Gamers, Web3 investors, and Game masters, P12's features are broken down into 3 parts namely the Editor, the Infra, and the Econs.
P12 is set to build complete infrastructure and a set of toolings to empower the next billions of Web3 Game Creators while ensuring a sustainable game economy through the implementation of economic and governmental mechanisms.
P12 has managed to foster a solid community across Twitter & Discord with 150K+ members and more than 600K Genesis NFT holders.
What is P12?
The P12 is the Gaming Network that believes in a new paradigm shift towards open-source games in which creators are welcomed to build on top of others' work. Hence, the value of the work will be shared among its builders and contributors, guaranteed by Smart Contracts.
Another factor that propels the development of the P12 Network is the lack of a sustainable economy within any gaming ecosystem which has resulted in the short lifespan of many GameFi projects.
From the problem statement and its vision, P12's products include a game engine for Web3 game creators and a set of APIs & SDKs, and DevOp Portals to help other projects with NFT activities, and tokenomics planning, as well as governance mechanisms.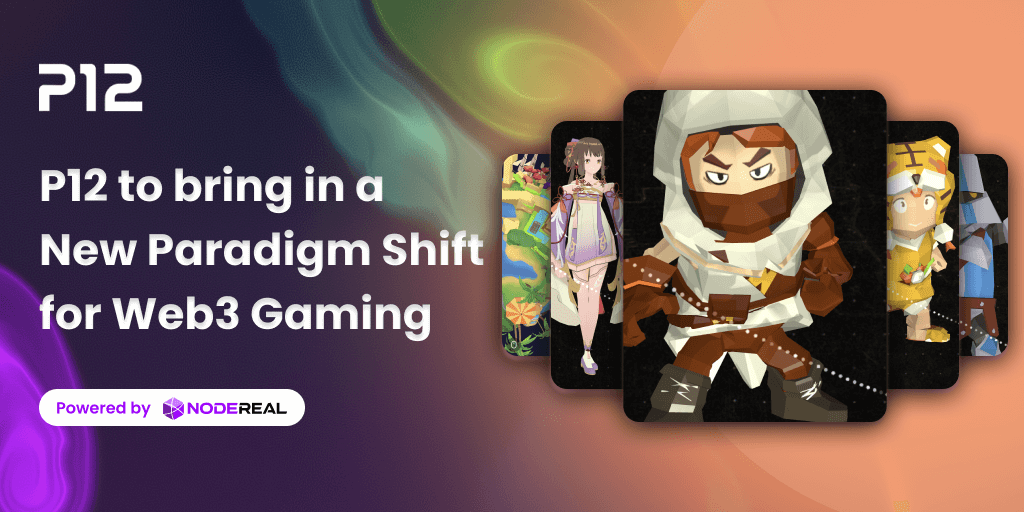 Project Key Highlights
P12 has closed an $8 million funding round in late June 2022 including MetaApp, Galxe (Previously Project Galaxy), Primavera Ventures, CyberConnect, CCV, InfinityLeague, Smrti Lab, and others. [1]
According to Boyang - P12 founder - the team consists of hardcore gamers who have great faith in gaming and experienced Web3 developers, and researchers, who successfully built DeFi-related products.
As of November 2022, P12 Arcana, its eSports prediction contest, boasted over 100K users where it ranks in the top 15 GameFi projects according to an analysis from Crypto Ranks and top 3 in the BNB chain according to Dapp Radar. [2]
Tokenomics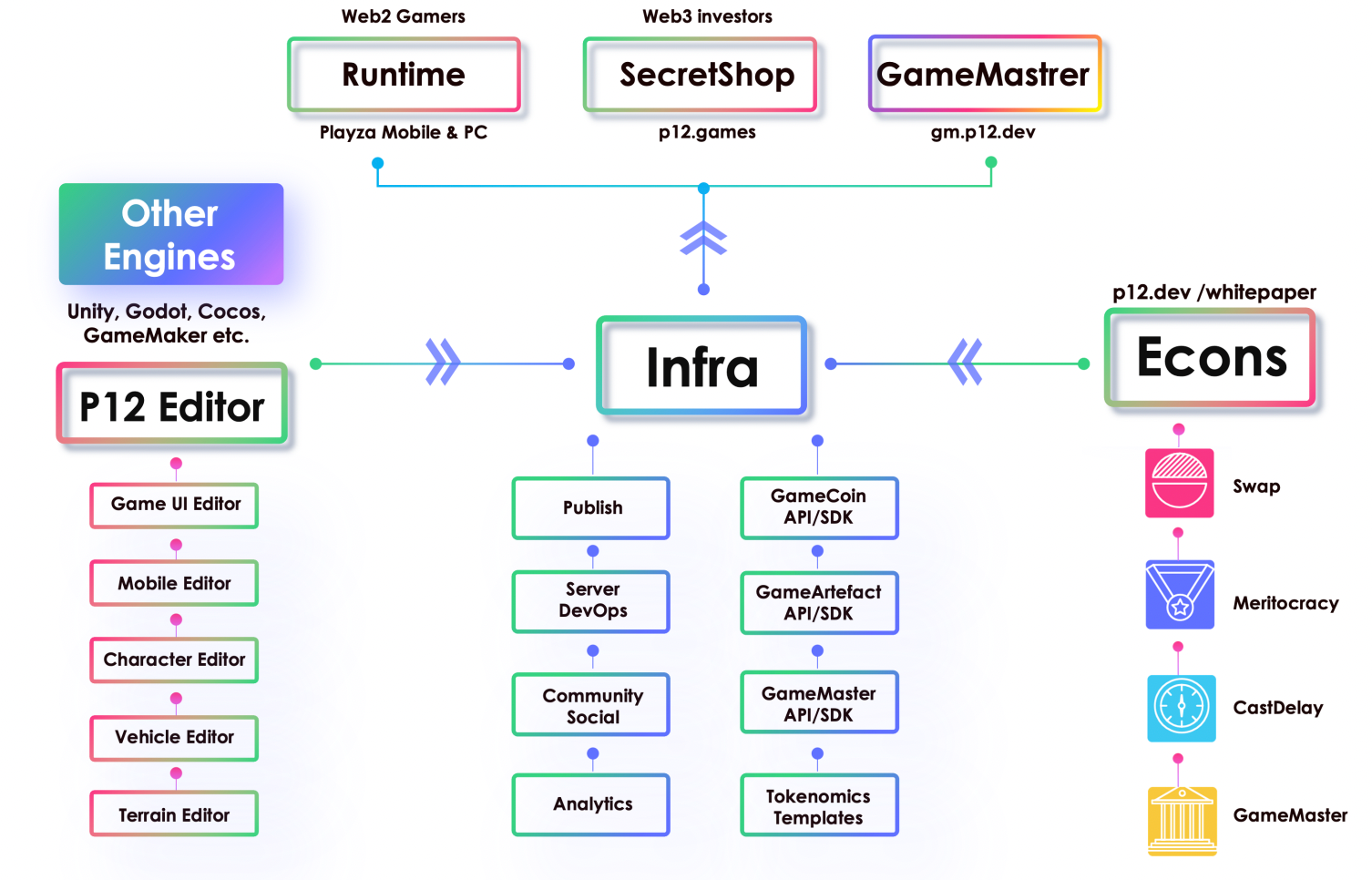 P12 project at its core is strongly product-driven to ensure the prosperity and sustainability of the ecosystem. Hence, it is currently staying away from any private, token sales in the short-term [3]. A deep dive into P12's whitepaper can still provide a general outlook of its tokenomics. [4]
Token Usage - P12 is a Governance Token
P12 token can be served as an initial deposit to the ecosystem and then be used as a reward for good participation and high gaming scores.
P12 can also be used as part of the liquidity for DEX. By providing liquidity to a trading pair, users can earn rewards for their participation.
P12 token holders can use their tokens to vote on proposals and make decisions that impact the direction and development of the P12 ecosystem.
The Economics
The Econs implemented a series of economic and governmental rules to ensure the sustainability and prosperity of the P12's ecosystem. The four keys of the mechanism are
SWAP: Game developers mint GameCoin and provide initial liquidity for P12-GameCoin Swap and use it to exchange for GameCoin gaming. The more trading pairs there are for swapping & trading, the greater the liquidity. As a result, it fosters a strong bond between P12 and its native projects.
Meritocracy: 60% of P12 tokens will be distributed to reward activities within the P12 Ecosystem. Meritocracy rewards high-quality content within the platform and behaviors that benefit the platform, based on Usage Statistics, Economic Activities, and Keynesian Policies to ensure there would be no "reward fraud" behaviors.
CastDelay: CastDelay prevents developers from minting new GameCoin or removing liquidity without advance notice, to protect the interests of gamers. This is enforced to prevent the "Pump and Dump" scheme already occurred across other GameFi projects. [5]
GameMaster: The GameMaster is the governance system of the P12 ecosystem. The voting power of GameMaster is measured by the number of veP12 obtained after staking P12. This governance mechanism is similar to that of Curve Finance (CRV) in which Liquidity providers hold CRV and can stake it to veCRV, thus, improving liquidity provider returns. [6] & [7]
Current Product Suite
The Editor - A Robust Game Engine
The P12 Editor, currently under beta-testing as Playza Editor, is developed by a top-class Research & Development team. According to internal sources, this team previously built a 12-million DAU gaming platform in China. The editor has been tested by over 200 developers and developed by more than 600 devs over the past 2 years.
As a result, it brought out some of the most innovative features including
Lego-like allows code templates, graphic assets, and tokennomic boilerplates to be reusable
Style-fusion supports Aesthetical inclusivity for diverse user-based across Meteverses
Non-voxel provides External 3D Models support and enables diverse styles with full expressiveness
Full-programmability features full-fledged scripting for complex gameplay, runtime PC and Mobile support.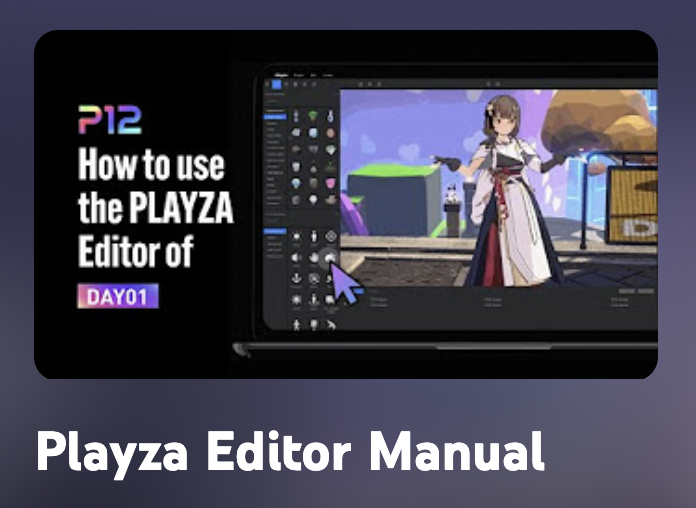 The Infra
The P12's Infra aims to make tokenomics and NFTs easy through a set of API/SDK and developer portals to bridge game content on-chain.
P12's API and SDK set include:
A Game Artefact API - for NFT activities
Game Coin API - for Tokenomics planning
The Game Master API -  for the Governance mechanism
Regarding developer portals, it features:
A Server Devops for game developers
A Marketplace named Secret Shop
Data analytics tools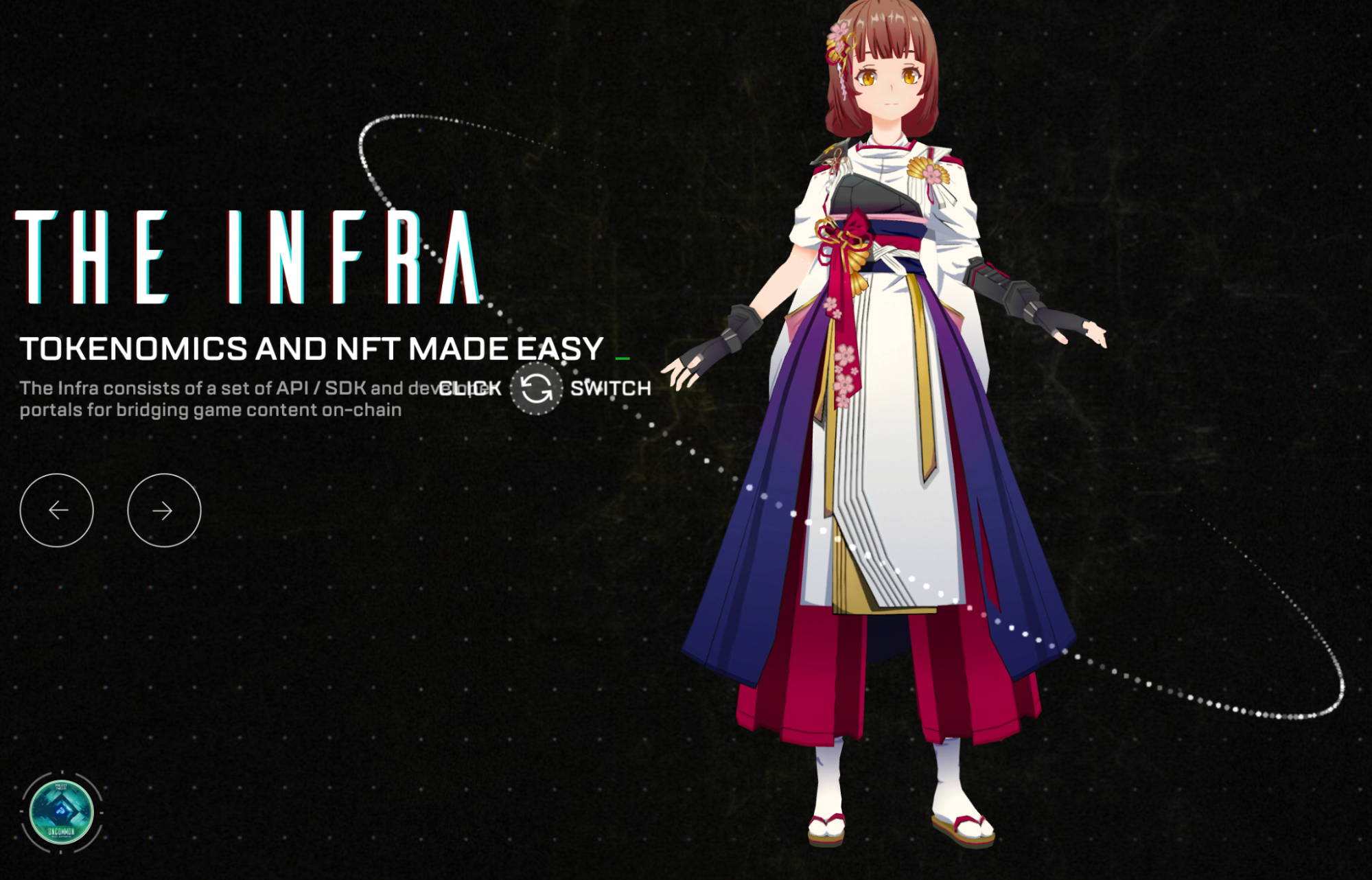 Current Milestones & Roadmap
On the 27th of June 2022, P12 Genesis Soul-Bound NFT Airdrop was launched and within a week it gathered a record of more than 520K Verified Gamers and 210K on-chain NFT holders. As of today, it has more than 1M Verified Gamers and 640K+ on-chain NFT holders according to internal information.[8]
In Oct 2022, it partnered with Binance and Quest3 to launch P12 Arcana, an eSports prediction contest, and bring out a Web3 gaming festival. This was an event where P12 Arcana aimed to offer the ultimate experience for a global audience of gamers, e-sport fans, and Web3 enthusiasts. Moreover, P12 was brought into the limelight by a massive game audience from BNB Chain. P12 gained further exposure and a perfect base for its campaign through The International 2022 (TI11), the concluding tournament of the Dota Pro Circuit, given 40% of P12 Genesis holders are Dota players.  
Under its ecosystem, P12 already partnered with some of the top Web3 and Game projects such as MetaApp, CyberConnect, Galxe, Quest3, Space ID, Archloot , Ambrus Studio, Yeeha, Mixmob, Balatroon World, and Revoland.    
P12 is indeed a force to be reckoned with in the rising Web3 Gaming landscape. It seems to have what it takes to become the next great Game Network that is not only focusing on the thriving of gaming communities while also ensuring the sustainability of the economic system.
How is NodeReal Web3 GameFi-Ready?
The pursuit of revolutionizing the Web3 Gaming landscape requires many things, but the envisioned tech stack should be:
An appropriate chain to build:
Monolithic Layer 1 with the likes of BNBChain, Ethereum, Polygon, and Solana
Game Chains such as WAX, Immutable X, and Flow
An Application Vhain like Ronin Chain, FNCY chain, DFK chain for DeFi Kingdom.
A Wallet Management solution widely used such as Meta Mask, Trust Wallet, or an in-app wallet or emerging smart contract wallet.
A Game Engine selection such as Unity, Unreal, Capcom, and FragColor.
Currently, NodeReal comes into the picture to help Games maintain their performance and speed with our scalable and fast-chain solution.  
Semita - NodeReal's best-in-class Custom Application Chain
We help games to scale through the application chain with innovative solutions like App Chains, zkBNB, and Optimistic Rollup. Thanks to the higher TPS and lower GasFee that Semita got to offer, it will surely improve and maintain the best user experience for Games.


Node Services - The Ultimate Web3 Infrastructure
MegaNode: We support both full and archive nodes for BNB chain & ETH which are the two largest chains in the world. Especially with the BNB chain continuing to triumph over the Web3 gaming scene, Web3 Game projects can rest assured with NodeReal's services. We also support a wide range of networks such as BNB Testnet, Goerli, for projects to test and try out. Our test report showed the best results among other infra players.
API Marketplace: We have comprehensive APIs available, i.e. RPC, NFT APIs, Debug, and many more to abstract away the toil of complex and endless requests.
---
References
[1] https://cryptorank.io/ico/p-12-project-twelve
[2] https://news.cryptorank.io/top-15-play-to-earn-projects-by-active-users-3/
[3]https://mirror.xyz/0xchives.eth/_iU5TrpuQ21grBgxlfJYV6aPyivYoeGkUNO9nUBMdRg
[4] https://github.com/ProjectTwelve/whitepaper/blob/main/P12-Whitepaper-v0.1.pdf
[5]https://mirror.xyz/0xchives.eth/_iU5TrpuQ21grBgxlfJYV6aPyivYoeGkUNO9nUBMdRg
[6] https://mirror.xyz/banjiusama.eth/wmw2J0lrd-WfYB_1C2utoEnYK2OWqdJXqQWk4pTLIcA
[7]https://mirror.xyz/banjiusama.eth/i7Z9y5T3rgaTh41EUuMaFoRyOOj5JevYUHwjP0GKJpY
[8]https://mirror.xyz/p12.eth/QQL3NQiuwIX60S7unOik5OKSlNU6DnvnctT0GD0qjEg