Building strong Web3 communities
Having an engaged and active community is essential for success in the Web3 space. This goes without saying, a thriving community plays a crucial role in the success of any Web3 project. Building an active community of users from the ground up is not an easy task and gets especially harder in the nascent world of Web3. Many Web3 projects initially failed due to difficulties attracting and engaging with their users.
This gives rise to the growing development of Web3 growth tools. According to data from Safary Club - a Web3 Growth Community, there are currently more than 160 teams working on growth analytics, attribution, community, messaging, ad tech, CRM, and incentives in Web3. This represents a 113% YOY from a mere 70 projects in 2022. These projects support protocols and other Web3 builders to connect with the right audience and provide user analytics thus fostering an engaging community of their own.
In this project deep dive report, we will explore QuestN (Previously known as Quest3) - and how it successfully accelerates growth for thousands of Web3 projects.

About QuestN?
Previously known as Quest3, QuestN is now a one-stop solution for Growth, Marketing, and Analytics for Web3. The project is incubated by Hogwarts Labs - a Singapore-based software company. QuestN has fostered a thriving community of more than 100K Twitter Followers, 64K Discord members, and 21K Telegram members.
At its core, QuestN is a do-to-earn platform where projects and protocols fund a liquidity pool that is quest-based. But it has gone beyond a quest platform to involve more meaningful engagement features and activities.
QuestN's platform currently has 37 million+ questers, 1.3 million NFTs minted, and 22K growing communities. This number is a true testament to QuestN's commitment to creating an inclusive ecosystem that can optimize the Web3 growth marketing which in turn benefits both the users and projects.
Balancing both User benefits (C-end) and Project needs (B-end)
QuestN identified three significant challenges in the industry. The first challenge is the urgent requirement for growth in Web3 projects. The second challenge is the lack of growth tools that are specific to Web3. Finally, there is a barrier to entry for Web2 users trying to transition to Web3, resulting in a significant loss of traffic during the distribution process.
By completing quests posted by task parties and official events on QuestN's platform, C-end users have the chance to earn tokens and NFT badges as rewards. Moreover, QuestN's aim is to offer diverse tasks that are accessible to all, including GameFi, Decentralized Autonomous Organizations (DAOs), communities, and other B-end projects. As a result, this brings continuous benefits to the growth and sustainability of the Web3 ecosystem, creating a virtuous cycle that benefits all stakeholders.
How does QuestN challenge the Web2 Marketing Model?
The current Web2 marketing model involves advertising conglomerates such as Google and Facebook imposing a set of commercials and ads on users, often at the expense of their time and users; preferences. These conglomerates, in turn, monopolize all the profits by taking ownership of user data, without much consideration for the user experience.
QuestN has transformed the tedious process of watching commercials into an enjoyable and stimulating task through gamification and blockchain technology. Users can complete quests and earn rewards provided by the task publishers in the form of an on-chain token or a unique NFT badge and even Soul-Bound NFTs. The platform allows anyone with a linked identity to post and complete tasks without requiring third-party permission. The tasks on QuestN are not limited to watching commercials but include a lot of engaging content. It offers various on-chain and off-chain quests as advertising carriers and landing pages designed to be more effective in targeting users. Additionally, the platform is equipped with a task review mechanism, and users are automatically evaluated upon completing the tasks, with rewards issued accordingly.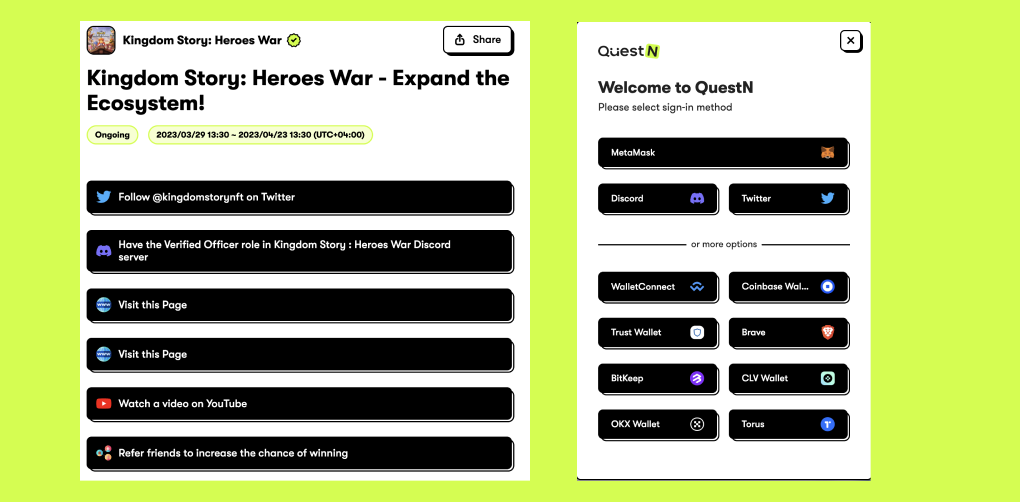 QuestN, being a Web3 native project, leverages the unique features of Token, RP, and NFTs as an incentive mechanism to attract potential users. Projects come to QuestN's platform to create their own online communities with chain quests through simple commands.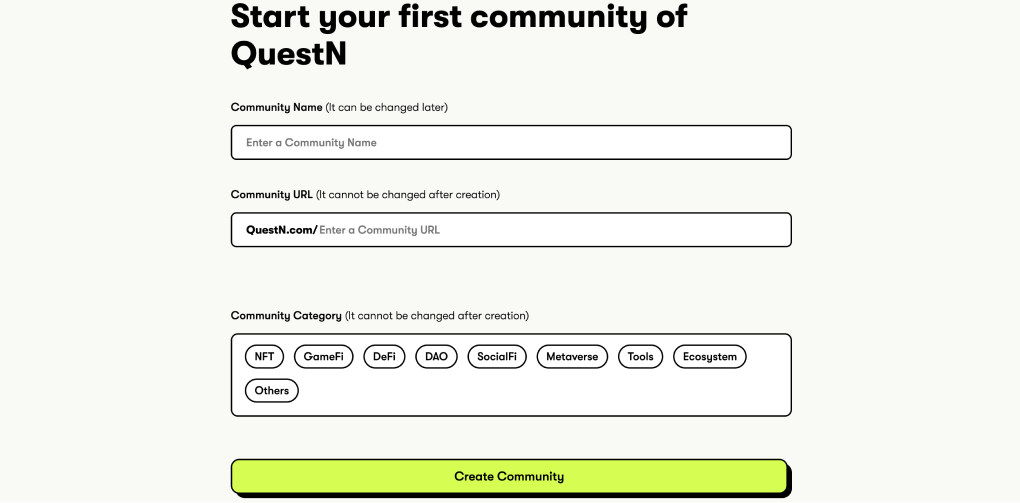 One of the most outstanding use cases on QuestN is when P12, a prominent web3 gaming engine, used the platform to build its own community. The space is created with project information and detailed task description for user interaction. Moreover, Users are rewarded for completing tasks as simple as following the project's Twitter page and joining their Discord server. The reward is displayed in a clear and attractive manner to motivate users' participation. P12 achieved astonishing growth and it went further and leveraged QuestN's for its most important Gaming Event back in 2022- P12 Arcana. As a result, it managed to attract more than 6K participants to the space.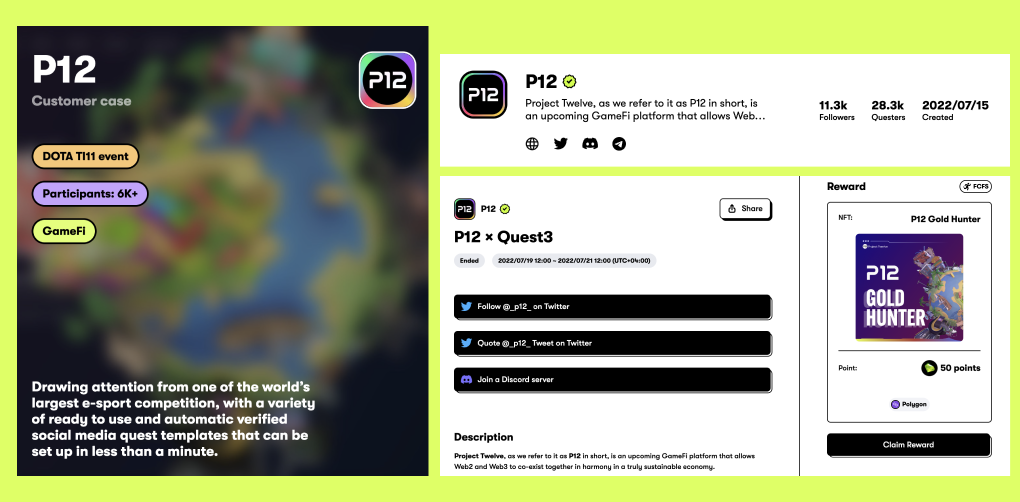 In all, QuestN accumulates a substantial user base and traffic through the flywheel effect generated by the value dissemination between projects and users. This process further facilitates the transition of users from Web2 to Web3.
QuestN's Platform: Let's Dive in!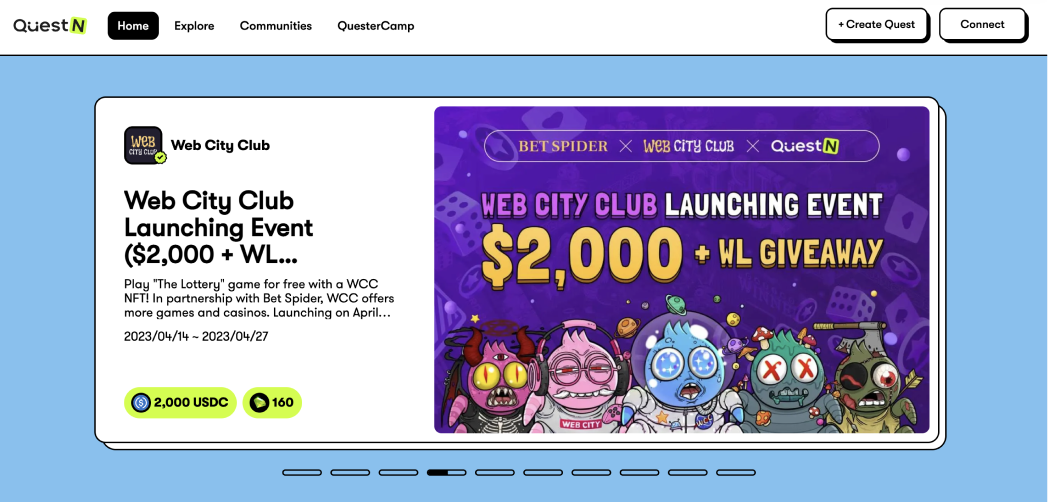 1/ Home Page: Displaying most recent project's tasks and activities
2/ Communities page : Top communities recommended for users to get involve and complete tasks
3/ Explore Page: Displaying Trending and Latest tasks and rewards
4/ QuestCamp: User's personal profile page, displaying user's ongoing tasks, tasks that can be rewarded, completed tasks.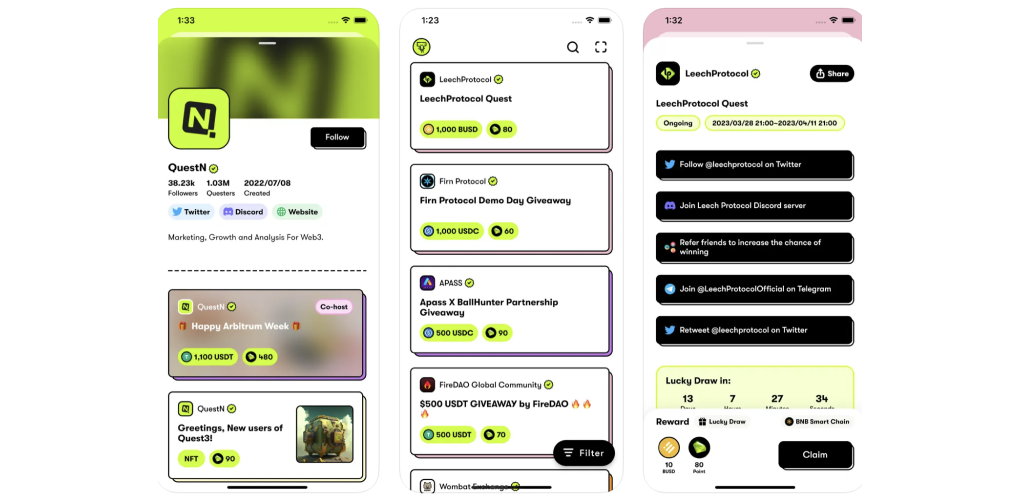 QuestN recently released its mobile app, allowing users to complete quest anywhere and at anytime from the comfort of their mobile devices.
NodeReal X QuestN: A great match for Web3 Game Innovation
With a growing number of projects on the platform, QuestN is shaping up to become a go-to place and tool for accurate advertising and effective user growth. Many GameFi projects have already been tapped into QuestN's platform for user growth initiatives such as P12, Yeeha Games, GameSpace, and Gameta.
NodeReal brings to the table its prowess in blockchain infrastructure technology and API Services. With this, we will be developing a Custom Optimism (OP) RollUp Chain for QuestN. NodeReal's Rollup-as-a-Service is especially powerful and beneficial to Gamefi projects especially game studios given its need for high performance and scalability.
NodeReal Semita OPRollups are built on the solid foundation of modular OPStack. Modular Design allows rollup solutions to adapt and grow with the most recent technological advancements. For instance, if a superior execution engine emerges, it can replace the existing execution layer without affecting other components of the rollup. Another example is the ability to swap fault-proof methods with a zk-based technology, transforming an OPRollup into a ZKRollup seamlessly. In all, these features offer a better development experience for game creators and game developers.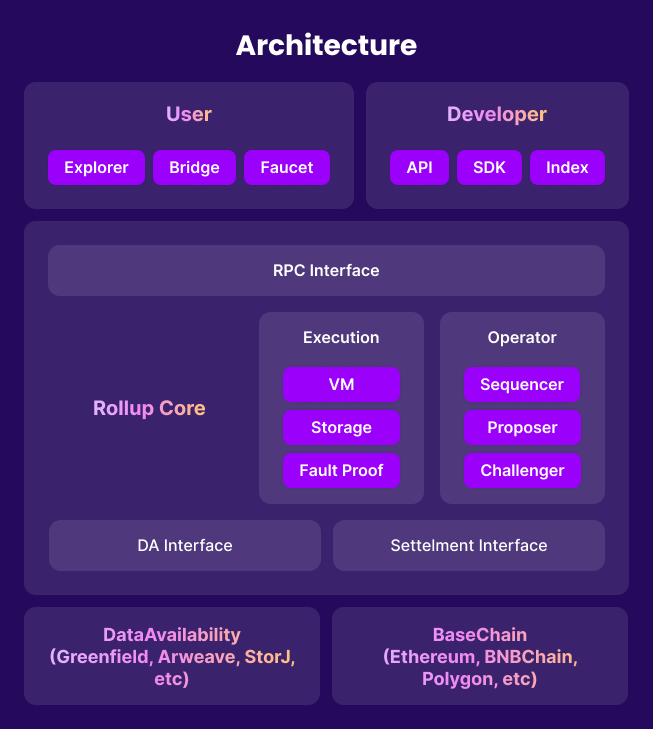 The timing could not be better for this partnership to our recent press release. QuestN's ecosystem has expanded from BNB Chain, Avalanche, to Ethereum, Polygon, Avalanche, KCC, Arbitrum One, and Optimism, as well as new public chains including Starknet, Scroll, and Sui. This new coverage to be supercharged by the Rollup solution from NodeReal will bring great benefits to QuestN's 1.7 million users and over 60,000 daily active users as they engage in gamified experiences across a broad spectrum of projects.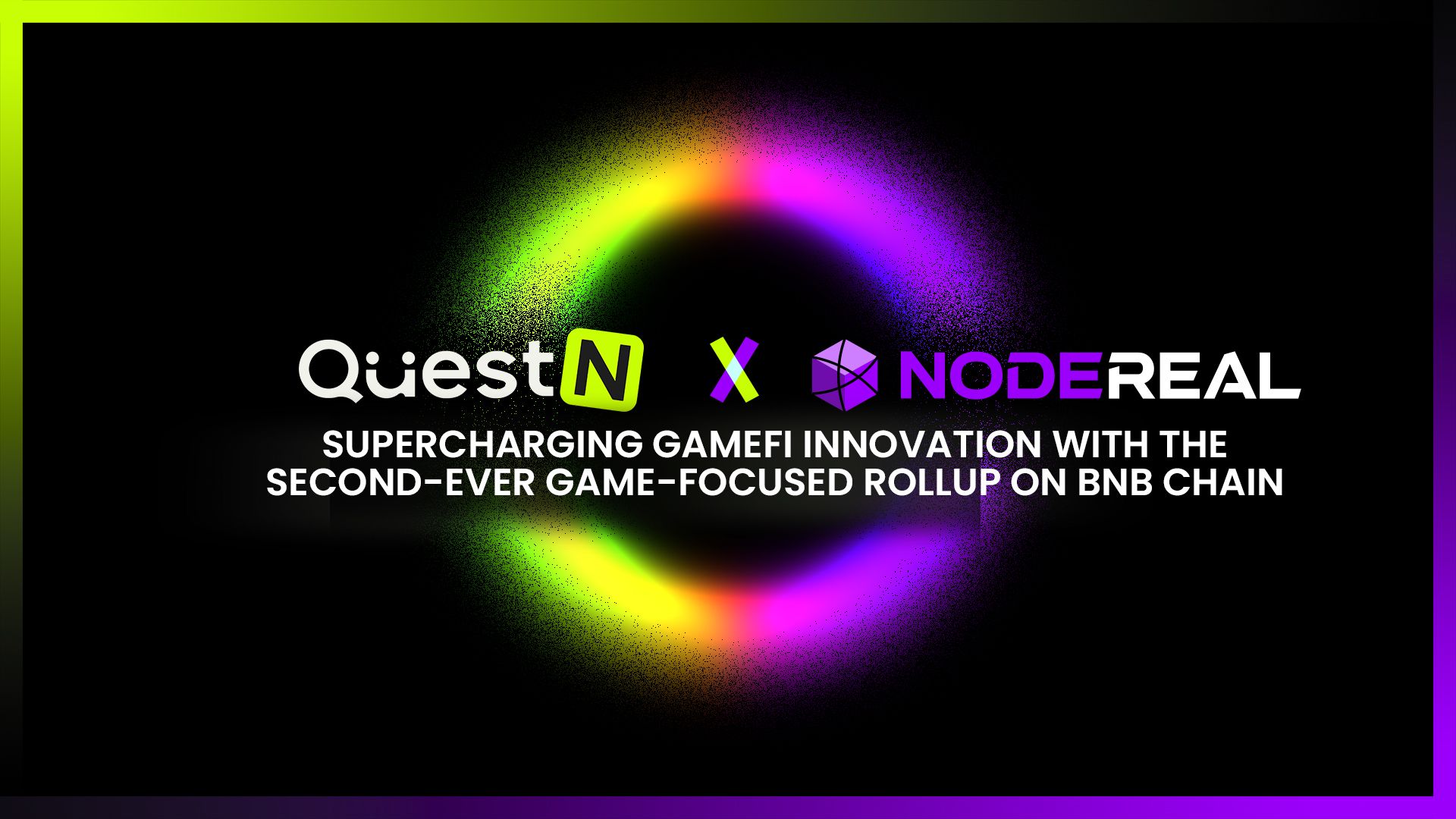 Concluding remarks
QuestN is a crucial player in redefining the possibilities of marketing. By returning the rewards to users, it challenges the Web2 monopoly on advertising profits, creating a new win-win situation made possible by Web3. As a mediator between businesses and clients, QuestN enables users and platform builders to reap the benefits of the platform's collaboration with merchants and participate in the network's development as true stakeholders.
However, this simple quest-to-earn model in the end is still a bit immature. Even though the scope of quest tasks for projects has already been expanded, the demand for user traffic has not been fully developed. QuestN is facing the challenge of growing and maintaining its own user network so that quest creators (projects) can see the value in the platform.
QuestN has many possibilities for formulating a more attractive incentive model. One potential avenue is to introduce a unique token system that rewards users for their participation and engagement with the platform. Another option is to offer staking incentives to users, further incentivizing them to participate in tasks and engage with the platform. Additionally, QuestN can explore in-depth cooperation with other prominent project parties, unlocking new opportunities for growth and development. In all, there is vast and promising room for QuestN to continue expanding and evolving in the future.
---
About NodeReal
NodeReal is a one-stop blockchain infrastructure and service provider that embraces the high-speed blockchain era and empowers developers by "Make your Web3 Real". We provide scalable, reliable, and efficient blockchain solutions for everyone, aiming to support the adoption, growth, and long-term success of the Web3 ecosystem.
Join Our Community
Join our community to learn more about NodeReal and stay up to date!