What's a Blockchain Explorer?
Blockchain Technology prides itself on transparency. They are essentially designed as large public databases for flexible navigation. Theoretically, everyone should be able to look up the transactions being stored on the open-sourced blockchain record.

As demand for Crypto Analysis is increasing, people without technical fluency are becoming interested in viewing and managing transactions of their favourite coins and tokens. Blockchain Explorers come to the rescue as they abstract away the technicality and allow a one-glance view of multiple data points that one might need:
Date
Incoming address
Outgoing address
Fees
Amount
Block
Explorers level off the Blockchain Playground in order to empower everyone to make better-informed decisions, driven by data and insights. It is to say that the journey to Web3 mass adoption can always start with user-friendly and insightful Blockchain Explorers.
Who is building the Aptos Explorer?
The demand for Aptos Blockchain is on the rise. After less than a month of its mainnet launch, Aptos' daily active users averaged out at more than 50,000 users with over 400,000 daily user transactions. Moreover, it currently has around 2.2 million unique addresses. Thus, there is a strong need from the community for a comprehensive and insightful Aptos Explorer.

Together, let's take a look at the Top 5 Public Explorers on Aptos:
TraceMove

TraceMove is powered by the team at NodeReal - the official partner of Aptos Foundation on Node Services. Besides its state-of-the-art Node Infrastructure, the NodeReal team comes with solid experience in building BSC Trace - one of the most powerful explorers on the BNB chain.
TraceMove's homepage presented a very comprehensive dashboard with crucial statistics such as Transaction Overview / History / Top 5 Latest Transacts. TraceMove users also get the privilege of switching analysis between Testnet, Devnet, and Mainnet of Aptos Blockchain. The available dark mode is used to enhance the viewing experience on TraceMove.  
TraceMove further comes with a user-friendly interface allowing users to navigate freely through different options in a flexible list. The list includes Transactions, Blocks, Accounts, Assets, Modules, and Validators featuring in-depth functional details.  
One of the highlight aspects of TraceMove is how it puts the user first in shaping TraceMove's experience through a feedback prompt. This is where users can directly connect with the NodeReal team to raise their concerns and issues regarding their experience, hence, allowing TraceMove to become even more user-centric, which is reflected through each new update and release.    
AptoScan.com

AptoScan is the proud product of EtherScan. The team is known for its product suite of Explorer-As-A-Service. The EtherScan team is also behind notable Blockchain Explorers namely Optimism, Arbitrium, Polygon Scan, Gnosis, and many more.

With a rich experience in building complex Explorers, AptoScan was designed to ensure the most novice crypto users can understand and get the most out of the explorer.

Homepage presented users with various market insights and a ready list of Aptos transactions at a glance. AptosScan's flexible list features fundamental metrics such as Coins, Validators, and Blocks. Furthermore, AptoScan's Blocks feature comes with separate listings for Aptos-distinct transactional types such as Users, Block MetaData, and State Checkpoint. This allows users to get better insights into their Aptos transaction analysis.  

The most profound aspects of AptoScan must come from its Statistics and Rich List feature. These two sections feature graphs and advanced data points that allow users to discover a bigger picture of the Aptos Ecosystem.
Apscan

Apscan is another alternative when it comes to the top Aptos Explorers. The team behind this explorer remains unclear but Apscan is definitely a very strong contender amongst the top Aptos Explorers.

Apart from the flexible list featuring an assortment of information on Accounts, Blockchain, Validators, and Assets, Apscan presents a powerful homepage packed with data insights. However, the powerful feature of Apscan is in the map showing the IP addresses and geolocation of Aptos Validators and FullNodes. This map allows further Aptos Validators insights to be extracted regarding its decentralized distribution.

Apscan is also very active on both Twitter and Twitch to engage with the community on their new features and updates.
AptoScan.xyz

AptoScan.xyz, albeit a similar name to the one from the EtherScan team, is the product from the 3NJOY Labs. 3NJOY Lab is a Web3 infrastructure and platform-centric development studio that focuses on the Aptos ecosystem.

This Explorer is rather a simple one with basic data points such as version, type, hash, status, and time stamp, on the transaction details presented on a solo home page. It also allows users to switch analyses between Testnet, Devnet, and Mainnet of Aptos Blockchain.
Aptos Explorer

Aptos Explorer developed by the Aptos team themselves is often regarded as the OG Aptos Explorer. The Explorer presents the data in an aesthetically-pleasing manner. The dark mode switch is great on eyes with neon color on text for the best UI experience.

Aptos Explorer homepage displays a comprehensive snapshot of the ecosystem such as the total transaction, total supply, TPS, active validators, and the amount of APT actively staking. The flow of user experience on the Aptos Explorer is also very smooth as it takes the users to different screens with ease where they can also stop at any point to further inspect metrics as required.  

The most outstanding aspect of the Aptos Explorer is the detailed page of transactions as it displays the transactional purpose and balances change with the breakdown of before and after. These two metrics are extremely user-friendly, especially for those new and who want to learn how to read the transaction on the Blockchain Ecosystem.

Comparative Analysis
On the surface, it is easy to think that pretty much all the explorers are the same as they all display basic transaction details. As a matter of fact, when diving deeper, users can appreciate the add-on value in the functionalities that one explorer offers and the other doesn't.
TraceMove is built with users and developers at heart, therefore, the upcoming features in the pipeline will greatly reflect this commitment.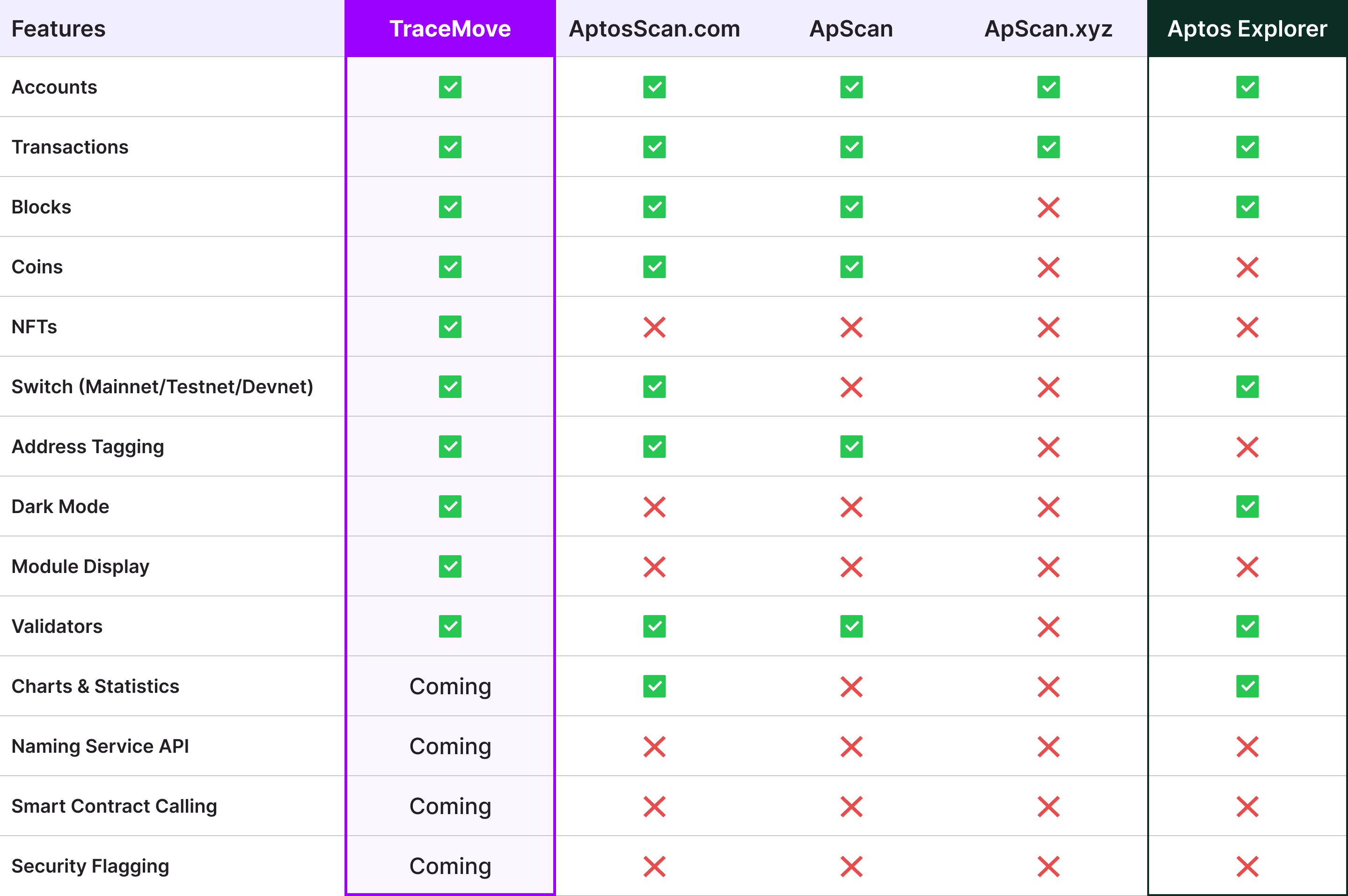 Closing Thoughts
Explorer is undoubtedly one of the most user-friendly tools for any blockchain enthusiast. It provides a good starting point to explore and conduct one's own research on their favorite projects.

There is no rule to determine something as the best Aptos Explorer. There are enough alternatives in the market to cater to different requirements when it comes to research. However, it is evident that all the notable blockchain explorers offer basic functions of viewing transaction details and that remains the same for aforementioned Aptos Explorers.

While there is no best explorer, there will be the most popular one who is able to receive widespread support from the blockchain community in order to withstand the test of time.
About NodeReal
NodeReal is a one-stop blockchain infrastructure and service provider that embraces the high-speed blockchain era and empowers developers by "Make your Web3 Real". We provide scalable, reliable, and efficient blockchain solutions for everyone, aiming to support the adoption, growth, and long-term success of the Web3 ecosystem.
Join Our Community
Join our community to learn more about NodeReal and stay up to date!