"Nodereal is one of the best node providers in the industry. Its MegaNode is very reliable and cost-effective."  said Tomas, Tiny World CEO
If you are looking for the top trends of this decade to watch, the rise of blockchain gaming must be one of them. Over the past few years, there has been exponential growth in blockchain gaming. Different from traditional games, blockchain games introduce new economic incentives to users, creating a new paradigm - Play-to-Earn. Tiny world, a blockchain game universe powered by NodeReal, is becoming a top player in this trend.
Tiny World, Improving the Playability of Blockchain Games
Tiny World is a blockchain game universe that combines NFT, DeFi, and Gaming to create a truly stunning experience for users. It was born with the principle of allowing users to earn revenue through playing games whilst still experiencing the fun and enjoyment of traditional games, which is believed to enhance the user experience greatly. On its platform, users can play different kinds of games, collect over 100 Tiny Hero NFTs, and utilize its DeFi products to potentially earn.
To Create a Stunning User Experience, a Reliable Node Service is What Tiny World Was Looking For
For Tiny World to achieve its goal to bring enjoyable games to blockchain and take the play-to-earn model to the next level, the user experience is made the priority. There is a lot of work in this process, among which, having a reliable and resilient infrastructure is undoubtedly fundamental.

Let us break it down a bit further. When it comes to building a dApp, the very first thing developers need to do is set up a node. If nodes deliver poor performance, the entire dApp and the user experience will be impacted. Typically, there are two options in front of developers: either to set it up by yourself or, to find a trustable node service provider. This was no exception to Tiny World.

Setting up a node is not a simple task. It costs a fortune and takes countless hours on management and maintenance. Accordingly, before partnering with NodeReal, the Tiny World team tried other infrastructure solutions.

"To bring Blockchain game metaverse to life, we need to monitor events from blockchain and request the events(logs) millions of times per month from the node. We've tried other node solutions before, but the price is high with low service request times. " said Tomas, Tiny World CEO
NodeReal, Supercharging Tiny World to Take Blockchain Games to the Next Level
Tiny World now leverages NodeReal's blockchain API service - MegaNode to power its platform development. Our top-notch performance allows its team to focus on the product and service, without needing to invest any time and energy in the infrastructure.

In our recent performance benchmark report -  Blockchain API Service Quality: The Three Metrics That Matter, we conducted statistical analysis on why we live up to the reputation as the leading  API provider with the fastest, most stable, and most scalable service on both RPC and Archive RPC.

Since Tiny World switched off to NodeReal, it has become the leading player in GameFi. According to Dappradar (as of Nov 24), Tiny World is now the top 1 GameFi project on BNB Chain, with more than 43.23k unique active users over the past 7 days.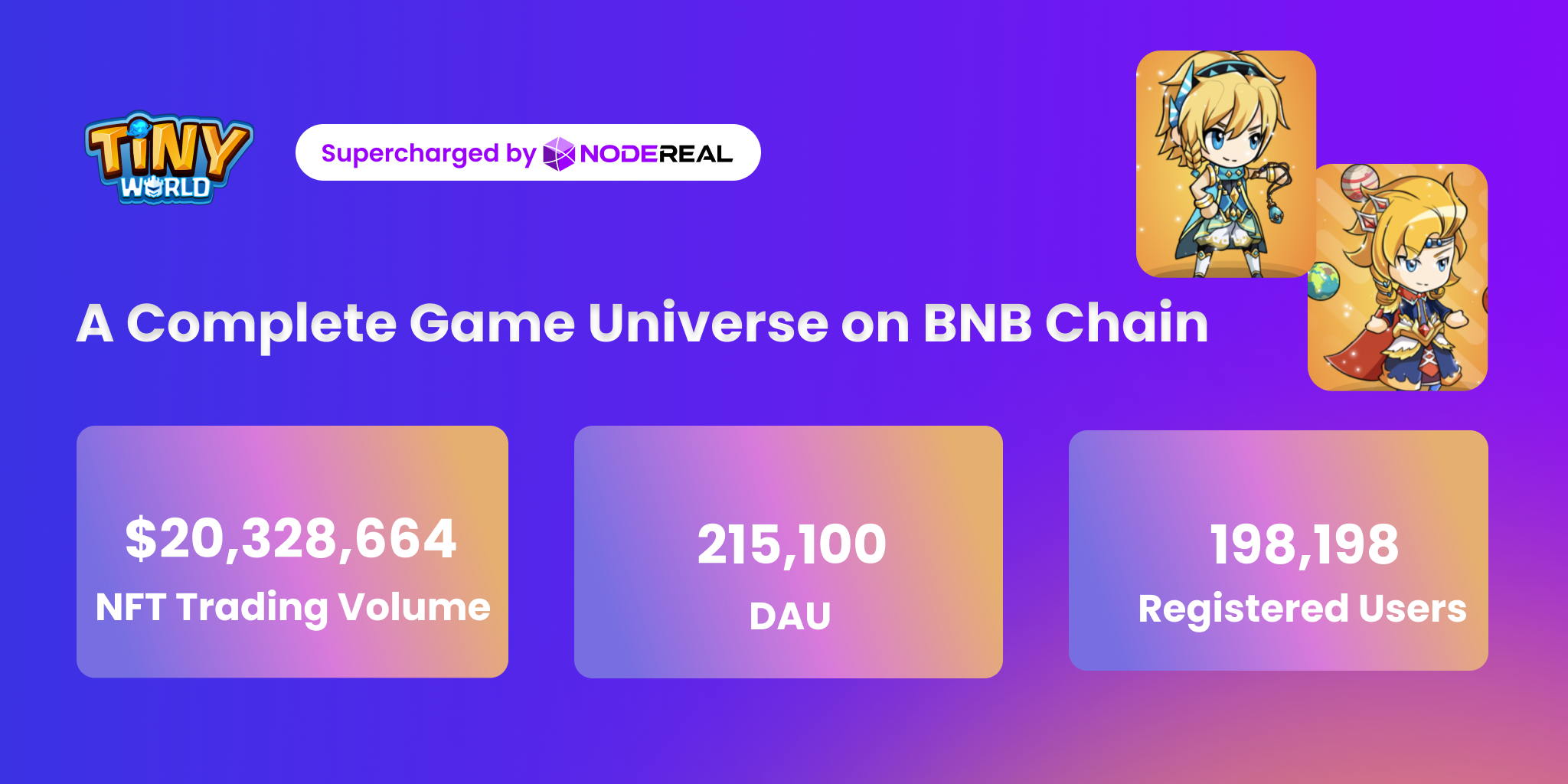 In a recent customer satisfaction survey, we won great recognition from the Tiny World team.

How likely are you to recommend NodeReal to a friend or partner, on a scale of 1 to 10?
Tiny World: "10/10"
Revolutionize Your Games Development with NodeReal
At NodeReal, our mission has never changed since day 1 - we provide one-stop blockchain infrastructure and service to make your Web3 REAL. We embrace the GameFi innovations and we are committed to supercharging its development.

Apart from standard APIs that you can find in NodeReal's MegaNode, we also provide other services that may boost your GameFi project!

About NodeReal
NodeReal is a one-stop blockchain infrastructure and service provider that embraces the high-speed blockchain era and empowers developers by "Make your Web3 Real". We provide scalable, reliable, and efficient blockchain solutions for everyone, aiming to support the adoption, growth, and long-term success of the Web3 ecosystem.
Join Our Community
Join the Tiny World Community to learn more.
Discord | Twitter| Youtube | Telegram
Join the NodeReal Community to stay tuned with us.