Decentralized Finance (DeFi) has ushered a paradigm shift in what is possible within Web3 application development. Not only it propelled the mass adoption of cryptocurrency but it also paved the way for innovative means of accessing new financial opportunities.
Thinking of DeFi as a mandatory component of any ecosystem then Auto Market Maker (AMM) Projects are the foundational pillar of DeFi. The role of AMM Projects is crucial as they are attracting new users to ensure the ecosystem's liquidity and steady cash flow. Earlier successful DEX roles of DEXs in other layer-1 networks include Uniswap on Ethereum, PancakeSwap on BNB Smart Chain, etc.
Avalanche Ecosystem owes much of its rapid growth thanks to a robust DeFi ecosystem in which Trader Joe and Pangolin are the two largest DEXs by volume. This article will look deeply into Trader Joe and answer why it is the most outstanding AMM DEX on Avalanche.
TL;DR:
Trader Joe launched in July 2021 on Avalanche and has quickly ascended to become the largest DEX on Avalanche holding at its peak more than $4.5 billion in total value locked.
It has amassed a community of 280K+ Twitter followers and over 80K members on Discord.
It raised $5 million in a token sale during Sep 2021 led by DeFiance Capital, GBV Capital, and Mechanism Capital and included other backers namely, the Avalanche Foundation, Delphi Digital, Coin98 Ventures, Not3Lau Capital, and Aave founder Stani Kulechov.
What is Trader Joe?
Trader Joe is an AMM-based DEX on Avalanche, and Arbitrum and recently launched on BNB Chain.
It was initially a fork of UniswapV2.
It currently holds the highest TVL with $97.1 million on Avalanche surpassing that of Pangolin at $27.1 million.
Trader Joe offers decentralized services such as Swapping, Liquidity Pools, Yield Farming, NFTs, Staking, Lending, and Borrowing.
$JOE is the platform's native governance token.  
Trader Joe's DeFi Products:
The main objective of Trader Joe is to provide a highly accessible and trusted platform for users. It is safe to say that Trader Joe is not your typical DEX, but in fact, an all-in-one DeFi platform.
Trade (Swap):
It is the most basic function of any DEX in which it allows users to conduct asset exchange and specifically to swap the native Avalanche (AVAX) and other cryptocurrencies in a decentralized manner. It is compatible with 4 different wallets such as MetaMask, Coinbase Wallet, TrustWallet, and CoreWallet.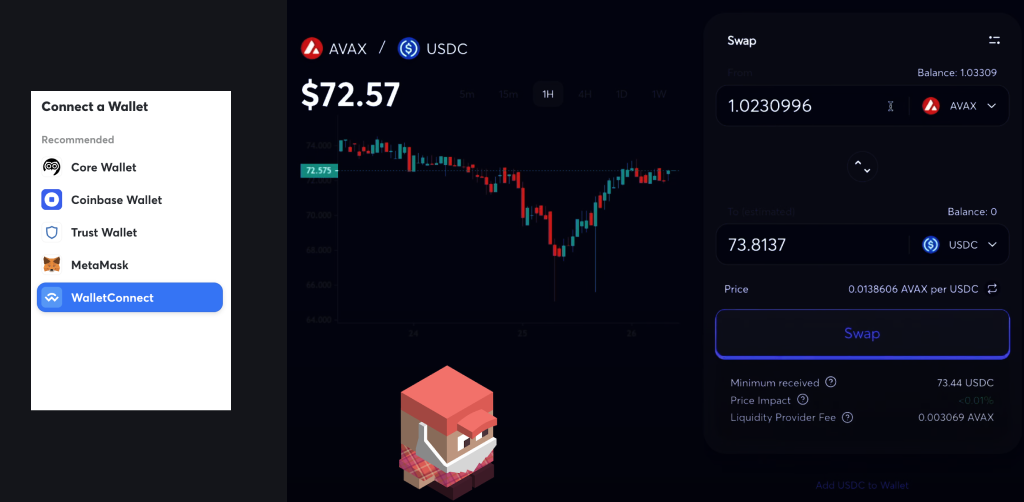 Pool:
Trader Joe offers a Pool feature, which allows users to supply liquidity to a shared pool of assets and earn rewards based on their contribution. The Pool feature is a well-known DeFi feature that is used for liquidity provision and yield farming.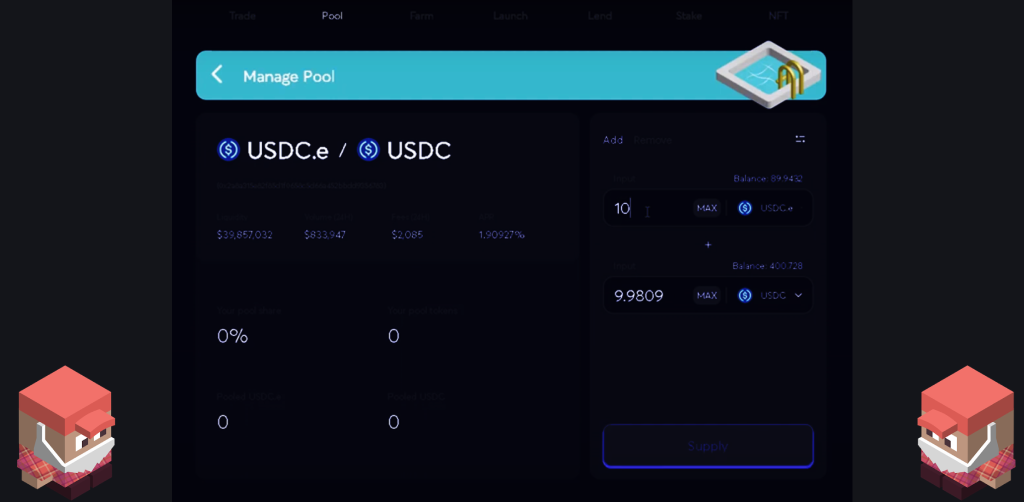 Farm & Stake:
After providing the funds to the pool, a user receives an LP (Liquidity provider) token as proof of added liquidity. This LP token can be further staked into a Farm and earn additional rewards.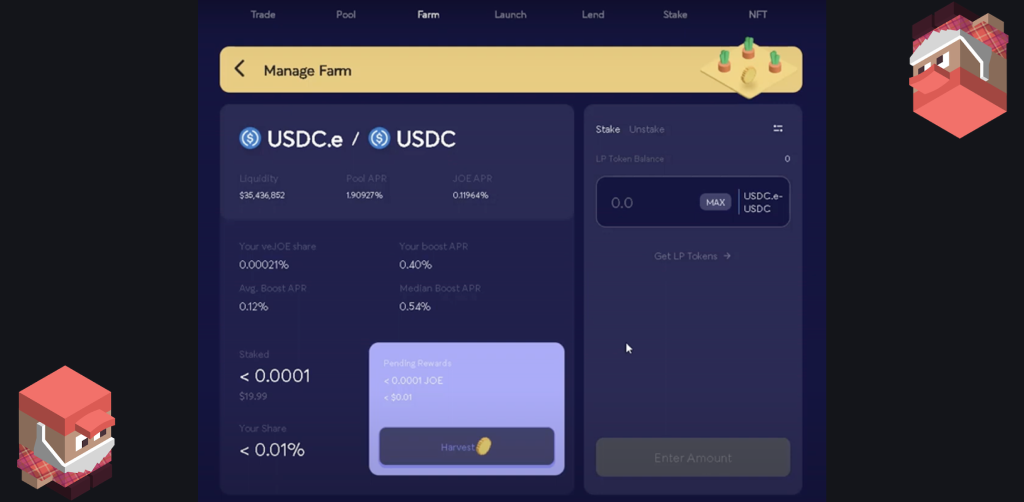 Lending & Borrowing:
Trader Joe allows users to lend their assets by depositing them (as collateral) on the application aka Banker Joe. Conversely, once users put their deposit as collateral then they are allowed to borrow assets.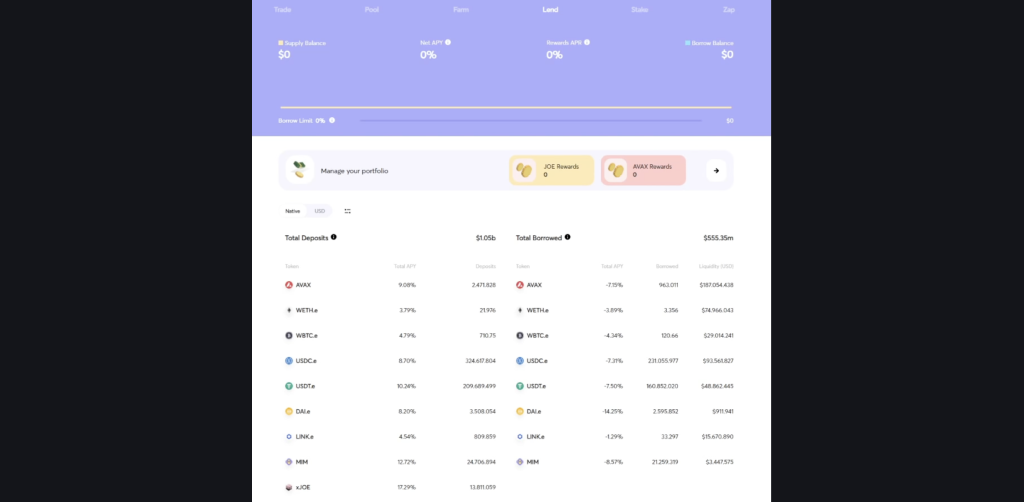 NFT Marketplace:
JoePegs is Trader Joe's NFTs marketplace where people can list and shop for AVAX and BNB NFTs. It also features an innovative launchpad that comes with a built-in pre-mint feature.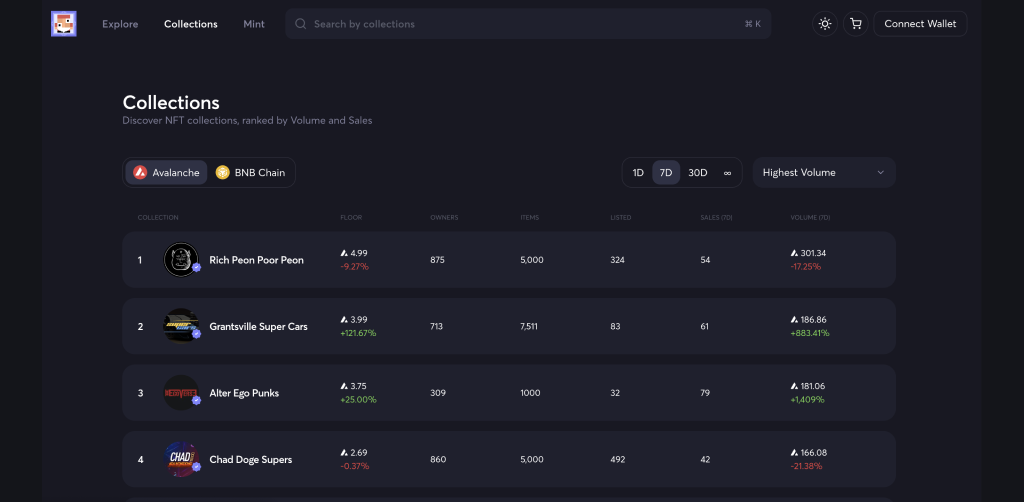 Tokenomics
Overview
Name: $JOE
Max Supply: 500,000,000
Months to Emit: 30
Uses Cases: Governance, transaction fee discounts, yield farming rewards, staking rewards, and community treasury funding.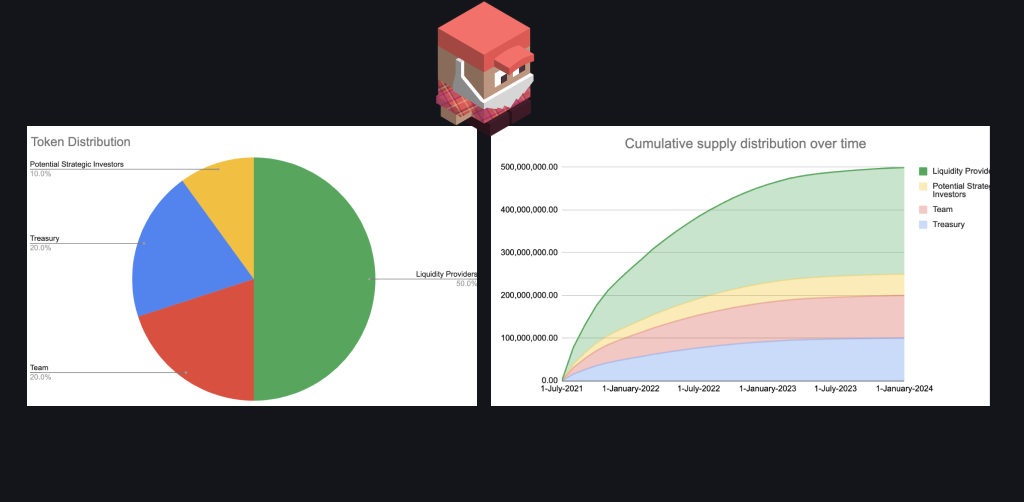 Trader Joe's team highlights that there are no pre-sales, private sales, or pre-listing allocations of the JOE token. This basically means that tokens are distributed as indicated by the emission schedule. Another incentive point from JOE's distribution is that there is a specific allocation holdout for future strategic investors. This would make Trader Joe's later investors participate after and not before the token launch. Thus, preventing any vested interest in the rampant "pump and dump" scheme.      
Overall, JOE's tokenomics aim to incentivize community participation, long-term holding, and sustainable growth of the Trader Joe's ecosystem.
Trader Joe's Multi-chains Movement
Trader Joe was and is still the dominant and high-performing DEX on Avalanche by both trading volume and total value locked (TVL). As other DEXs are facing difficulties in attracting new users - many of them have turned to multichain deployment and Trader Joe is not an exception.
Last year, Uniswap V3's community proposal to be deployed on zkSync 2.0 has been passed almost unanimously. Aave V3 is now available across seven networks: Polygon, Fantom, Avalanche, Arbitrum, Optimism, Harmony, and Ethereum.
Trader Joe went live on Arbitrum, an Ethereum scaling chain, around Dec-2022 with only the Liquidity Book feature -  its latest feature at that time. Earlier this year, it made an announcement to bring its full-ledge DEX including both Joepegs - NFT marketplace - and trade tokens using Liquidity Book on BNB Chain. Trader Joe is now officially live on BNBChain.
Capitalizing on the 1.4 million DAU on BNBChain and its efficiency, Trader Joe will continue to drive the growth the success of the NFTs and DeFi ecosystem.
Revamped Tokenomics
Apart from expanding into more EVM-compatible ecosystems recently, Trader Joe has already been revamping its tokenomics to provide more meaningful utility for its token. Two specific solutions have been employed: allowing users to stake their JOE into either sJOE, or veJOE.    
Firstly, users can stake JOE in the sJOE token, which earns revenue from trading on the platform. The rewards for this are paid in the stablecoin USDC and can be claimed at any time. By receiving yields in stablecoins, this method also addresses the issue of JOE being sold off due to farming.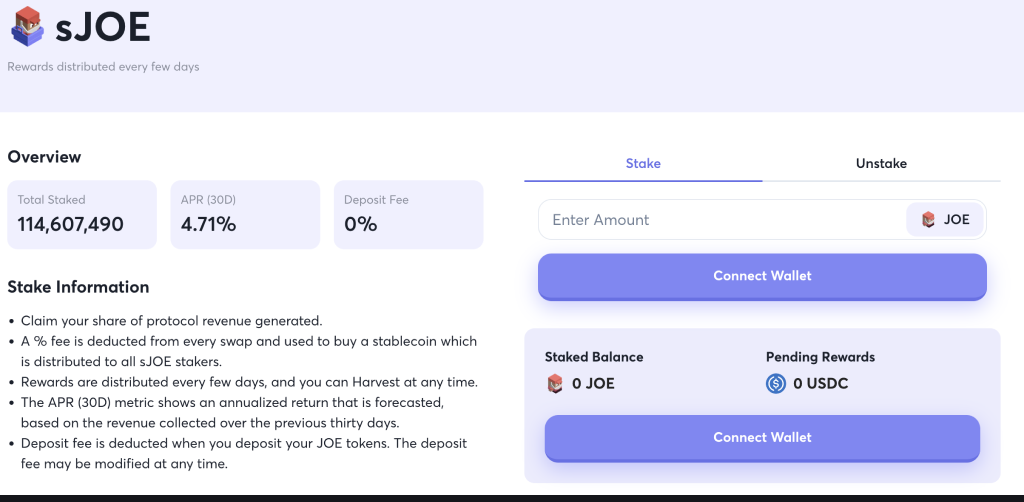 Secondly, the introduction of veJOE brings a new approach to tokenomics through a vote escrow mechanism. This means that users can lock their tokens for a longer period to participate in governance and earn a higher yield. In fact, veJOE holders can benefit from farm boosts of up to 2.5 times. By staking their JOE for an extended period, users can earn veJOE.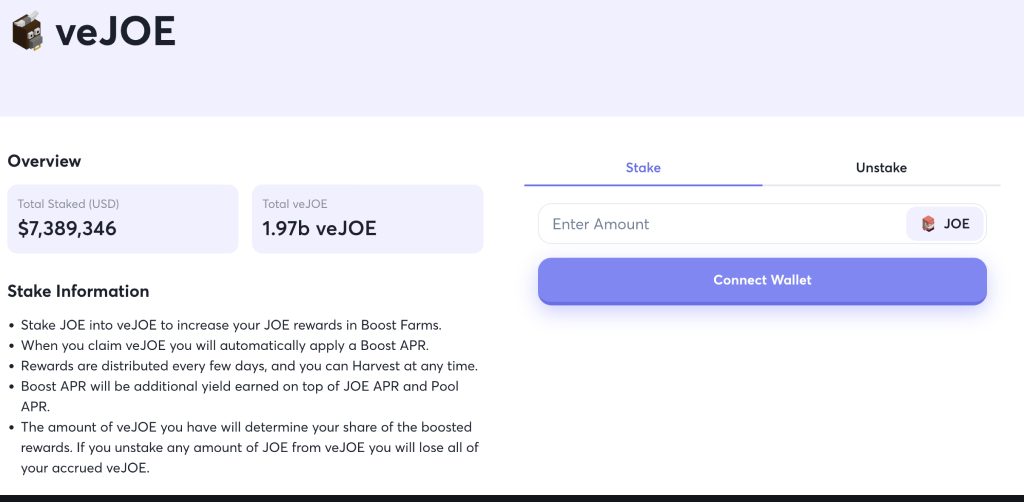 How does NodeReal support Trader Joe?
NodeReal takes pride in our ability & capacity to power high-performance projects.
Being the top Decentralize Exchange, Trader Joe needs a partner whom they can rely on to maintain stability and speed. NodeReal came in to help with our flagship MegaNode to supercharge Trader Joe's performance. TradeJoe's integration with NodeReal's RPC API endpoints for a multi-chain access layer provides users with a streamlined and efficient trading experience across multiple chains.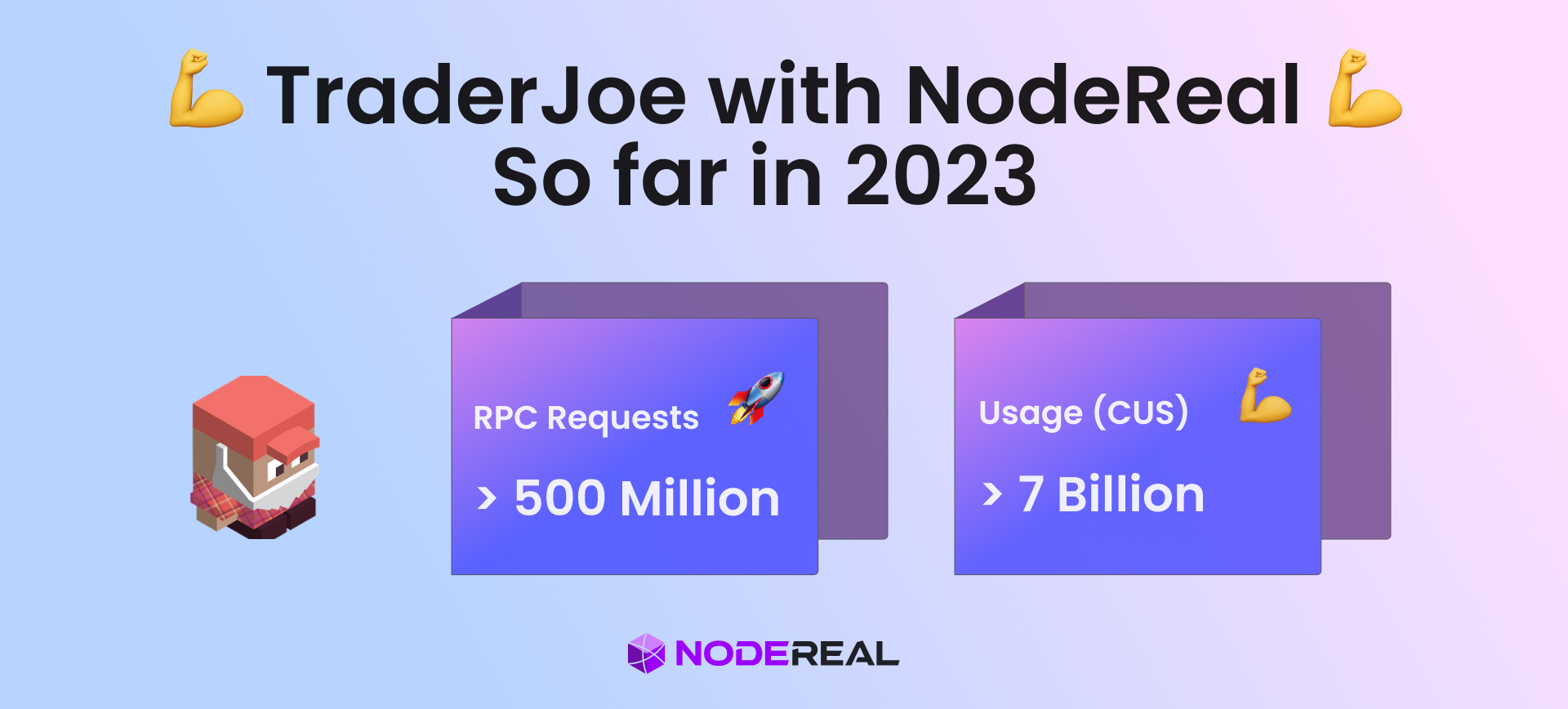 Concluding Remark
Going beyond being a mere DEX is clearly what Trader Joe is aiming for. On the road to becoming a one-stop decentralized trading, there are examples of how Trader Joe is very customer-centric in their product & feature approaches.  
Thinking of JoePegs - the NFT Marketplace as a means to attract and encourage more users to explore AVAX NFTs. On top of that, Trader Joe's recent expansion to BNB Chain can also be seen as the way JoePegs can tap into a wider and stronger NFTs ecosystem.
Technicality-wise, Trader Joe implemented Liquidity Book to fix the existing inefficiencies of the AMM mechanism is an inevitable upgrade for its users' benefit. According to its Whitepaper, Liquidity Book features such as fungible liquidity bins and surge pricing enhance AMM efficiency, reduce slippage, and minimize impermanent loss.
Whether Trader Joe will achieve its end goal remain to be seen. But in Web3, no one should ever go alone and NodeReal will always remain a reliable partner for a one-stop infrastructure to stabilize and supercharge their performance.
About NodeReal
NodeReal is a one-stop blockchain infrastructure and service provider that embraces the high-speed blockchain era and empowers developers by "Make your Web3 Real". We provide scalable, reliable, and efficient blockchain solutions for everyone, aiming to support the adoption, growth, and long-term success of the Web3 ecosystem.
Join Our Community
Join our community to learn more about NodeReal and stay up to date!