1️⃣ Alphabet, the technology conglomerate that owns Google, has broadened its Google for Startups Cloud Program to include Web3 companies like Celo, Flow, Polygon, and Solana. As part of the expansion, blockchain analytics firm Nansen has partnered with Google Cloud to provide real-time blockchain data to startups. With over 250 million wallet labels in its database, Nansen will be a valuable asset for those looking to navigate the rapidly evolving world of Web3.
2️⃣ Mastercard has unveiled its latest move to strengthen trust in blockchain transactions with the launch of its new Mastercard Crypto Credential. This credential will help companies, developers, and individuals leverage the full potential of powering payments, commerce, and economic value across borders. In addition, Mastercard is partnering with leading public blockchain networks like Aptos Labs, Ava Labs, Polygon, and The Solana Foundation to facilitate this innovation. Aptos Labs is among the shortlisted blockchain networks that enable the identity and attestation elements of sending and receiving funds through Web3.
3️⃣ AntChain, a subsidiary of Alibaba and a major player in China's tech industry, has unveiled an open-source cross-chain protocol called AntChain Bridge. This protocol is designed to facilitate interoperability between different blockchain networks and is compatible with popular ecosystems like Ethereum. Additionally, AntChain has taken the lead in establishing the Web3 Open Alliance Chain, which aims to foster collaboration and innovation in the blockchain space. With this move, AntChain is signaling its commitment to advancing blockchain technology and promoting greater integration across different blockchain platforms.
4️⃣ Franklin Templeton, an investment management firm with over $1.4 trillion in assets under management, has broadened the scope of its OnChain US Government Money Fund to include the Polygon blockchain. This move is expected to provide greater accessibility and efficiency to institutional investors seeking government money market exposure while using blockchain technology. By extending its reach to Polygon, Franklin Templeton is providing a bridge between traditional finance and the burgeoning blockchain industry.

1️⃣ Filecoin, a blockchain-based storage network, has announced its latest project, the Filecoin Web Services (FWS), which aims to compete with Amazon Web Services (AWS), Google Cloud Platform (GCP), and Azure. As a dominant player in the cloud computing market, AWS holds over 33% market share, but with the introduction of FWS, Filecoin plans to offer a cloud-based decentralized alternative to these tech giants. FWS promises a decentralized network's transparency and open-source advantages while providing a cloud-level developer experience.
2️⃣ At the Consensus 2023 event, Google Cloud and Polygon Labs revealed their multi-year strategic alliance to boost the adoption of core Polygon protocols like Polygon PoS, Polygon Supernets, and Polygon zkEVM using Google Cloud infrastructure and developer tools. This partnership aims to make it easier for developers to build, launch, and expand their decentralized applications (dApps) and Web3 products on Polygon protocols.
3️⃣ Polyhedra Network has unveiled the integration of its zkBridge Messenger with BNB Greenfield, in a move that marks the first application of zkBridge on the blockchain network. The Greenfield zkMessenger feature enables users to send long messages, complete with attachments, between multiple blockchain networks with ease, similar to how email services function in the traditional Internet world. The integration of zkBridge with BNB Greenfield is a major milestone in the development of decentralized communication tools and paves the way for further innovations in the blockchain ecosystem.
4️⃣ AltLayer, a provider of blockchain infrastructure solutions, has integrated Arbitrum Orbit into its rollup launchpad, enabling developers to easily build customized Layer 3 applications secured by Arbitrum One. Arbitrum Orbit, developed by the Arbitrum Foundation, gives developers access to a range of tools for building fully customizable Layer 3 applications. With the integration into AltLayer's RaaS (Rollup-as-a-Service) solution, even those with little to no coding experience can spin up a customized Layer 3 within minutes. This development comes shortly after the release of Arbitrum Orbit and is expected to facilitate faster deployments of Layer 3-based applications on Arbitrum.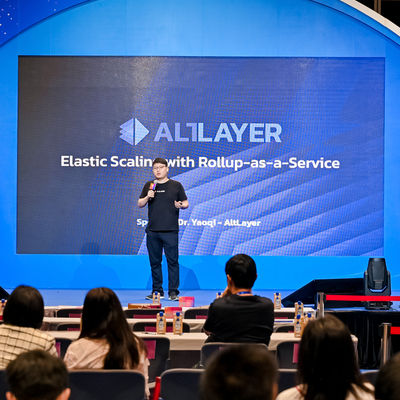 Ethereum
The Ethereum community recently held its 160th All Core Developers Execution (ACDE) call to discuss proposed code changes for the next Ethereum upgrade. - link
BNB Chain
BNBChain's Tech Community Call covered updates on Greenfield's latest dApps, such as dcellar and zkMessenger, as well as SP economy and proof of challenge. The call also discussed billing and payment flows for users. - link
Polygon
Polygon has revealed the launch of Polygon Bridge for Polygon zkEVM, enabling users to move assets between Layer 2 scaling solutions and Polygon's layer 1 zk-rollup. - link
Optimism
Optimism released the official source to OP Mainnet's upgrade to Bedrock - link
Arbitrum
Arbitrum reached a new ecosystem milestone on the number of total transaction processing - link
Aptos
Aptos has put forth the first fully-reproducible performance benchmark test - link
Sui
Sui announced the Sui Dev Portal - link
---
About NodeReal
NodeReal is a one-stop blockchain infrastructure and service provider that embraces the high-speed blockchain era and empowers developers by "Make your Web3 Real". We provide scalable, reliable, and efficient blockchain solutions for everyone, aiming to support the adoption, growth, and long-term success of the Web3 ecosystem.
Join Our Community
Join our community to learn more about NodeReal and stay up to date!