Soulbound Tokens (SBTs) were proposed in a white paper by Ethereum co-founder Vitalik Buterin, lawyer Puja Ohlhaver, and E. Glen Weyl, entitled "Decentralized Society: Finding Web3's Soul".

The idea stemmed from the popular video game, World of Warcraft, which rewarded users with items known as 'soulbound', which simply means they can't be traded or sold to other characters.

SBTs will be a milestone for Web3 to go to the next level, " Decentralized Society"(DeSoc). Similar to a resume or medical records in the non-Web3 world, SBTs are non-transferable tokens that represent "commitments, credentials, and affiliations" that make up the social relations on Web3 networks. In other words, they are tokenized representations of the myriad traits, features, and achievements that make up a person or entity.

SBTs are a type of non-fungible tokens that will verify all the information in a trustworthy and streamlined way. In essence, SBTs are an extension of ERC1155 tokens, unlike regular NFTs that can be sold or transferred for free, and below are their major differences.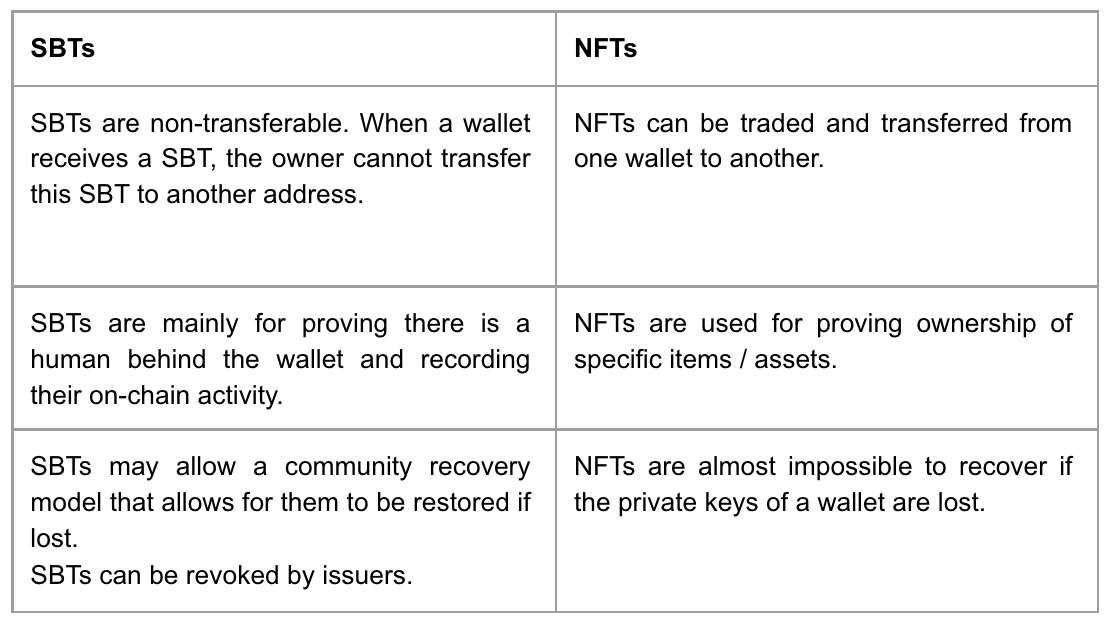 Why are SBTs important?

If we try to compare Web3 to the existing Web2 world, DeFi would represent the financial system and NFTs would represent tangible real-life assets. While Web2 is deeply rooted in its corresponding reputation or trust systems, Blockchain - the founding technology of Web3 - is designed to be trustless.
Web3 is designed as a decentralized system to manage the ownership and governance of the Web3 project and its communities. The governance model is based on how many tokens a member holds, and this makes it become vulnerable to malicious acts if the voting power can be transferable, which means:
Voting power can be sold or transferable which makes the governance power become more centralized and easily manipulated.
Transferability may lead the governance rights from the competent to incompetent but determined.
Therefore, making the voting power non-transferable is critical. SBTs can be an alternative for DAO voting. As opposed to the current governance model, SBTs assign voting power based on community interactions, rather than the number of tokens held. This makes the voting power non-transferable.

"Web3 is purely financial objects, there's no actual such a thing as a person" - co-author of the White Paper.

In its current form, Web3 applications have been mostly associated with financial gains or profit, and this limits the long-term sustainability of the ecosystem. If we take lending as an example, in the web2 world, uncounterable loans are impossible. However, it is impossible in Web3 due to the lack of a trust system. SBTs can track all the Defi activities on blockchains, just like traditional banks' credit scores, and then determine users' risk levels to solve the trust issues.

In a sense, SBTs are the keys to building the decentralized society's identity and trust systems. Compared with the top-down trust system, SBTs are more likely to be the bottom-up and community-driven trust system in Web3 which will be an essential part of the Defi Ecosystem.

Best examples of SBTs
Galxe
Galxe offers Galxe OATs, allowing users to record their online and IRL achievements on the blockchain. Galxe OAT aims to be a lightweight solution for event organizers/community managers to utilize our NFT infrastructure and on-chain credential data network. By utilizing this feature, developers can easily build and distribute NFT badge campaigns while rewarding their community members. To put it simply, Galxe OATs (On-Chain Achievement Tokens) is a digital record of all your life's achievements.
POAP
Proof of Attendance Protocol (POAP) is a bookmark of your life in a reliable way to record your experience. POAP was initially minted in Ethereum mainnet, and it was first created during ETHDenver in 2019 to prove users' attendance. Essentially, POAP is a check-in action for an event, and it is a protocol that creates digital badges or collectibles (NFTs) using blockchain technology.

POAP is a perfect example that demonstrates the use case of SBTs. POAP badges can help people show off their identity and rewards, the holders can benefit from the community. DAOs can use POAP to build long-term relationships with community members and partners, and it will become a blockchain resume at last.
RabbitHole
Unlike POAP, RabbitHole is a web3 education platform and aims to help users build their own on-chain resume. RabbitHole will guide users through a set of on-chain tutorials, like "Intro to Defi"," Intro to NFT" and "Intro to DAOs".

Besides helping users onboard in Web3 by learning, RabbitHole encourages users to use the protocols, and the project will guarantee the benefits on their network. After that, RabbitHole is able to get the on-chain results, and users can get the RabbitHole credentials. This credential will be useful to find the target users when doing a web3 promotion campaign.

RabbitHole Credentials can prove users knowledge of Web3 concepts, and projects can offer credential users exclusive benefits. It's a win-win situation that projects can target the most knowledgeable crypto citizens and community members may feel empowered with their credentials.
Decentralized Lending
In the Web2 world, credit and uncollateralized lending are totally built on reputation. However, in the Web3 ecosystem, it's impossible to replicate the forms of uncollateralized lending. Since all the assets are transferable and tradable, collateral is a must-have.

SBTs can solve the issue of lack of credit by unlocking the bottom-up Social Credit System. SBTs can represent users' education credentials, work history, lending history, and even the amount of outstanding loans, allowing users to collateralize a meaningful reputation to secure a loan.

That means SBTs would accelerate the growth of open-source lending, and social identity will play a big role in the Web3 financial ecosystem.

SBTs also offer more security properties in such non-transferable properties is important to ensure borrowers can not default on their loans, and make it possible for borrowers with bad reputations cannot take up any new loan.

More use cases are shown below figure:
Proof of Ownership for Arts
Domains and Usernames
Tickets and Passes
Ownership of Real Estate
Identity of Degrees and Diplomas
Proof of Achievements and Skills
Digital Identities and Membership
…
SBTs are more important than you think, and all these use cases will be real and useful in the future.
Source: link
How can Galxe support Soulbound Tokens now?
Galxe is one of the leading players in SBTs and the on-chain credential ecosystem to date, and it's a credential infrastructure that empowers brands to build better communities and products in Web3. Galxe is aiming to build a credential network of user behavior data on-chain and off-chain in the web3 era. For on-chain credentials, curators can contribute with subgraph queries or static snapshots. Galxe integrated with data sources such as Snapshot.org, Twitter, and GitHub for off-chain credentials.
From the product perspective, Galxe is designed for both retail users and enterprise clients. The Galxe product suite is thus designed to bridge the communication gap between end users and projects. With this, it would break the data barriers, and cross the chasm between end users and projects.

Source: https://docs.galxe.com/

For end users, Galxe is the best place to hunt airdrops, participate in campaigns and identify high-quality new projects:
Campaigns: Displaying the various ongoing activities from multiple projects. Users just need to complete the tasks and get the NFTs. It's more like a traffic platform.
Space: Displaying the activities in the project's dimension.
Credentials: Checking whether they are eligible for specific NFT badges and their achievements in Web3.
Galxe ID: Representing universal username for multichain/multi-wallet identities in Web3.
Galxe can track users' on-chain or off-chain behaviors, like DEX trading, Borrowing, Playing a Game, Twitter engagement, etc, and Galxe labels users with all these behaviors. Users who get more labels, and Web3 addresses will be more likely to be real people. With a large user base, Galxe can target the right user groups and conduct airdrops in the right subgroups.

For Web3 projects, Galxe provides Application Modules, Credential Oracle Engine, and Credential API for developers to leverage credential data to engage communities and build robust products in Web3.
Use cases of its Application Modules include:
Galxe OATs (On-chain Achievement Tokens),
NFT Loyalty Programs,
Growth Hacking Campaigns,
Gated Community,
Customized Governance
Galxe OATs is a digital record of all your achievements. Galxe OATs aims at providing a lightweight solution for projects to utilize Galxe's credential infrastructure to conduct NFT badge campaigns and loyalty programs. For startups, projects can airdrop tokens to users who have interacted with other projects, and this will make a good exposure to attract users. Also with the help of Galxe, projects can conduct precision marketing, like airdrop tokens to target users "Uniswap traders" "NFT trading volume of $1000" etc.

Credential Oracle Engine and API can help developers build credit scoring and Sybil attack prevention algorithms.

In a nutshell, Galxe ID is your profile in the Web3 world and Galxe OATs make it possible for projects to access these profile databases. Until this moment, more than 4.4M users have set their Galxe ID and there are 1.8M+ OATs claimed. That means Galxe credential system is expanding dramatically, and more and more people will join Galxe metaverse.
Source: Dashboard
Source: Galxe
Potential Opportunities on Galxe
Galxe already crossed the chasm between end users and projects through Galxe OAT (SBTs' use case). What will be the future for utilizing SBTs in the Galxe Ecosystem?
Galxe can implement non-transferable NFT to practice
Distribute SBTs to Web3 citizens, record all on-chain and off-chain behaviors and complete the identity system for the whole ecosystem.
Proof-of-Reputation system, which will accelerate the progress of decentralized lending.
Collaborate with centralized exchanges, such as Binance BAB, or traditional identity companies to build a KYC privacy system
Support multi-chain identity and authentication service
Integrate with naming service or DiD projects to connect the multi-chain identities
Deploy GAL chain to empower the Galxe ecosystem in all the top blockchains.
Make community management smarter and closer through  G2C (Go to community) toolings
Build an SBT as a Service
Galxe+DAO: optimize and automate the airdrop process

How NodeReal Empowers Galxe?
As Galxe is building the largest Web3 credential data network in the world, the stability of its infrastructure is something that needs to be taken into serious consideration. Scalable and secure network infrastructure is needed to minimize downtime and ensure that productivity remains consistent, in any circumstances.

The GAL chain, which NodeReal Semita powers, is the backbone of the ecosystem. With relayers network, we provide the capacity of bridging to public chains, including but not limited to Ethereum, Polygon, Optimism, Arbitrum, BNB Chain, Solona, Aptos, and more. Through relayers, users can send and receive tokens from public chains.

On top of the GAL chain, NodeReal Meganode, which is the fast and scalable node service, provides the API layer, both the standard RPC services and the enhanced API, and the Data Platform. Meganode makes the GAL chain programmable so that both Galxe Credential Data Engine and Galxe Application Module can be integrated with the GAL chain to provide a seamless service for data curators, users, and developers.

In nutshell, NodeReal will fully support Galxe:
Galxe Application Chain: Galxe is designing its own Application Sidechain Testnet through  NodeReal Semita now, an enterprise-grade infrastructure. NodeReal supports Galxe to have its own token for governance and incentives for data curators and developers.
Providing the fastest infrastructure & services, including but not limited to RPC/API services and Archive Node, and SBT/NFT API services.
On-Chain Credentials & NFTs Tooling and APIs: The best strategic partnerships are win-win. NodeReal is also benefiting from this partnership with Galxe. We will keep building more developer-friendly tooling and APIs on-chain credentials & NFTs and intend to build better products and communities in Web3.

Looking forward
In essence, SBTs are designed to be building blocks to reshape how we interact with one another and build and manage future Web3 communities. These SBT initiatives with Galxe and NodeReal will bring a whole new level of experience to Web3 credentials. Galxe recently launched Galxe Passport, leveraging SBT to create users' universal identity for Web3 adventures. Through the upcoming new GAL Chain, Galxe also aims to empower users to curate and contribute to digital credentials in a permissionless way. Everyone will be able to utilize those credentials through its application modules, credential oracle, and credential API. In short, there will be more use cases on Galxe's digital identity, as they record activities and accomplishments.  

Celebrate 1 Year of NodeReal with Special Promotion
NodeReal turns 1 year soon! We'd love to take this opportunity to thank all of you who have supported us along the way. Here's the celebration filled with 2 month of product promotion, in-person meetups, giveaways, and more! Read more HERE.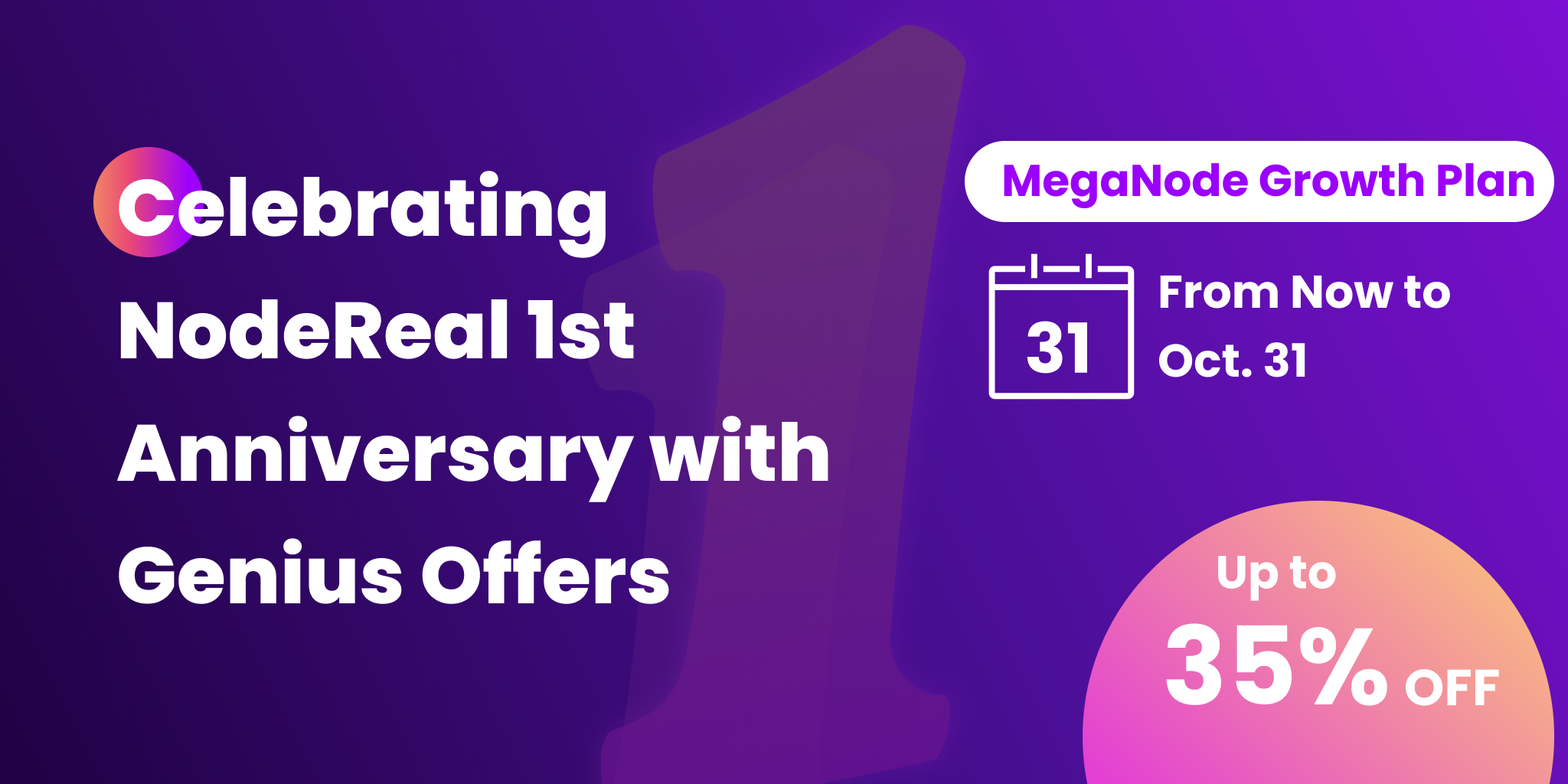 Join Our Community
Join our community to learn more about NodeReal and stay up to date!
Discord | Twitter| Youtube | LinkedIn
Reference
https://mirror.xyz/soulbonds.eth/0QyGlZG2N_SxG7Fanck3qV87IGhza2G4s7tLeBnRuZ8?s=09
https://academy.binance.com/en/articles/what-are-soulbound-tokens-sbt
https://nftnow.com/guides/soulbound-tokens-sbts-meet-the-tokens-that-may-change-your-life/
https://www.nfttech.com/insights/soulbound-tokens-the-future-of-identification-in-web3
https://cointelegraph.com/magazine/2022/06/16/soulbound-cryptocurrency-tokens-social-credit-system-spark-next-bull-run