NodeReal's journey started in September 2021, since then we've been heads down, building the fastest and also scalable blockchain infrastructure that "Makes Your Web3 Real".
As our 1st anniversary is just around the corner, we'd love to take this opportunity to look back at what we have achieved over the span of 1 year, and thank our investor (Sky9 Capital), partners, clients, and the community who have supported us along the way.
This celebration will be the most exciting ever, with 1 month of product promotion, in-person meetups, giveaways, and more! You won't want to miss it.
1 Year of NodeReal: A Great Milestone in Making Web3 Real
The past year was truly special for NodeReal. It has been an incredible journey with a multitude of great milestones in products, partnerships, community growth, and more.
Product & Services
At NodeReal, we provide fast, scalable, and stable blockchain solutions for everyone, aiming to support the massive adoption, growth, and long-term success of the Web3 ecosystem. We started the journey from being the blockchain validators. Today, our product landscape has expanded tremendously.

Partnerships
Over the past year, we are honored to have partnered with a great many top-tier projects, companies, and institutions in both the Web2 and Web3 world, ranging from DeFi, NFT, Games, Security, Data Analytics, and more. Check out our case studies to grasp more ideas on why those partners choose us!


Dev Community Growth

Since day1, NodeReal has been deeply involved in all kinds of Web3 events, conferences, hackathons, talent development, and education. It has been incredible to experience the tremendous growth of the Web3 community, and be a part of the backbone that powered the growth.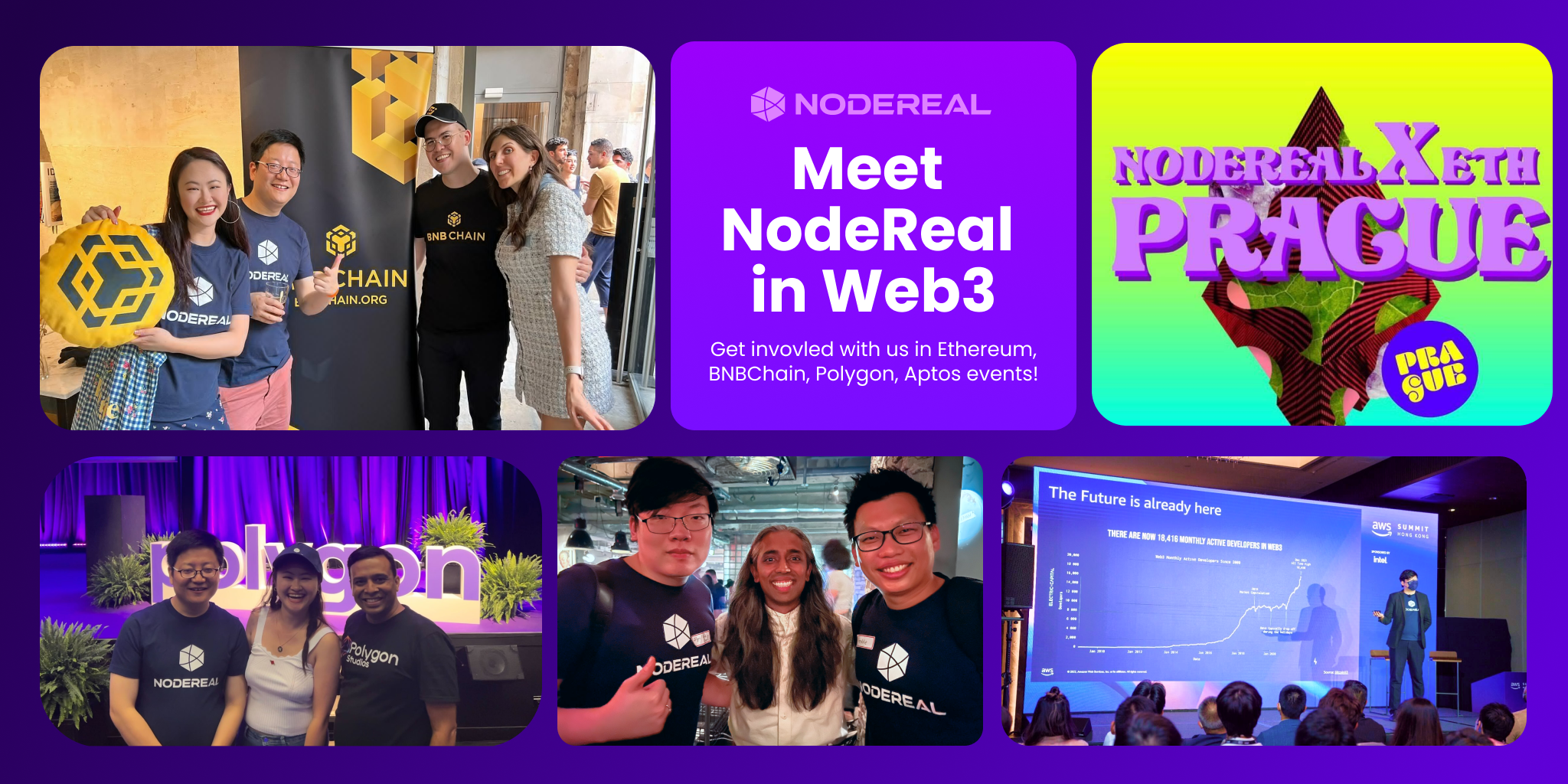 Be a Part of the Celebration that You Won't Want to Miss
Dear community, this past year will not be possible without all of your support. Take MegaNode for example, it's driven by developers' need for high-performance blockchain API services. As the Web3 dev community continues to grow, our business scale also continues to break new highs. For this reason, we would love to offer all our MegaNode users some out-of-this-world deals, on this special celebration of our 1st anniversary! 🌍🚀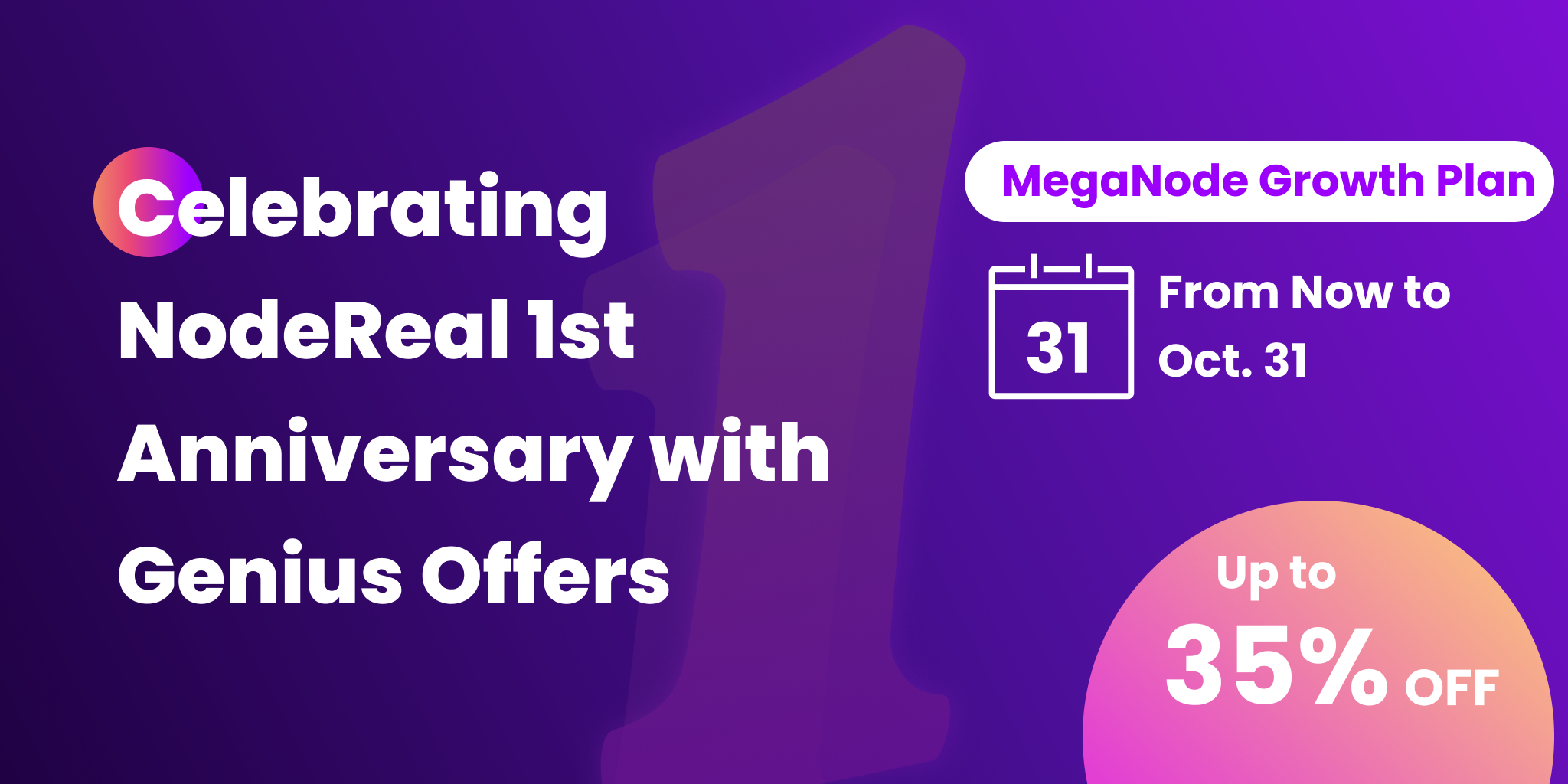 From today till October 31, 2022, we are extending limited-time offers to all BUIDLs . You can get MegaNode's Growth Plan up to 35% OFF! Check out these 3 deals:
All you have to do is log in to MegaNode, and join this special promotion. Here's a step-by-step guide for you to refer to.
Note: MegaNode currently only supports PayPal, but you can pay without creating a PayPal account. We will soon launch more payment options e.g. credit cards.
Again, Thank you, as Always 🙏
Our community is growing fast and we want to thank you all for being a part of it and for giving us the confidence to move forward. Our 1st anniversary is a unique chance for you to get our services at a fantastic price before we adjust our pricing again. Hurry up, and let's celebrate together!

Join Our Community
Join our community to learn more about NodeReal and stay up to date!