In the dynamic realm of the digital landscape, the decentralized finance (DeFi) sector in the Web3 ecosystem has surged as a transformative power, pledging to democratize finance and eradicate intermediaries. However, alongside this promise comes a myriad of security challenges. According to the report by blockchain security firm Immunefi, a combined $23.4 million was lost in August 2023 to a combination of hacks and fraud where DeFi protocol remained the prime target.
The Total Value Locked (TVL) in DeFi, at the time of this writing, is at $61 Billion. Ethereum continues to dominate DeFi with more than 70% of the TVL. Within the BNB Chain, over 500 DeFi projects have found a home, with a collective TVL of $3.3 billion, ranking third just right after TRON. In response to this growing traction, HashDit has emerged as a Web3 safeguard, dedicated to ensuring security for both protocol users and smart contract developers on the BNB Chain.
In this case study, we delve into HashDit's approach and how it accomplishes this goal through its threat intelligence service.
What is HashDit?
HashDit is a Web3 Security Firm focused on providing a safe ecosystem for both protocol users and smart contract developers on the BNB Chain. The central objective is to furnish crucial threat intelligence to empower everyday DeFi investors in making well-informed decisions. Navigating this DeFi intricate landscape poses challenges even for seasoned investors, let alone newcomers. HashDit aims to bridge this knowledge gap by offering timely and comprehensive threat intelligence on DeFi projects.
Driven by a strong commitment to user security, HashDit also became a part of AvengerDAO, an essential security infrastructure project initiated by BNB Chain. Collaborating with other prominent Web3 security firms like CertiK, SlowMist, Zokyo, BlockSec, GoPlus Security, and many others, HashDit aims to establish industry-wide best practices and standards for safety in the Web3 space.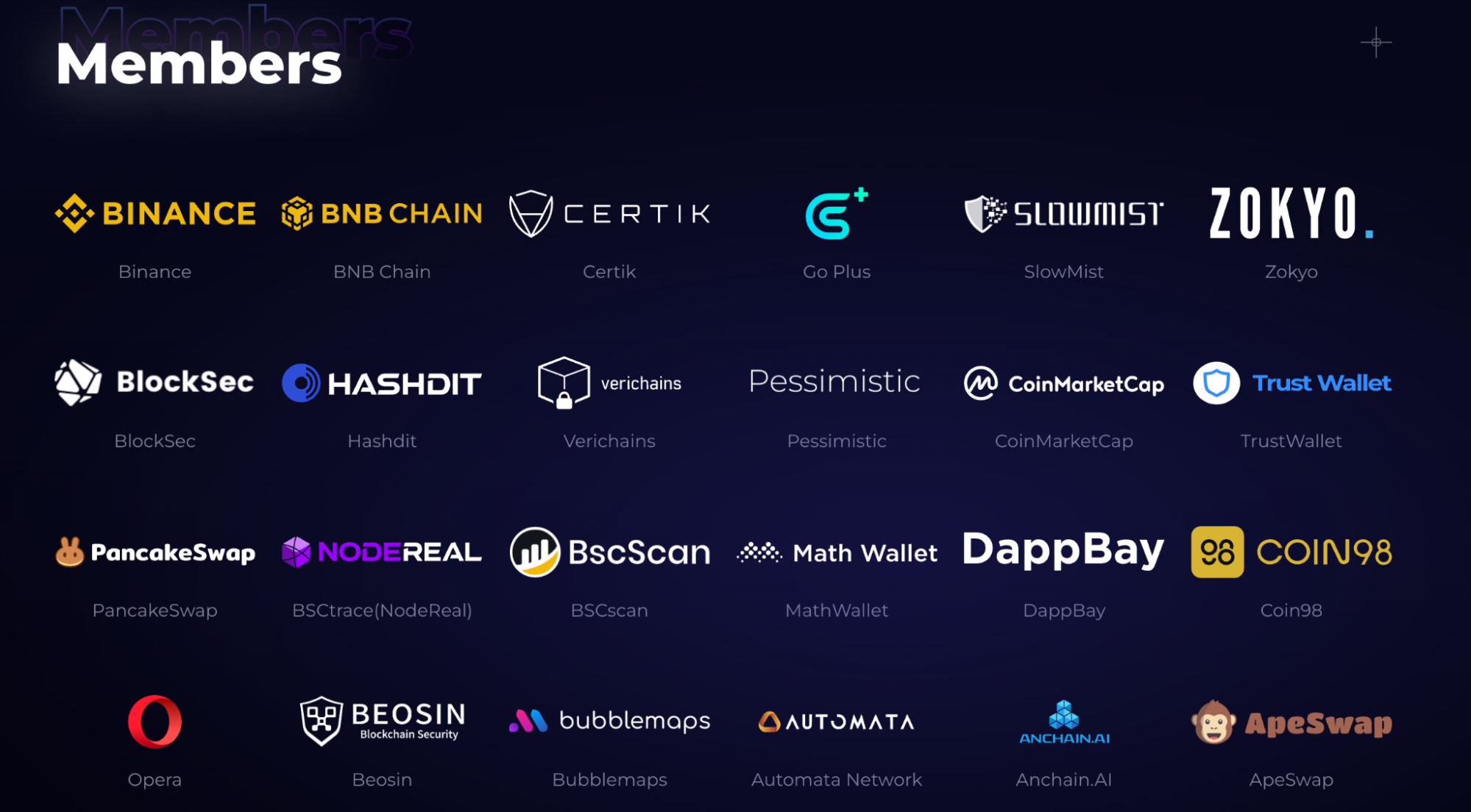 HashDit's dedication to this mission is further exemplified through their core products: Meter and Monitoring and Alerts, integral components of their threat intelligence suite.
Meter: is a comprehensive assemblage encompassing a security rating framework, automated scanning tools, and corresponding APIs. This suite efficiently detects potential rugpulls and exploits risks by analyzing smart contracts or dApp urls and conducting thorough on-chain data analysis. It plays a pivotal role in identifying potential hacking and scam risks and promptly alerting users through APIs.
Monitoring and Alerts, on the other hand, is a service offering comprehensive monitoring and alerts for smart contracts, whether existing on BNB or set to launch on the platform. This service combines both automated and manual techniques, to uncover potential vulnerabilities within code design and business logic, thus enhancing overall security assurance.
HashDit's Security APIs: Multi-Usecase Integrations
HashDit's robust threat intelligence suite, fortified by the strategic utilization of corresponding APIs and Audit methodologies, finds its versatile application across a wide spectrum of crucial domains, encompassing Wallets, DEXes, and Explorers.
An exemplar of HashDit's API application resides in the remarkable "Red Alarm" feature integrated within BNBChain's flagship DappBay. This contract risk scanning tool equips DappBay users with a proactive means to discern high-risk projects. By employing the Red Alarm tool, users can evaluate contract addresses and dApp for logical flaws or fraud risks, fostering prudent investment decisions and shielding against potential rug pulls and scams.
HashDit's API integration extends its influence to numerous prominent applications, anchoring active measures to safeguard users from the clutches of fraudulent activities.
PancakeSwap: This leading DEX on the BNBChain, with a substantial $1.3 billion in TVL, seamlessly incorporates HashDit's solution. Automated scans of tokens within the PancakeSwap framework offer users discernible risk scores. This feature empowers users with real-time insights into potential transactional risks, bolstering informed decision-making amid their DeFi interactions.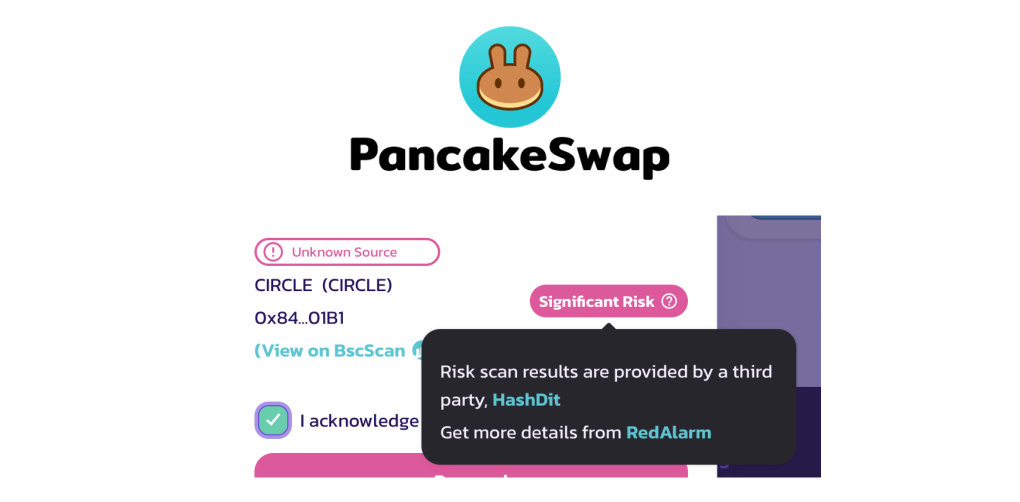 BSCscan: A prime example of HashDit's impact unfolds through its collaboration with blockchain explorers, most notably BSCscan. Integrating risk alerts within the explorer's interface bolsters user prudence and caution. Users are empowered to tread warily when engaging with projects or addresses displaying suspicious or high-risk attributes. This measured approach fosters an environment of cautious exploration, preventing undue exposure to potential risks.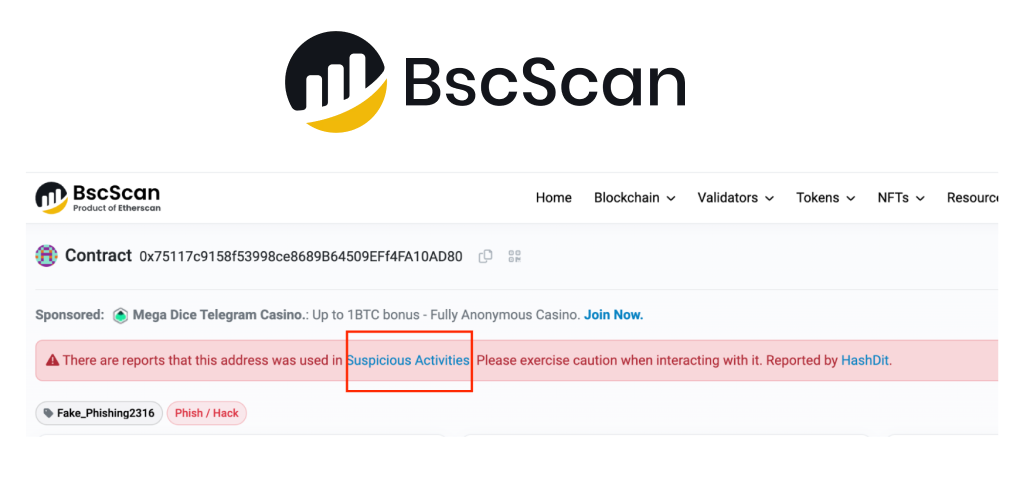 TrustWallet: HashDit's API takes center stage within TrustWallet, an industry vanguard Web3 Wallet. Serving as a protective layer within the user experience, HashDit's threat intelligence suite preempts elevated risks by promptly notifying users before they connect to the dApp or execute transactions. This proactive approach ensures users operate with heightened vigilance, fortifying their engagement within the dynamic DeFi landscape.
How does Nodereal Support?
NodeReal, as an experienced node infrastructure provider, has consistently played a pivotal role in amplifying the potential of high-performance DeFi and Web3 security projects. This resonates powerfully through partnerships with industry leaders such as CertiK, GoPlus Security, TraderJoe, and an array of other influential entities.
HashDit has adeptly harnessed the capabilities of NodeReal's PancakeSwap (PCS) GraphQL API. This strategic integration empowers HashDit to seamlessly acquire pertinent data from PCS, a pivotal resource within the BSC ecosystem. Given that many incidents on the BSC platform involve swaps via PCS, HashDit's API integration enables it to acquire and process essential data swiftly. This proactive approach empowers HashDit to promptly prepare the necessary API resources and promptly identify high-risk addresses as events unfold.
This collaboration between NodeReal's robust infrastructure expertise and HashDit's strategic API utilization underscores the power of synergy within the DeFi and Web3 security landscape.
Looking forward
In the ever-evolving landscape of decentralized finance (DeFi), characterized by its continuous growth and innovation, the significance of threat intelligence service providers such as HashDit is poised to further amplify. HashDit's multifaceted application within this realm serves as a pivotal marker of proactive security strategies, firmly upholding the principle that uncompromising security measures should match the DeFi revolution's expansion.
In parallel, NodeReal maintains our dedication to delivering optimal solutions that effectively support and empower the custodians of Web3 Security. This commitment underscores the crucial role that robust infrastructure and security frameworks play in fortifying the Web3 ecosystem and fostering a climate of trust, growth, and innovation. As the DeFi sector continues to shape the financial landscape of the future, the combined efforts of entities like HashDit and NodeReal hold the potential to significantly contribute to its enduring success and resilience.
---
About Hashdit
HashDit's core mission is to provide essential threat intelligence for everyday Defi investors to make informed decisions. Defi investing can be highly profitable and full of pitfalls at the same time. Navigating this landscape is difficult for an experienced investor, let alone a newbie. At HashDit we want to bridge this divide by providing timely and comprehensive threat intel about Defi projects. We use a variety of automated and manual techniques to evaluate a Defi project. We give you our findings without bias, letting you make a decision based on facts.
About NodeReal
NodeReal is a one-stop blockchain infrastructure and service provider that embraces the high-speed blockchain era and empowers developers by "Make your Web3 Real". We provide scalable, reliable, and efficient blockchain solutions for everyone, aiming to support the adoption, growth, and long-term success of the Web3 ecosystem.
Join Our Community
Join our community to learn more about NodeReal and stay up to date!